15 Signs You and Your Partner have a Power Couple Bond
'Power couple' is a popular metropolitan term that many of us might have heard commonly. The term frequently comes into the picture, especially in tabloids, while referring to any celebrity couple or a powerful business couple.
If we go by the standard power couple definition, it is a couple entailing two people who are each authoritative or going strong in their own right.
But, of late, the term isn't constricted just to celebrity couples or famous people. Super couples can be found anywhere. Perhaps you could be one yourself or could be having a fantastic couple in your friend circle.
To understand better what is a power couple and how to become a power couple, read along. The following are given some typical power couples signs that will help you become a strong couple.
What is a power couple?
There's a lot of buzz these days around the power couple's meaning and its concept. What is it, exactly?
A power couple is a couple who has what seems to be an uncommonly strong relationship. They support each other, work together to accomplish their goals, and have a good time doing it.
A true power couple goes above and beyond to keep things interesting and exciting in their relationship, and they refuse to take anything for granted.
15 signs you're a power couple
Now that you have understood the power couple definition, know that becoming a power couple is all about inculcating some characteristics. Here are 15 signs you're a power couple:
1. You celebrate each other
One of the first power couple signs is that the super couple is always strong and tightly bound. Every person has unique strengths and weaknesses. But, a solid couple is one who makes up for each other's weaknesses and acknowledges each other's strengths.
You both despise conflict. You celebrate each other and put each other first. You and your significant other go out of your way to celebrate and cheer for each other's victories and winnings.
You are the first to support your significant other's life decisions and choices. You do not try to thrust your likings and preferences on your partner.
2. No societal pressure can bother you
What is relationship power? A couple who never succumbs to external pressure depicts the relationship's strength in its true sense.
Your relationship is based on a solid background, and no amount of societal pressure, obnoxious ex, or a clingy colleague can change that.
You don't judge your relationship on the basis of what others think of them. As a matter of fact, you don't allow people to intrude in your personal lives to be able to intervene or influence them.
You have each other's back. Your love is ultimate and complete.
You understand each other's shortcomings and help each other grow; you complete each other.
3. Your friends and family root for you
Your friends and family have noticed the obvious change that has occurred within you after you both got into the relationship.
You have changed for the better. You both are happy, sympathetic, empathetic, and there for each other.
These things may make others jealous but for their tightly-knit group of friends and family, life is heaven, and you both are the designated angels.
4. You both are relationship gurus
Power couples radiate confidence, strength, happiness, and a sense of serenity and calmness. Such aura is quite evident and hard to resist.
Calmness such as this comes from a strong bond of intimacy. And because such aura is quite obvious, you both become the go-to person for relationship advice and therapy.
Although you don't dream about it, your daily life becomes a fairytale movie, and you and your significant other become the lead hero and heroine for the decades to come.
5. You both are adept at handling the tough times
Super couples have been through the mill; you have been through each other's worst and best. You have seen the other person at their lowest and have helped them step up the ladder and move ahead.
You have celebrated life and mourned the losses together. And all of this has only brought you both closer and made you stronger. You are undeterred despite the setbacks.
Life has been tough for super couples, but you knew that each of you has unique strengths and shortcomings.
The important thing is that you embrace each other's shortcomings. And you were not afraid to switch roles and give each other a breather.
6. You both are planners
Strong couples plan ahead and work hard. You are usually ready for unsolicited and unforeseen circumstances.
Obviously, nobody can predict the future. But then, there are people who are taken aback by the onset of unpleasant events, and there are those who welcome challenges with an unwavering smile.
So, these are the people who excellently plan for the future and are prepped up in advance to face adversities.
7. You both are not jealous
You both are not the jealous kind and are super secure people. You share life and success with family and friends.
You both are never gossiping or harboring ill feelings for others. You both are hard workers and do not fret about others' opinions or words.
This attitude needs high self-esteem and great confidence. It isn't something too common to be found in many people around us.
Dr. Andrea & Jon Taylor-Cummings share their observations of the 4 fundamental habits that all successful relationships exhibit. Watch it now:
8. You have a strong emotional connection
A strong connection, or bond, between two people is essential for any successful relationship. A great power couple knows each other's secrets and will always stick up for each other.
They understand each other and bring out the best in each other, both emotionally and mentally.
Related Reading: 

How To Connect With A Man On An Emotional Level
9. You set ambitious goals together
Your partner should be your biggest fan and help you achieve your dreams. This is an important part of forming a power couple — it's important to be on the same page when it comes to your goals in life.
Whether you're working towards a promotion at work or planning a wedding, you should be working toward them together to achieve the best results.
Related Reading: 

100 Cute Relationship Goals for Young People in Love
10. You can laugh and joke around
Nothing brings two people closer together than a sense of humor. Having fun and laughing together is an important part of building a strong relationship, so having funny moments with your loved one is very important.
Be yourself and show off your silly side to your partner – if you can be silly with them, they might just be silly with you!
Related Reading: 

Too Close to Home Jokes About Marriage
11. You feel lucky to have them in your life
It's normal to feel close to your partner when you first start dating, but you shouldn't feel this way all the time. If you feel like you're walking on clouds when you're with them, then you've found a keeper!
12. You have a great sense of style
It's important to feel beautiful and confident with your partner. You should be proud of how you look when you're with them, and you should embrace your own style and fashion sense. Wearing complementary outfits for date night is a great way to do this!
Your partner should also have a great sense of style that makes you feel good about yourself when you spend time with them.
13. You're comfortable and happy in your own skin
Being comfortable with who you are is one of the most important parts of having a healthy relationship. You should be able to show your partner who you really are without any shame or embarrassment, and they should be able to accept you for who you are.
They should encourage you to be the best version of yourself possible!
Related Reading: 

30 Signs You're Getting Too Comfortable In A Relationship
14. They're loyal to you
A true power couple is loyal and supportive of each other. You should always feel safe and secure in your relationship, knowing that you have someone there to support you through the good and the bad times.
Loyalty and support are essential to any strong relationship, so make sure that you and your partner are always there for each other.
Related Reading: 

What is Loyalty & Its Importance in a Relationship?
15. They treat you with respect
Respect is one of the most basic and important elements of any healthy relationship. Your partner should treat others, including you, with respect and dignity at all times.
You and your partner should always be kind and courteous to each other and treat each other as equals rather than treating one another like servants or subordinates. This is the cornerstone of a healthy relationship!
How to be a power couple
So, what makes a power couple? Being a power couple is all about imbibing good power couple characteristics. Here's how you both can be a power couple:
This means always putting your partner's needs and feelings ahead of your own.
This includes friends, family members, and co-workers who are constantly negative or are bringing you down. Avoid them at all costs.
Accept and love each other for who you are and the value you bring to your relationship. Have open lines of communication with your partner, so you are aware of what they need and want.
Encourage growth through new experiences
Challenge yourselves to do things you haven't done before together so you can strengthen your bond with each other.
Have date nights regularly
Make this a priority, so you continue to have fun together and make new memories.
What determines a power couple?
"Power couples" are determined by the characteristics that are found in a healthy and happy relationship. But what makes a couple powerful is not the same thing that makes a couple great.
There are many qualities that characterize a relationship as being powerful and a couple being powerful, but what makes a couple great is different—and those qualities aren't the same as the ones that make a couple powerful.
Relationships can be powerful, but they don't always need to be great to be healthy.
Power= how the couple interacts and communicates; how they function together as a group (marital dynamics)

Greatness= how much you enjoy the relationship experience (how nice it is to spend time with your partner); the quality of interactions, not quantity (e.g., romantic experiences with your partner vs. interactions with your in-laws); the quality of your overall relationship experience over the duration of time you are together as a couple.
What does a power couple look like?
A power couple is a happy couple that thrives and grows together. They have a positive outlook on life and share a close bond of friendship, trust, and respect with one another.
In addition, they are there for each other in the good times and the bad. Therefore, they have a long-lasting and meaningful relationship together.
Wrapping up
How can you become a power couple?
There is not a lot that is required to be a super couple. Though it may seem a daunting task if one is to take one step at a time, it can become quite easy with time and compromise.
Just remember that whatever you do, learn to appreciate each other and be there for each other.
Life is precious and worth living – live and be happy together!
Share this article on
Want to have a happier, healthier marriage?
If you feel disconnected or frustrated about the state of your marriage but want to avoid separation and/or divorce, the marriage.com course meant for married couples is an excellent resource to help you overcome the most challenging aspects of being married.
More On This Topic
You May Also Like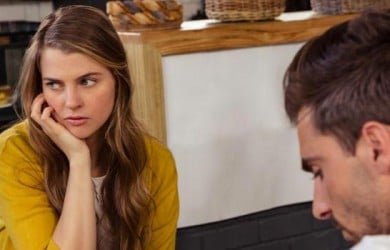 Popular Topics On Married Life