How to Get Out of a Relationship Rut
Is your relationship
Is your relationship stuck in a rut?
No one likes to admit it, but the truth is that it happens.
In fact, it's quite common. In some ways, it's completely normal and actually healthy for couples as long as it's addressed in a positive way.
Signs your relationship is stuck in a rut
If you suspect your relationship is becoming unhealthy, the following are the key signs that your relationship is in a rut.
Big fights over small things
Happy couples roll with the punches and adapt easily, in a healthy and collaborative way.
When fights emerge over small things, it's a sign there are bigger issues.
The grass greener on the other side
If you think that everyone else is happier and every relationship is smoother, then there's a problem. Also, remember that those thoughts are a fallacy, as no relationship is perfect.
Relationships are built on communication. So when there's a dearth of collaboration, problem-solving, (healthy) venting, and laughs, something's amiss.
Confiding to other people
When it comes to sharing your problems or discussing the issues, you rely on other people more than your partner. In a normal relationship, your partner should be the first person you should go to in case of good or bad news.
You constantly compare your relationship
Rather than feeling satisfied with the relationship, you constantly compare and rate your relationship with other people. This is one of the signs that you feel negative about the relationship and are in constant doubt.
Identify the cause of the relationship rut
Getting stuck in a rut can be a symptom of the following issues:
It might indicate something as simple as

one or both partners fell into complacency

.

It may be a sign that

someone is feeling stressed and overwhelmed

, perhaps from work or kids or another life issue, and that is

causing them to withdraw.

It might even be an

indication of a deeper personal issue

that requires support.
15 ways to get out of a relationship rut
So, how to pull yourself out of a rut?
The good news is that you can always break out of a rut.
The even better news is that in doing so, you often strengthen your relationship over the long-term. Try these 15 ways to get out of a rut and reignite the spark of your relationship.
1. Pay attention
Can you name new
Can you name new things you've learned about your partner in the last year?
That's an indicator of a healthy relationship, as per expert Harville Hendrix, and this all starts with paying closer attention to what they say (or don't say) and do.
As you do this, it's also worth asking yourself why you stopped paying attention.
It may be simple, or it may go deeper, but the answer will be important to avoid a relationship rut and improve your relationship.
2. Plan time for spontaneity
Planning for spontaneity is not a self-defeating suggestion.
It's giving you space and permission to be spontaneous. It can be going to your favorite B&B for the weekend with no set plans or picking a random restaurant to try on a babysitter night.
The relationship rut advice is basically to shake out of routine and expectations, and by doing so, you create new experiences that can lead to a sense of adventure and fun.
3. Get a couple's hobby
Is there something you've always wanted to try? Then pick it up as a couple and take turns regularly over who gets to select the new thing to try.
Discovering a new hobby together creates a great way to experience a new journey as a couple and avoid the building relationship rut.
This can be anything, from sports to a set of classes. Maybe you'll like it and maybe you won't, but the important thing is attempting a new activity together.
In the video below, find out the ways to spice up your relationship by finding common interests with your partner. This will also be an accelerator for the issue of 'how to get out of a relationship rut.' Find out more:
Also watch:

4. Reconnect with your tribe
A common trap
A common trap experienced by many couples is feeling like the relationship has dissolved our identities and the ensuing resentment that brings.
Counteracting this is simple: find time to get together with friends and refill the well on relationships outside of your partner.
Whether you do this alone or as a couple, it's a healthy practice. Humans are social creatures, and strong relationships improve our sense of self.
5. Prioritize self-care
Relationships are a two-way street, which means that both parties are giving and receiving at the same time.
But receiving attention, care, and engagement from another person isn't necessarily the same as self-care.
What do you need to recharge?

Do you give yourself permission to indulge in that?

More importantly, does your partner?
A healthy relationship allows both people to recognize the need to recharge as an individual, and even encourages it.
A chain is only as good as its individual links, and self-care means strengthening both the individual and the unit.
6. Make a sex date
If you're stuck in a rut, chances are all forms of intimacy have been off the board, from an emotional connection to sex.
By rebuilding the foundations above, couples will feel closer and more attracted to each other. Now what to do about that?
Modern lives are jam-packed, especially if jobs require travel or if there are children involved.
The solution is to plan a date specifically around sex.
This doesn't have to take the fun out of it. In fact, it could lead to all sorts of fun teasing and planning to build anticipation.
Just remember, if you're getting in the mood by sending risque photos to each other, provide a fair warning before your spouse opens it in a meeting!
7. Express gratitude
Cultivate gratitude to avoid the relationship rut. A couple is bound to have expectations in a relationship. This doesn't mean we forget to express how grateful we are to have them by our side.
Some of the ways to express gratitude in a relationship are:
Say thank you when they help you with something

Thank them for your success

Praise them in front of friends and family

Get creative when expressing gratitude like giving flowers, cooking, etc.
8. Enjoy what your partner enjoys
There could be many activities that your partner likes while you don't. You must make an attempt to engage in what your partner likes to do. It could be watching their favorite movie with them, eating at their favorite restaurant, etc.
9. Set short-term relationship goals
Relationship goals help avoid relationship rut giving it room to survive. They help set a perspective and determine the operations of your relationship. Also, a lack of couple goals can also result in conflicts. Some of the short-term relationship goals are:
Planning a date night every weekend

Calling your partner more often

Switching off the phones by 10 pm
10. Discuss what needs to change
It is important to discuss the problem areas in the relationship and fix them together as a team. Unless there is effective communication regarding where they lack as a couple, the problem will not subside.
11. Give each other space
Having personal space is important in a relationship. Individuality is important in a relationship as it helps the person process their thoughts and feelings. Being together can suffocate the relationship and feel like smothering each other with the presence.
12. Listen
In order to save yourself from the relationship rut, learn to listen to your partner. Listening is an important element of communication. As much as expressing your feelings is important, so is listening and helping your partner feel heard.
13. Go on an adventure
A relationship rut usually occurs when the relationship becomes boring, and couples stop being as fun as they were at the beginning of the relationship. So, share some fun together by going on an adventure and seeing each other in a whole different light.
14. Spend time phone-free
Phone addiction is one of the major causes of a relationship rut. If you or your partner is addicted to the phone, you both are not spending time together despite being next to each other. So, take time off the phone and talk to each other.
15. Observe the progress
As much as you are working to avoid the relationship rut, you must also measure the progress of your efforts. Understand what's working and what's not. This will help you take the next steps towards making the relationship healthy.
Prepare for ruts to return
Nearly every relationship will experience ruts, no matter the reason.
But by talking about the reasons why and working together to break out of them, you and your partner will avoid the marriage rut and reinvigorate your relationship for a stronger bond down the line.
Ruts are natural, and they'll happen, and as long as communication remains open and best interests are at the forefront, they'll never become a permanent problem.
Share this article on
Want to have a happier, healthier marriage?
If you feel disconnected or frustrated about the state of your marriage but want to avoid separation and/or divorce, the marriage.com course meant for married couples is an excellent resource to help you overcome the most challenging aspects of being married.
More On This Topic
You May Also Like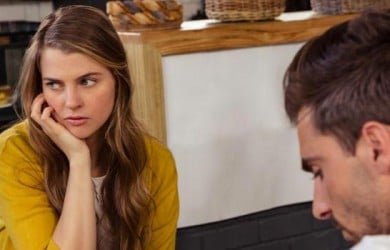 Popular Topics On Married Life