15 Signs of Incompatibility in Relationship
"Are we compatible?" The question plagues many people as they wonder about whether they have a future with their partner or not. If you notice markers of incompatibility early, you can choose to walk away from the relationship or create better harmony.
The presence of signs of compatibility does not only mean that you share the same interests. It can also include sharing the same values, knowing how to handle differences, understanding and helping each other when stressed, having the same sexual energy, and feeling safe, among others.
Keep reading along to learn signs that indicate that you are incompatible with your partner and use these to understand your relationship better.
15 signs of incompatibility in relationships
Compatible partners get along and can envision the future together. Their chemistry is marked by how easily their interests, habits, and hobbies align as they move forward.
Nevertheless, not all couples are fortunate to be compatible partners. You are likely wondering, "How compatible are we?" If you want to know the signs you and your partner are incompatible, here are some of them:
1. Unclear future
Imagine what your and your partner's future looks like, as how you both see it needs to be aligned. One of the signs of incompatibility that isn't easy to resolve is having different life goals.
When couples have different life goals you can resolve things by meeting each other halfway. You have to make sure that you are both happy when you compromise. If not, one might blame the other, which can cause issues in the relationship.
2. Different intellectual levels
If one partner is a doctorate graduate and the other is a dropout, this can be one of the signs of incompatibility in a relationship. Intellectual differences might be ignored at the start of the relationship, as they enjoy each other's company and other traits.
But once they pass this phase, they can realize how different they are because of their educational attainment. Nevertheless, this is not one of the ultimate signs that couples are incompatible.
If you think you have intellectual differences, you can make your relationship work by engaging yourself in thoughtful and sensible conversations. You can also try to find similar things that you can enjoy together. Realize the difference and decide on how you feel about it.
Related Reading: How to Deal With Uncertainty in Relationships
3. Love is missing
When you see your partner, does your heartbeat increase? Maybe this was the situation before, but the love might have changed or eroded.
Even though many people think it is one of the obvious signs of incompatibility, they still choose to stay in the relationship. It could be because this relationship has been their comfort zone. Most choose to go through emotional incompatibility rather than making a change.
The problem might exist from the beginning but is noticeable only later. Or you notice it many years later when unhappiness begins to become unbearable and thus can make one feel miserable.
4. More hangouts with friends
Are you and your partner compatible? Your partner might not be interested in the relationship anymore if they prefer to use their energy and time for other people or things.
For a relationship to work, both should invest time. Trying to resolve issues is an indication that your partner wants to work the relationship out. If not, it is best to let it go.
5. Argue constantly
Arguments are inevitable in all kinds of relationships. Nevertheless, if couples do it all the time, this is not normal and can be one of the signs of incompatibility.
Counseling can help save the relationship if it is too hard to resolve it. You need to keep in mind that It is time to end the relationship if an argument becomes abusive.
Related Reading: How to Recognize When Arguments in a Relationship Are Healthy?
6. Both headstrong
If only one person is stubborn in the relationship, it should not be considered one of the signs of incompatibility. But the future of the relationship might not be promising if both are stubborn. That is because some stubborn people find it hard to admit that they are wrong or apologize.
Related Reading: 10 Ways To Stop Being Stubborn In A Relationship
7. No similar interests
How do you know if you are compatible with someone? You might be wondering if you both have the same interests. Compatibility is desirable, but this does not mean that all your interests need to be the same.
The relationship can work when you have different interests, but it's better when some of these match. The relationship can become weak if you do not have this time together and share all your interests with other people or on your own instead.
8. Can't be yourself
Not expressing or feeling uncomfortable to reveal your true selves to your partner can be one of the signs of incompatibility. For instance, you might feel the need to hide who you are to please your partner. You might also not be open about how you feel to avoid arguments.
You're not compatible if you feel exhausted being with your partner. The exhaustion can happen because of the effort you put in just to make sure that you do and say the right things.
9. Wishing for change
If one cannot accept their partner for who they are, we can treat it as one of the most evident signs of incompatibility. But forced change is different from nudging each other for the better.
You might be incompatible with your partner if something about them makes you very upset or irritated, and accepting it is out of the question.
10. Unmatched sex drives
It can be frustrating for couples if one of them has more sex drive than the other. For incompatible relationships in this situation, one's intimacy needs might not be met, and the other might feel pressured to meet those intimacy needs.
Sexual tension affects the other areas of the relationship. If there is a desire to improve the relationship, couples can utilize certain researched methods to improve things. A lack of effort towards positive changes is a further sign of deterioration.
Related Reading: How to Increase Sex Drive: 15 Ways to Boost Libido
11. No laughter together
According to research, laughter is a vital sign of wellness in relationships. Therefore, not telling jokes or making fun of yourself can be one of the signs of incompatibility.
You might not have fun together if your sense of humor is different or you and your partner cannot laugh at the same things. Being able to tease each other in a fun and acceptable way or doing something silly such as dancing around shows you can be comfortably funny with each other.
If one is very high strung and the other takes everything lightly, it is time to question if they are compatible or not. One of the critical factors to make a relationship lasting are laughter and fun. The relationship can perish if these key factors are lacking.
12. Different love languages
Relationship Expert Dr. Gary Chapman, in his book 'The 5 Love Languages,' explains the varied kinds of love languages. These languages showcase the people's preferred ways of expressing their love for each other.
The 5 love languages are:
Affirmations

Acts of service

Receiving gifts

Quality time

Physical touch.
Incompatible signs can be present if you and your partner find it hard to feel the love of the other because of the difference in the manner of expression. Partners who have the same love languages will more easily recognize each other's love due to the similarity and natural understanding.
Related Reading: What Are The 5 Love Languages? Everything You Need to Know
13. Differences in expressing emotions
The way compassion is shown to others, whether we know or do not know them, and how emotions are expressed is a massive part of who people are. If you cannot understand why they feel or do not feel the way you feel, this can be considered one of the signs of incompatibility.
Communication can be difficult if couples have varying degrees of emotion and empathy. For instance, you will feel misunderstood or unloved if your partner cannot understand why you feel frustrated. Or you might feel overwhelmed when your partner expresses themselves emotionally.
Related Reading: How to Share Your Feelings With Your Spouse
14. Different 'alone time' needs
There are differences in how people want to spend their time alone so that they can perform adequately. However, incompatibility can happen when one needs more time alone and the other wants to spend more time together.
The partner who wants to be alone more can feel guilt when they try to fulfill their need to be on their own. Rejection is what the other partner might feel. But willing couples can make this work through compromise and understanding.
15. Different schedules
If one partner is busy, the partner who has more free time can feel ignored. Dedicating time by doing activities together can resolve it. However, there should be no pressure or anxiety in doing so.
If the situation persists, then it can lead to insecurities and resentments building up. To maintain a healthy relationship, you should try to make time for each other regularly. If you are not doing that, the chemistry between you will fade, and so will the relationship.
Watch this video to learn why compatibility is more important than chemistry:

Conclusion
Finally, you understand the signs of incompatibility that partners can have. The question is if your current partner is the right one for you, or is it time to let them go and move on? There is no ultimate answer to this because every relationship is different.
However, with a better understanding of these signs of incompatibility, you can figure out the answer more quickly. You need to keep in mind that you need to look at things honestly and then analyze the true nature of your interaction with your partner.
Share this article on
Want to have a happier, healthier marriage?
If you feel disconnected or frustrated about the state of your marriage but want to avoid separation and/or divorce, the marriage.com course meant for married couples is an excellent resource to help you overcome the most challenging aspects of being married.
More On This Topic
You May Also Like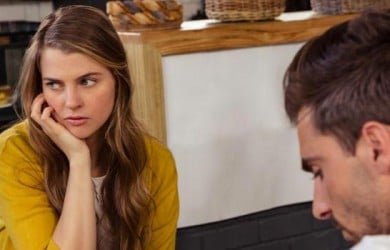 Popular Topics On Married Life