15 Signs Of An Emotionally Mature Man
When someone is trying to win your heart, they will do their best to show you their good side.
Any woman would fall in love with an independent man who has stable work and is emotionally mature, right?
Unfortunately, some men pretend that they possess signs of maturity in a man. Soon, you'll see that everything you admired about him was all for show.
If you are familiar with this experience, you don't want it to happen again. Wouldn't it be great to know the signs you are dating a mature man?
How do you define a mature man?
Contrary to what others believe, maturity doesn't come with age. A person's age does not have anything to do with their maturity. Many young people are wise and mature for their age, and some older people are still immature and childish.
So, at what age does a man emotionally mature, and what defines maturity?
Maturity is how a person thinks and acts in a given situation. With the right mindset, anyone can learn how to be mature. It's all about discipline and being in tune with your surroundings. It's how you process that every action has its consequences.
That being said, what is a mature man?
A man who is mature is ready to be the foundation of his family and eager to grow with his spouse.
A mature man is also in tune, not just with his surroundings but also with himself. He has no lover who wants to do childish things that won't help him grow.
Related Reading: 

25 Signs of Emotional Maturity in a Relationship and How to Develop It
When can you expect a man to mature?
When do men mature, and what are the signs of maturity in a man?
Men mature later in life compared to women. But once a man becomes more emotionally mature, his priorities change.
An immature man cannot change overnight. Practicing emotional maturity takes time, patience, and a lot of realization.
When does a man emotionally mature? When can we at least expect it to happen?
According to a new study by the famous Nickelodeon UK channel, Wendell & Vinnie, men don't become fully mature until they reach the age of 43.
The study showed that women, in general, become emotionally mature when they are in their 30s, while signs of maturity in a man do not show until they are 43 years old and above.
Related Reading: 

15 Ways on How to Be Mature in a Relationship
How does a mature man act?
Of course, this does not apply to everyone. That is why we should know how to spot signs of maturity in a man.
What does a mature man act like?
Even while you're dating, you already want to see if you are dating an emotionally mature man or not. We don't want to waste time and feelings on someone immature.
Look back at the mature men in your life, your father, uncles, teachers, pastors, or anyone you look up to. How do they act? Do you have an overall idea of how they think, act, and decide?
Overall, an emotionally mature man can understand himself and his emotions. He is usually calm and can think before he reacts. He would also be a man who knows how to take responsibility instead of blaming others.
If you're excited to know more about the signs of maturity in a man, we'll let you into the things mature men do and more.
15 Signs of maturity in a man
Here are 15 signs of emotional maturity that you should look for if you want to fall in love with someone.
1. He's not afraid to show his feelings
For some, a man should not cry or show girly emotions, but not quite. A mature man is not afraid to show his feelings.
He won't just cry, get angry, or be upset. He would open up to you and explain why he feels this way. He wants you to be able to understand what's happening and do something about it.
This approach is better because it lessens the drama. After all, how could you fix something if you don't talk about it?
Related Reading: 

15 Signs Someone Is Hiding Their Feelings for You
2. He is honest
Honesty is one of the signs of maturity in a man. Since he's mature, he doesn't need to lie or deceive his partner to get what he wants. He would be open to you and can look you in the eye with sincerity.
A man who is sure of himself will be able to give you real love. This trait of a mature man makes any relationship beautiful because you will feel at ease and secure.
Related Reading: 

Why Honesty in a Relationship Is So Important
3. He chooses peace
We can't control the situations that will happen to us. One day he may meet someone and argue over traffic or a co-worker who keeps on provoking him.
Whatever life throws at him, he would think before reacting. You will notice that he would choose peace over proving a point or being the winner. Maturity is when a person chooses his battles.
Related Reading: 

15 Tips to Build Harmonious Relationships
4. His patience is admirable
A mature man would also be patient. This means that he's a person who is wise to know that life isn't perfect. Sometimes, things don't go as planned, no matter how hard you try.
This also applies to you and other people. There will be instances where you will have misunderstandings, and instead of getting angry when you're angry, he would rather be patient and understanding.
5. He is flexible in any given circumstances
An immature man is stubborn and will not accept change or other people's opinions.
One of the signs of maturity in a man is when he's open to change and can accept unpredictability, and that life is not permanent. He may share different views and opinions, but he won't start a debate.
Instead, he would listen to and respect other people's opinions and decisions.
6. He's a resilient man
A mature man is resilient in times of trials and uncertainty.
As a man, he would be a leader to his family. He would show his flexibility and optimism in difficult situations. After all, we don't know what life will throw at us.
He will keep his cool, no matter how overwhelming the situation is. Instead of panicking or getting stressed, he would think of a solution.
Also Try: 

Is Your Relationship Resilient Quiz
7. He's optimistic and realistic
One of the signs of a mature person is when he views life with optimism and realistically.
Life will give us good and bad experiences, but don't let the latter destroy our positive mindset. When a man is mature, he views any given situation with optimism.
A mature man would also study every option and possibility and prepare himself to handle the problem effectively.
8. He has an open mind
An immature person would get furious if you correct him, but a mature man would keep an open mind.
Maturity allows your mind to be open to many possibilities and ideas. Opinions become pieces of information for growth. This would nurture the mature man's ideas, be able to learn more, and embrace other people's views.
9. He is always grateful
Say goodbye to constant whining and complaints. When you're dating a mature man, you'll see how gratitude can affect your relationship.
A man who is already mature will embrace a sense of gratitude. He would be thankful for the simplest things, for you, and for everything that will happen in the future. It doesn't matter if it's big or small; he would appreciate it.
Can you imagine being with someone with this mindset?
10. He practices self-acceptance
A mature person accepts himself fully. He no longer needs to change to please people because he knows this isn't what life is. He knows he's not perfect, but he is trying to be the best version of himself, and that's beautiful.
Self-acceptance allows him to focus on what he can improve and how to grow as a person. He chooses his path and personality and accepts himself for who he is.
Related Reading: 

What Happens When There's Lack of Self-Acceptance in Relationships
Georgia Dow, MA, explains self-identity & self-esteem. Dow has over 20 years of experience in teaching and counseling.
11. He practices humility
When a person matures, they also become wise. They start seeing the bigger picture and want to be better, but this allows them to be humble.
A mature man no longer wishes to be the center of attention.
Instead, he would point out that all of us are equal, and he is just someone who wants to inspire others. He would be someone who will not let success, money, and intelligence get to his head.
12. He is accountable
You are responsible for yourself and your decisions in life. So, if the guy you are dating grasps that he's responsible for himself, his decisions, and his actions, then that's one of the signs of maturity in a man.
A mature man knows that he is the only person who's accountable for his own life and will blame no one else if something doesn't go as planned.
Related Reading: 

Why Is Accepting Responsibilities in a Relationship Important?
13. He has self-control
A mature man is aware of himself and his surroundings. This means that his self-control will also increase. Instead of reacting to stimuli, he would rather think first.
Instead of winning by using violence or harsh words, he would remain calm and walk away, especially in a dangerous situation.
For example:
Some reckless driver stops him and tries to insinuate a fight. Instead of apologizing, the driver was trying to fight and shout.
An immature man would probably go out and fight. After all, he was the one who started it! You might be able to hear him that he'll give him a lesson.
Now, a mature man would probably call the authorities if he is being harassed. He won't choose to come out and start a long debate with the offender.
Why is this admirable?
A man who knows how to walk away from a meaningless and dangerous fight is mature.
Related Reading: 

14 Tips on How to Control Your Emotions in a Relationship
14. He has self-awareness
Maturity starts from awareness and grows with knowledge and mindfulness.
A mature man is also self-aware. He can look at himself in the eyes of another. This way, he would be able to have a neutral view of the situation and can prevent compulsive reactions.
Irrelevant issues no longer matter for a mature man. He knows there is more to life than petty arguments. He would instead let it go than waste time arguing because the truth is when you are self-aware, you won't let these things get to you.
15. He's respectful
Of course, a man who is already mature knows how to respect the people around him.
Respecting his parents, you, his co-workers, and even your kids is a trait of a man who has matured. Respect is one of the best signs that the man you are with has started to mature.
Example:
There will be times when you're not in the mood to go on a date. You might send a text about rescheduling, but you receive a furious date who's calling you instead of a sweet message.
An immature man would get angry, blame you that you're just avoiding him, and be toxic and hurtful about your reasons.
A mature man would understand and ask if you are okay. Maybe he would also go to your home and take care of you.
Maturity is understanding that you're no longer a child to do a tantrum, and not everything will revolve around you.
Related Reading: 

Building Communication, Respect, and Trust in Your Relationship
Conclusion
When you fall in love with an immature man, don't expect stability and security. You might even find yourself taking care of an emotionally weak person.
Instead of being inspired to grow, you will feel trapped and suffocated with all the drama from petty issues like jealousy and your differences.
If you are with someone immature, expect that you will also act like one.
That's why it's better to be familiar with the signs of maturity in a man. So, the next time you will go on a date, you know what to look for and how to see if you're falling in love with a mature man.
Share this article on
Want to have a happier, healthier marriage?
If you feel disconnected or frustrated about the state of your marriage but want to avoid separation and/or divorce, the marriage.com course meant for married couples is an excellent resource to help you overcome the most challenging aspects of being married.
More On This Topic
You May Also Like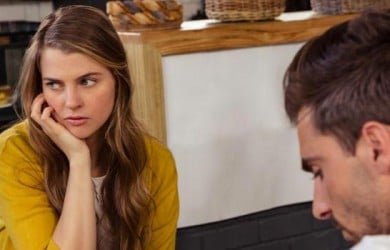 Popular Topics On Married Life