10 Signs of Stagnant Relationship and Steps to Revive It
Does the thought of your partner make your mood drop or make you anxious? If you feel like the relationship is as much work as it is to walk through water then you could be in a stagnant relationship.
All relationships go through ups and downs. If you're feeling stagnant, you might be experiencing what psychologists are now calling 'languish,' as described here. Essentially, you've lost interest, and you're living in a constant fog.
As you can imagine, in the long run, this will impact your mental health. So, let's see what we can do about a stagnating relationship.
What does a stagnant relationship look like
First, what is a stagnant relationship, and what does it actually feel like? Of course, every experience is personal, but there are some common themes to every stagnant relationship. The first and most obvious feeling is that the magic has gone.
Life is complex, and we can get lost in responsibilities and to-do lists such that we forget to live in the moment and we take people for granted. It happens to the best of us. Regardless, this can lead to feeling stagnant.
Sometimes you get to the point that you can't even remember happy memories and even dread going home to your partner. By this stage, you usually know in your gut that something is wrong, even if you can't quite put your finger on it.
Related Reading: 

14 Ways to Keep Your Relationship Strong, Healthy, and Happy

 
What causes a stagnating relationship
The official stagnant relationship definition, according to Google's Oxford Languages, is to have no flow or activity. Everything basically feels dull and sluggish when you look at the meaning of stagnant. You could also say that when something is stagnant, it's not growing or changing.
1. Fixed mindsets
Overall, a stagnant relationship feels just a bit like being in a body of still water that has no life or energy.
Often, this means that both parties are fixed in their opinions and will not budge on anything, including life decisions. Moreover, either person can become so disillusioned and miserable that they just look for all the bad things their partner does.
Related Reading:  

Cultivate the Millennial Mindset to Enrich Your Marriage
2
.
Miscommunication
A core problem for any relationship stagnation is how partners communicate. Is it open and inclusive or is it judgemental and self-serving? All relationships take effort and if people aren't willing to listen then this can quickly lead to a stagnant relationship.
Related Reading: 

How Miscommunication Causes Conflicts
3. Lack of connection
Perhaps your emotions are no longer in tune, and you don't feel aligned in your goals? Deep down, we all know when we have a special connection with someone.
Fundamentally, a romantic connection is a deep bond that goes far beyond any physical attraction when you simply feel in sync. Without it, you could be in a stagnant relationship.
Related Reading: 

What To Do When You're Feeling No Emotional Connection With Your Husband
4. No growth
Great relationships are partnerships where each person supports the other such that you can grow together. Without this desire to learn and improve together, there's a chance you could be aimless and without hope for the future.
Even worse, you could have lost appreciation for each other's strengths and what you offer the partnership. That's usually the start of a stagnating relationship.
Related Reading: 

7 Characteristics Of A Good Relationship
5. Mismatched values and lifestyle
Depending on how the relationship started, it's possible you're simply bored. If you have different interests, values and hobbies then it can be tough to find a common passion.
Furthermore, your lifestyles could be at opposing ends of the scale, ranging from party-goer to stay-at-home. This can cause both conflict and disinterest, which naturally lead to relationship stagnation. Although, the good news is that there are things you can do before giving up.
10 clues you're in a stagnant relationship
What is a stagnant relationship, if not a feeling of listlessness and hopelessness? So, see for yourself if any of these clues are making you just go through the motions of living.
1. You're walking on eggshells
Maybe you're afraid of making your partner angry?
Alternatively, maybe you've already given up having those meaningful conversations because you get nothing in return. Either way, you're feeling stagnant and hopeless that anything can change.
Related Reading: 

The Truth About Walking on Eggshells in a Relationship
2. No more intimacy
This might sound weird but when you're in a stagnant relationship, it's common to miss your partner from the good old days. Relationships tend to start on a high with birds constantly singing around you.
Then, something changes, and you're no longer physically connected. Whatever the reasons, this could be the start of a stagnating relationship.
Related Reading: 

How Important Is Intimacy in a Relationship
3. Constantly arguing about the same things
Being in a stagnant relationship means that things aren't moving forward. It's almost as if you're stuck in a loop, and even your arguments seem to repeat themselves. Usually, this is because neither party really wants to resolve your differences.
4. You feel drained
Strong partnerships revolve around supporting and energizing each other.
On the other hand, if you feel that the effort far outweighs any rewards or results, you may be in a stagnant relationship. After all, we need to see progress to feel fulfilled in our interactions with our partners.
Also Try : Am I emotionally exhausted
5. No more playful or fun times
Having fun is an important part of a great relationship. Ultimately, we shouldn't take ourselves too seriously, and we should be able to laugh together.
Some couples even manage to develop inside jokes and a secret language. Both of these serve to bring us even closer together, as Kira Newman, MD of Greater Good, explains so well in her article.
6. No more planning
What is a stagnant relationship but one with no future in sight? The lack of planning or desire to even talk about the future is a clear sign.
Of course, this can come from a deeper issue such as misaligned values and a mismatched vision of that future. Sadly, this realization usually means it's more than just a stagnant relationship but sometimes even one that's not worth saving.
If you want some more tips on whether it's worth staying in the relationship, then have a look at this video:

7. Doubt and lack of trust
It's very hard to move on from relationship stagnation when that niggling voice of doubt sets in.
So ask yourself, do you trust the partnership as a team? Do you feel that you can trust each other's commitment to the relationship? Then again, can you both be yourself without putting your guard up? If you feel unsure about any of these questions, then you could be in a stagnating relationship.
Related Reading:  

How to Resolve Trust Issues in a Relationship
8. One-way commitment
We all know that feeling when everything feels one way. For example, are you always suggesting activities or ideas of things to do together? Perhaps you're giving in and forgetting that you also have needs in the hope of saving your stagnating relationship?
It's easily done but if you get to that stage, try to remember that a good life is one where we feel equal with our partners. The idea is that we grow together and work through challenges as a team. That becomes virtually impossible to do well if you're not true to yourself and what you want.
Related Reading: 

Significance of Commitment in Relationships
9. You're bored
It almost goes without saying, but if you don't feel alive and motivated by your partner, then the chances are that you're facing relationship stagnation. Perhaps your partner doesn't challenge you enough, or they don't have the curiosity to try new things?
Related Reading: 

How to Fight Boredom in your Marriage
10. Respect and forgiveness have gone
Last but not least, we're all human, and we make mistakes.
If, on the other hand, your partner constantly focuses on the negatives, it can be highly demoralizing. Part of this process means learning to appreciate each other's strengths and weaknesses with empathy and respect. When this is gone, feeling stagnant becomes the norm.
Related Reading: 

The Emotional Power of Forgiveness and Repentance in Marriage
10 ways to re-energize your stagnant relationship
The stagnant relationship definition implies that we're sitting in a pool of water that hasn't flowed downhill for a while and is even overgrown with weeds. Let's not forget that you can always make an opening and let the water flow.
Ultimately, water is adaptable and so are we, meaning that we have hope if we want it. So, see what resonates with you most when reviewing this list:
1. Know your needs
It might sound obvious, but it's important to know what you want and what you need before you do anything. Once you know that, it becomes much easier to talk to your partner and listen for any potential common ground.
2. Understand your communication style
Re-energizing any stagnant relationship starts with communication to at least establish that there's an issue. For instance, could there be a chance that your partner hasn't noticed anything yet?
Then, it's also important to remember that the only person we have any control over is ourselves. Therefore, is there anything you can do differently with your communication style?
A great technique to use is the I-statement to avoid sounding like you're blaming your partner. The idea is to focus on your feelings and what you need without being aggressive.
Also Try : What Is Your Communication Style?
3. Do something radically different for the day
Sometimes a stagnant relationship happens because we simply get caught up in priorities and to-do lists. Most people are desperately juggling several things at once and have no energy for their relationship by the time they get home.
That's why it can be a huge energy booster to find something novel and creative to do together. Why not even do something playful, such as going to a fair or even to karaoke?
4. Set realistic expectations
If you're in a stagnating relationship where both of you are willing to work on it, try not to be too hard on yourself. Moreover, baby steps are motivating because you're more likely to achieve them.
5. Clarify boundaries
Could you be feeling stagnant because your partner doesn't understand how to respect your space? Remember to give them a chance to change and explain why you need certain boundaries around your time or physical space.
6. Go on a date
It's easy to get lost in our busy lives. That's why many couples plan a specific night to go out on a date and spend quality time together. This can be a great solution for relationship stagnation if you just need to reprioritize your partnership.
7. Hang out with happy couples
There's something inspiring about happy couples who can also act as great role models to inspire you to re-energize a stagnant relationship. Of course, you need to first make sure you're ready as a couple for this experience. That's because otherwise, you could just end up feeling demoralized.
Related Reading: 

3 Things Happy Couples Do Every Day
8. Accept imperfection
Again, we're only human, and it's critical to accept both your flaws and those of your partner's. Naturally, it will take time and practice but try to be patient. A good way to do this is to remind yourself of both your strong points.
9. Do you love yourself?
At the end of the day, a stagnating relationship can only truly recover if you actually love yourself. Without this, it's very difficult to expect someone else to love us and make an effort we can't even make for ourselves. So, working on your self-esteem can also be invaluable. If you want somewhere to start, check out this self-esteem journal exercise.
Also Try: Self Love: How Much Do You Love Yourself Quiz
10. Patience and gratitude
Everyone needs to be reminded of why we love someone at some point or another. Patience is one thing, but a bit of gratitude can help. That's why listing then things you love about your partner can be a good place to start working on a stagnant relationship.
Conclusion
All relationships take effort, and everyone has stories of their ups and downs. The ones who make it are the ones who believe in the relationship and commit to communicating openly and respectfully.
Remember that the first thing you need to focus on is yourself. This is both in terms of what you need from a relationship and what you can change in your approach. Assuming you get a positive response from that, everything will start flowing again. If not, sometimes it's worth walking onto another pool of water and finding the open river again.
Share this article on
Want to have a happier, healthier marriage?
If you feel disconnected or frustrated about the state of your marriage but want to avoid separation and/or divorce, the marriage.com course meant for married couples is an excellent resource to help you overcome the most challenging aspects of being married.
More On This Topic
You May Also Like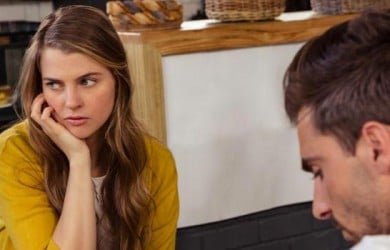 Popular Topics On Married Life