20 Telltale Signs He's Using You and How to Stop It
When you love someone or have a crush, it can be natural sometimes to forgive their flaws. But what happens when the flaws you are overlooking are the signs he's using you?
Being used by someone you love can be one of the worst feelings, especially when you believe you have given each other your hearts.
So, do you have questions like, Is he using me for sex? Is he using me for money? Does he really love me, or is he using me?
In this article, we'll answer all those questions you may have. Keep reading to find signs he's using you, and learn how to stop being used in a relationship.
What does it mean to be used in a relationship?
Being used in a relationship refers to a situation where one person, typically the one who feels used, gives more than they receive. Their partner takes advantage of their generosity or emotional investment.
It can manifest in various ways, such as one partner constantly relying on the other for emotional support or financial assistance without reciprocating, using the relationship solely for personal gain, or manipulating their partner's feelings or actions to meet their own needs.
Hence, looking out for these signs of being used in a relationship is crucial. Being used can be emotionally damaging, eroding trust and leading to resentment and powerlessness.
Healthy relationships are based on mutual respect, reciprocity, and a balance of give and take, where both partners contribute and benefit in a fulfilling and equitable manner.
How to know if a guy is using you or likes you
Determining if someone is using or likes you in a relationship can be challenging, as people's intentions and behaviors vary widely. However, there are some common signs to look out for that may indicate someone is using you:
Inconsistent contact:

If the person only reaches out to you when they need something or it's convenient for them but is otherwise distant, it may be a sign of usage.

One-sided effort:

You consistently put in more effort, whether in terms of time, emotional support, or resources, while the other person does very little in return.

Always asking for favors:

They frequently ask for favors or help but are rarely available when you need assistance or support.

Conditional affection:

Their affection and attention seem tied to what you can do for them, and they withdraw it when you can't meet their needs.

Lack of commitment:

They avoid committing or showing interest in a deeper, more meaningful relationship. They may be noncommittal or avoid discussions about the future.
If you notice several of these signs in your relationship with someone, it's essential to have an open and honest conversation with them to express your concerns and feelings.
Communication can help clarify their intentions and lead to a resolution, whether it involves setting new boundaries, reevaluating the relationship, or ending it if necessary. Trust your instincts, and prioritize your well-being in any relationship.
20 potential signs he's using you
Maintaining healthy and respectful relationships is crucial, where both parties contribute equally and benefit from the connection. If you suspect someone might be using you, it's essential to be vigilant and consider these potential signs.
However, please remember that these signs can be context-dependent, and it's always a good idea to communicate openly and honestly with the person to address any concerns. Here are some possible signs that a man might be using you:
1. He doesn't put in any effort
When someone doesn't put in any effort in a relationship, it can be a sign that they might be using you or not valuing the relationship as they should.
The lack of effort can manifest in various ways, such as not initiating contact, showing disinterest in your life, failing to contribute to the relationship's growth and development, avoiding compromises, and consistently prioritizing their needs and desires over yours.
In such situations, it's essential to communicate your concerns and expectations because a healthy relationship involves both parties trying to maintain and nurture it.
If the other person continues to show disinterest and a lack of effort, it may be worth reevaluating the relationship to ensure it's mutually beneficial and respectful.
2. He won't talk about commitment
Have you ever tried to talk to your guy about the future? If he's giving vague answers about your future together or seems to avoid the topic altogether, it could mean he isn't planning to stick around for long.
When someone avoids discussions about commitment, it might indicate a lack of long-term interest or an unwillingness to invest in a more serious and lasting relationship, leaving you uncertain where the relationship is headed.
3. He doesn't engage you in conversation
Research suggests that being curious about your partner can keep the fire alive in a relationship. If your partner doesn't engage you in conversation or seem curious about you and your life, it could be a sign that he is just using you for physical intimacy or other things.
Meaningful conversations are a cornerstone of emotional connection. When absent, it can signal a shallow or one-sided relationship, where your partner focuses primarily on their own needs and desires rather than a genuine interest in your thoughts and feelings.
4. He only calls you for one thing
If you find that the primary reason he contacts you is for a specific, often self-serving purpose, such as sex, it can indicate that he may be using you. So, if you have doubts such as "Is he using me for sex?" it might be possible.
When the communication revolves solely around his immediate needs or desires, it can leave you feeling objectified and undervalued. A healthy relationship involves multifaceted communication and connection rather than being reduced to a one-dimensional interaction centered on fulfilling his specific request or desire.
5. You don't know his friends or family
Close couples want to get to know each other, and that may include meeting close friends and family.
There could be a shady reason if you've been together for a while and still haven't met his friends. Perhaps you are the "other woman," or his friends have no idea that you exist.
6. He doesn't check in when you're apart
How can I be sure that my partner is using me? One of the possible signs he's using you can be observed through his communication patterns.
In a caring relationship, there's an eagerness to stay connected through messages, calls, or other means, as both partners are interested in each other's well-being and daily experiences.
However, notice that he consistently engages in explicit or sexual conversations or rarely makes an effort to keep in touch throughout the day when you're apart. It can strongly indicate that he might be using you for gratification rather than seeking a meaningful connection.
7. He's selfish
I think my boyfriend used me; I have strong feelings about it. Consistently selfish behavior can indicate that someone might be using you. In a healthy and balanced relationship, both partners are expected to consider each other's needs, feelings, and desires.
When one person exhibits a pattern of putting their interests above all else and disregards their well-being, it can be a sign that they are being selfish and self-centered, which can lead to feelings of being taken advantage of or used in the relationship.
Addressing such behavior and maintaining mutual respect in any healthy connection is essential. If you suspect your crush or boyfriend is a narcissist, it's advisable to prioritize your well-being. Consider distancing yourself from such individuals for your emotional health and personal growth.
8. There is no courtship
When a man is genuinely interested in you, he's eager to take you out on the town and proudly introduce you to his world. He will be passionate about romancing you and ensuring you have a fantastic time.
Conversely, when someone is using you, they're unlikely to invest in you or make thoughtful gestures. There might be no dates, romantic surprises, and sweet, whispered nothings in your ear.
9. He doesn't have empathy for you
Knowing if a guy is using you or likes you all comes down to how he treats you. One of the potential signs he's using you is if he doesn't have empathy. Empathy is the ability to put yourself in another person's shoes.
If he doesn't respect or understand your feelings, he might not be the right person, and you are better off without him.
10. You are his bank account
Is my boyfriend using me financially? If you find that a person is primarily interested in you for financial reasons, it can be a concerning sign that you are being used as a source of financial support rather than for a genuine and meaningful relationship.
In such cases, evaluating the motives behind the connection and prioritizing your financial well-being and emotional health is essential.
11. You don't know each other
A healthy and meaningful relationship has a strong foundation of understanding and knowing each other's thoughts, feelings, and life experiences. Do you share personal stories and feelings, or is your time usually spent watching television or exploring the physical side of your relationship?
If you realize that you have a superficial or limited knowledge of the person you're involved with, it might be a sign that the connection might lack depth and authenticity.
The lack of understanding can indicate that the person is using you for their own purposes without a genuine interest in forming a deeper and more meaningful bond.
12. You suspect you're his sidepiece
Infidelity can hurt. If you have strong suspicions that you're not the primary focus of the person you're involved with and that they may have another, more significant relationship, it might be a clear sign that you might be in a secondary or hidden role.
Being in such a relationship can be hurtful and unsettling, as it may signify that you're being used as a secondary option rather than being valued as a partner in a genuine, committed relationship.
Addressing these concerns and deciding whether you're comfortable in such a situation or deserve better is essential.
One study involving 73 adults who had experienced infidelity in nonmarital relationships revealed that 45.2% exhibited symptoms resembling post-traumatic stress disorder. It also found that infidelity-related PTSD symptoms were linked to depressive symptoms, but their association with perceived stress and anxiety symptoms was inconclusive.
13. He doesn't communicate
Is he using me for money, or does he have other motives? A man who can't seem to communicate (or doesn't WANT to communicate with you) can indicate that the guy is using you.
Communication is how you deepen your bond, especially in a new relationship. If your boyfriend is unwilling to share or work through issues with you, it could indicate that he might not be as invested in the relationship as you are.
14. You never go out on real dates
If the relationship lacks traditional date nights where you spend quality time together outside of private settings, it can strongly indicate that you might be used for convenience rather than being a genuine romantic interest. Meaningful dates are an essential part of building a connection and creating memories.
If you consistently miss out on these experiences, it can suggest that the person may not be interested in a committed, emotionally fulfilling relationship and could be using you for other purposes. It's essential to communicate your expectations and assess the relationship's direction.
15. He's always asking you for something
When someone continually seeks favors, assistance, or material goods from you without reciprocating or showing appreciation, it might be a sign that they may be using you for their benefit. Healthy relationships involve mutual support and give-and-take, where both parties contribute and help each other.
However, if you find yourself in a situation where you're consistently on the giving end while receiving little in return, it's crucial to reevaluate the dynamic and consider whether the relationship is genuinely fulfilling and respectful.
16. You can feel it in your gut
One of the potentially stronger signs that he is using you is your intuition. Your gut feeling is your body's way of telling you to be careful. It's your instinct designed to protect your emotional and physical well-being.
If you can't shake the feeling that something is off in your relationship, it may be time to investigate what's really going on.
17. He doesn't seem to care about your feelings
Did he love me or use me? One of the better ways to see the signs he's using you can be seen by the way he treats you. Take it as a bad sign if he just asks for favors and never asks how you're doing.
Someone who is invested in you will probably be going to be considerate of your feelings and care about what's going on in your life.
18. He has a reputation for using girls
There's something to be said for giving someone the benefit of the doubt. Gossip is not to be trusted and generally comes from unreputable information.
However, if your man has a public reputation for using women for sex, money, or just to pass the time, it may be a rumor worth your attention.
19. He ghosts you
Did your relationship take a turn that you never saw coming? One of the glaring signs he's using you is if he cuts off all contact with you without any explanation.
Much like a ghost, a man who is uninterested in you can stop answering your calls and texts, remove you from social media, and avoid you without telling you why.
20. He never goes out of his way for you
If you want to learn how to test a guy to see if he really loves you, observing his actions and what he's willing to do for you is helpful.
While it's not about expecting someone to go to extremes constantly, when a person truly cares about you, they will probably be willing to make an effort to be there for you in times of need.
Genuine love usually manifests in small and meaningful gestures, demonstrating a willingness to prioritize your well-being and happiness.
How to stop being used by a guy
Are you feeling uncertain about whether you're being used in your relationship? Recognizing the signs is the first step to reclaiming your emotional well-being and happiness.
If you've noticed any of the warning signs mentioned above, it's time to take charge of your romantic future and ensure that you are in a relationship built on mutual respect and care.
Below are some steps to stop being used by a guy:
Evaluate your relationships:

The process begins by assessing your relationships, whether it's your boyfriend or anyone else in your life. If someone makes you feel your sole purpose is to serve them, it's essential to consider whether they truly value and respect you. Don't be afraid to distance yourself from such individuals.

Take responsibility:

Acknowledge any patterns or missteps that may have led you to date people who use you. Recognizing these patterns is the first step toward making healthier relationship choices.

Boost self-love and confidence:

Cultivating

self-love

and enhancing your self-confidence are vital. When you believe in your worth, you'll be less likely to accept being used as a norm.

Set boundaries:

If you suspect someone is using you for financial or other purposes,

communicate your boundaries

. You are not their personal bank account and have the right to protect your financial and emotional well-being.

Reciprocity matters:

If someone doesn't reciprocate your feelings or efforts, it's essential not to chase them. In a healthy relationship, both partners should be equally invested.

Open communication:

Learn to express your needs and intentions openly.

Effective communication

can help you understand whether someone genuinely cares about you or is using you for their benefit.

Be exclusive with caution:

When dating, consider exclusivity once you are certain that the person

respects and cares

about you. Take your time to ensure the relationship is built on trust and respect.

Recognize when to walk away:

Lastly, know that being alone is often better than being with someone who manipulates or uses you. Recognize when to

move on

and invest your time and energy in healthier connections.
Watch Stephan Labossiere, a certified relationship coach, as he explains how to get over a guy and detach from him emotionally in this video:
By following these steps, you might not only learn how to stop being used by a guy but also pave the way for a happier, healthier future built on respect, reciprocity, and genuine care in your relationships.
Commonly asked questions
Recognizing whether someone is genuinely invested in a relationship or using you for specific purposes is vital for your emotional well-being and personal growth. In this section, we'll discuss different forms of exploitation and help you answer some common questions regarding it:
How do I know if he is using me for sex?
You may be used for sex if your interactions predominantly revolve around physical intimacy, with little emotional connection or commitment. It could be a red flag if he only reaches out for late-night encounters and avoids deeper conversations or personal involvement.
How do I know if he is using me for money?
If you notice a pattern of him frequently asking for financial assistance, expensive gifts, or expecting you to foot the bill, it could indicate he's using you for money. Be cautious if there's an unequal financial burden in the relationship.
How do I know if he is using me for emotional support?
When someone is using you for emotional support, they may consistently lean on you for their problems and emotional needs but seem less interested in reciprocating your support or being there for you in return. It can feel one-sided and draining.
How do I know if he is using me for attention?
If he consistently seeks your attention and validation but doesn't reciprocate or invest time in understanding your needs or interests, it might be a sign of using you for attention. Pay attention to the balance of giving and taking.
How do I know if he is using me for his personal gain?
When someone uses you for personal gain, they may only show interest when they need something from you, such as connections, favors, or resources. If they're inconsistent in their interactions and seem opportunistic, it's a warning sign that they may exploit the relationship for their benefit.
In conclusion
Being used by someone in a relationship is something no one would want to experience. Now that you are aware of the common signs he's using you, it's time you take action. However, before that, you may have a question somewhere in your mind: "Why did he use me?"
There isn't any single answer to this question, as a man might have used you in a relationship for various reasons, including selfishness, convenience, or a lack of genuine feelings.
So, while there is no straight answer to this question, we can provide clarity on dealing with being used by a man and moving on to a happier future.
You can learn how to get over being used by a guy by developing self-love and confidence, only dating men who respect you, and being clear about what you're looking for in a partner. We hope you've learned all you need about the signs he's using you.
Share this article on
Want to have a happier, healthier marriage?
If you feel disconnected or frustrated about the state of your marriage but want to avoid separation and/or divorce, the marriage.com course meant for married couples is an excellent resource to help you overcome the most challenging aspects of being married.
Learn More On This Topic
You May Also Like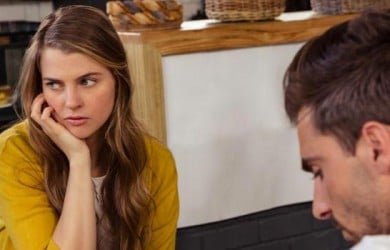 Popular Topics On Married Life