15 Clear Signs He's Stringing You Along
So, here's the thing: you'll know when you're with someone who set out to waste your time.
The realization could come to you as a sinking feeling or a hunch in your unguarded thoughts. However, the fact remains that a part of you will spot these signs and warn you on time.
Part of the skills that will keep you safe is your ability to spot the signs he's stringing you along, after which you must figure out what to do when he's stringing you along.
This feels like a lot. But take a chill pill because, by the time you are done with this article, you'll know exactly where you stand with him.
Related Reading: 

How to Deal With Uncertainty in Relationships
What does "stringing someone along" mean in a relationship?
It wouldn't make much sense to jump into showing you the signs if we don't first clear this air. What does it mean to string someone along?
The Urban Dictionary defines stringing someone along as the act of dragging out a relationship with someone while having dishonest intentions towards them.
In most cases, the one stringing the other person along does that because they are gaining something from the other person's ignorance (money, attention, sex, etc.).
More often than not, this scenario ends terribly for one person, usually the person being strung along. With this context in place, identifying the signs he's stringing you along is essential for your mental health.
15 alarming signs he's stringing you along
"Is he stringing me along or taking it slow?"
People who suspect their emotions are being played on often have this question at the back of their minds. To help you put a final rest to this question, here are 15 clear signs a guy is stringing you along.
1. He doesn't give you what you want
This is one of the first signs he's stringing you along. From the relationship's inception, you were clear about what you wanted. You told him you were looking for commitment and an exclusive relationship. You told him you wanted to settle down and he seemed fine with it at first.
However, he cannot seem to give it to you, no matter how hard you try. Most times, this seems to continue for the longest time.
2. He starts spending less time with you
While this may not be the classical sign that a guy is stringing you along, please pay extra attention when he starts spending way less time with you than he used to.
Coupled with that, he'd keep you thinking that he's still interested by tossing random messages your way – messages declaring how much he misses you.
3. He makes promises but hardly keeps any
Research has shown that people make and break many promises, especially in romantic relationships. And this is one of the first steps that would eventually cause many relationships to split.
Take stock of the promises he made you recently. How many of them has he kept? Does he move from one promise to another with the speed of light and without executing any of them? Well, this may be because you are in a string-along relationship.
4. He only shows up when it is time for sex
Consider this a continuation of the second sign we discussed. Not only is your man spending much less time with you now (when compared to how it used to be at first), he now shows up when he is horny.
When a guy truly wants you, he will make time to be with you, no matter how busy he is. However, just showing up when he wants to get his rocks off may be one of the signs he's stringing you along.
Related Reading: 

When Is the Best Time to Have Sex and Its 15 Benefits
5. He becomes more irritable
When he finally creates the time to spend with you, it may feel like you are hanging out with a stranger because he spends most of that time grouchy. You'd notice this easily if he used to be a more cheerful person.
Do you know what's worse? He might get defensive and push back at you when you try to get him; to understand the challenge.
Related Reading:

 How to Deal With Mood Swings in a Relationship
6. He has exciting opinions about relationships
One of the most apparent signs he's stringing you along is that he has the most exciting views on relationships and commitment. Although he may not say them often, these opinions can slip out in his unguarded moments.
As far as he is concerned, relationships are overrated. He might also say that commitment isn't for him. Even if he tries to cover these up by presenting them as jokes, you may want to pay close attention to what he's not saying.
7. He never calls you his partner
When you are with a guy who loves and adores you, he will seize every opportunity to let you know the important space you occupy in his life.
He will introduce you as his partner when you go to public functions. He would do the same when you meet the people that matter to him.
However, one of the signs he's stringing you along is that he is never able to do this. There's usually that awkward moment mid-introduction when it seems like he's looking for the right words to describe exactly who you are to him.
If a guy finds it difficult to admit that you're his partner, it's usually either because he has commitment issues or simply because he's stringing you along.
Watch this video to learn more about how to cope with an avoidant partner.
8. He is disinterested in making the relationship work
Disinterest in the relationship's longevity is how to know if a guy is stringing you along.
Take a while to look at how the relationship is going. Does it feel like you're the only one making an effort in the relationship? That could be the sign you seek.
Once, he used to make an effort. He would call to know how you're doing, apologize when he hurts you, or try to communicate his feelings with you. But now, it seems that the ship has sailed.
His half-hearted efforts now seem to send the subliminal message that he is done with the relationship.
9. Has a reason why he won't introduce you to his loved ones
When you occupy a special place in a man's life and he's ready to commit, he will take you to meet the people that matter to him (at some point). These could be his closest friends or family.
He does this because he sees you as part of his future. However, one of the most evident signs he's stringing you along is that he never wants you to meet the people in his life.
He always has the perfect excuse waiting for you each time you bring up the subject.
10. He doesn't try to connect with you
Amongst many other factors, emotional attachment determines the health of every relationship. Being with a guy who doesn't try to connect with you beyond sex is exhausting and could be a sign that he isn't as interested in the relationship as you may have thought.
So, ask yourself this question. When was the last time you had a heart-to-heart about the things that matter in your lives? When was the last time he tried connecting with you emotionally as a partner?
11. He flirts with other people, even when you are around
This is one of the clearest signs he's stringing you along because when a guy is committed to you, he will respect you enough not to make you feel inadequate by flirting with others when you are around.
Related Reading: 

Why Do People Flirt? 6 Surprising Reasons
12. He makes you feel inadequate
When a guy makes you feel like he's doing you a favor by dating you, he tries to weaken your self-esteem and cause you to stay with him, even when he's stringing you along.
He may try this with his words or actions. He may even compare you with his ex or someone he believes is much better than you. At first, you may not see anything wrong with it. However, this can cause a dent in your self-esteem if you allow it to continue.
13. He never talks about the future
One of the easiest ways to know if he strings you along is to try bringing up talks about the future. A guy who doesn't see you in his future will become evasive and try to brush the subject aside once you bring it up.
Note, however, that some people prefer living in the present. For them, it makes no sense to worry about what could be when they can focus on every second.
It helps to know if your man prefers to take his days one at a time before deciding whether or not he is stringing you along.
Related Reading: 

Dreaming Together: 3 Essential Tips for Having a Happy Future as a Couple
14. He has built a life independent of you
While it makes sense that both of you shouldn't be living inside each other's pockets because you are together, the guy who is just stringing you along will have an entire life independent of you.
You'd look at him and feel like a stranger, desperately craving to be a part of what's going on in his life.
For example, he might plan fun hangouts with his friends (who may even bring their dates) but he wouldn't invite you. He'd even prefer to go solo for a social gathering even when he's allowed to bring his significant other.
When a guy genuinely loves you, he will ensure that you are a part of his life.
15. You just know
This is the biggest sign he's stringing you along. You'll know when you are with a guy who isn't committed to making things work out with you.
It might start as a nagging suspicion but as time passes (and you start seeing other signs we've discussed in this article), you'll just know.
What to do when he's stringing you along
Now that you have confirmed that he is stringing you along, here's what to do.
You might want to take a short break
Taking a short break from the entire relationship may give you the space you need to recover your mind and figure out the following line of action.
Related Reading: 

Taking a Break in a Relationship to Fix a Struggling Relationship
Research has proven that effective communication salvages relationships from the adverse effects of stress. Couples willing to talk things through are more likely to solve their problems than couples who keep mum even when deeply hurt.
When you have seen the signs he's stringing you along, don't be in haste to shut him out. Invite him for a heart-to-heart conversation and air your fears.
Listen to him as well and make the perfect choice for you.
Prioritize your mental health
When the chips are down, it is up to you to do what's best for you. After communication, be sure you do what's best for you.
This can be either of 2 things. However, the ball is in your court.
In summary
Being with a guy who's stringing you along is exhausting. If you're not careful, it can mess up your mental health.
Please pay close attention to the signs he's stringing you along. When you identify them, use the discussion in this article's last section to find a lasting solution.
Then again, don't be afraid to seek professional help. Sometimes, all both of you may need may be some professional guidance. You will seldom go wrong when you have your therapist in your corner, guiding you every step of the way.
Share this article on
Want to have a happier, healthier marriage?
If you feel disconnected or frustrated about the state of your marriage but want to avoid separation and/or divorce, the marriage.com course meant for married couples is an excellent resource to help you overcome the most challenging aspects of being married.
More On This Topic
You May Also Like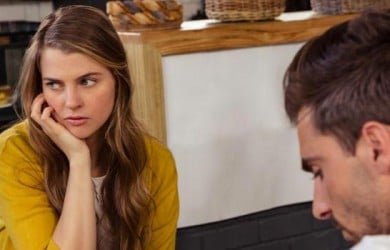 Popular Topics On Married Life