10 Qualities of a Conscious Relationship
The qualities of a conscious relationship are the building blocks that set the foundation of a strong relationship.
Couples who are intentional about each other must always strive to build a meaningful and conscious partnership. Such a relationship has a goal and streamlined process on how to achieve it.
Have you ever wondered why some couples struggle with maintaining a relationship, but others see it as a piece of cake? The answer is simple – couples who have it easy in their relationship have a sense of purpose and conscious connection.
On the other hand, some people go into a relationship with the wrong mindset. Therefore, they feel unsatisfied and starved of the mutuality in conscious relationships.
Before we dig deeper into what a conscious relationship entails or the qualities of a conscious relationship, let us look at the definition of a conscious relationship.
The meaning of conscious relationships
A conscious relationship is also called a conscious partnership. It is a romantic relationship in which two individuals have a sense of commitment and purpose. The mutuality in conscious relationships is quite strong, which drives the relationship's growth
At the initial stage of a relationship, it's often customary to think of only the things you want out of the partnership. After all, humans are inherently selfish. However, this line of thought eliminates conscious love. Working hand-in-hand with your love interest is pertinent if you plan to create a conscious relationship. That is the only way to make the best out of your union.
Meanwhile, it is not enough to say you are building a conscious relationship without showing the qualities of a conscious relationship. The characteristics of a conscious relationship are the ingredients every couple should aim to build. Continue reading this article to learn about the 10 qualities of a conscious relationship.
Also Try: What Kind of Relationship Do I Want Quiz
10 qualities of a conscious relationship
If you have ever wondered if your romantic relationship is full of conscious love or has the typical mutuality in conscious relationships, check out the following qualities of a conscious relationship in your partnership.
1. You put growth first
One of the essential qualities of a relationship is growing. Regardless of the type of relationship, it ceases to be a successful union when growth is missing.
In a consciously loving relationship, the partners aren't focused too much on the outcome of the relationship. It will help if you understand that it doesn't mean they don't care about the relationship. Instead, they are focused on the experience of the relationship and the fun activities they are going to do together.
Each partner feels a sense of high responsibility to the relationship, and they would do everything to make it work without worrying about the outcome.
Related Reading: 

Love Quiz- How Deep Is Your Love

?
2. Feelings are vital
One of the characteristics of a conscious relationship is acknowledging each other's feelings. When exploring conscious relationships, you must understand that every feeling counts, no matter how inconsequential.
A consciously loving relationship provides ample room for expressing feelings or thoughts to your partner. While this is not relatively easy to achieve, it is one of the best ways of building conscious love and confidence in a relationship.
It is normal to hold back at first, especially if you are just getting to know your partner. The same goes for your love interest. Nonetheless, freedom of expression can help you get to know your partner and vice versa. In turn, this helps you create a solid conscious connection.
3. Communication is constant
To honestly answer the question, "what is a conscious relationship?" you must understand the art of communication. Communication as one of the qualities of a conscious relationship is the closest to expressing your feelings in a relationship.
Any couple who aims to build mutuality in conscious relationships must communicate constantly. That doesn't mean you have to be together to have meaningful communication. Thankfully, the modern-day has bestowed upon us many means of connecting.
Using these channels to keep your relationship growing is one of the qualities of a conscious relationship. It shows your partner you care and think about them all the time.
Also Try: Communication Quiz- Is Your Couple's Communication Skill On Point?
4. You acknowledge the terrible moments
Some people go into relationships thinking everything will be all rosy and lovely. However, this isn't the case in a typical relationship.
Couples exploring conscious relationships understand that a partnership is a mixture of good and bad moments. They also tend to enjoy all the good things that the relationship brings while looking forward to the opposite sides.
Conscious partners understand that each person has flaws, emotional wounds, and experiences that might affect the relationship. Nonetheless, their goal is to sail through these factors together successfully.
5. You set goals together
Setting goals together as a couple is another characteristic of a conscious relationship. This quality is pretty similar to putting growth first in a relationship.
A consciously loving relationship is characterized by a list of objectives to achieve in a relationship. That gives the relationship a purpose and meaning.
In other words, it is not just enough to profess love to your partner; you must have aims for which you set the relationship. Only then can you say you are in a conscious relationship.
Also Try: How Good Are You and Your Partner at Setting Shared Goals Quiz
6. There is a feeling of acceptance
Exploring conscious relationships involves a deep foundation of acceptance. Without accepting each other, there is no reason to forge the relationship ahead.
Each person that comes into the relationship has their baggage. These include past pains, hurts, flaws, emotional trauma, and so on. Knowing and accepting all these can help you understand what it means to create a conscious relationship.
Meanwhile, acceptance doesn't include tolerating behaviors that put you in pain or danger. Acceptance is more of understanding your partner's weaknesses if they don't threaten your mental health and body. After all, no one is perfect.
Wondering how to develop a conscious relationship? Watch this video.

7. Trust is guaranteed
Can any relationship stand the test of time without love? The answer is no! A consciously loving relationship is built on robust trust from the partners.
Without trust, there can be no conscious relationship. As such, it is doomed to fail. Trust is knowing your partner has your best interest at heart and will do anything to make you happy.
Even if you don't get to see them often, you are assured of their steadfast love. Likewise, your partner also understands you are loyal to them and wouldn't doubt you.
Also Try: How Much Do You Trust Your Spouse?
8. A conscious relationship feels safe
One of the qualities of a conscious relationship is safety. This safety has nothing to do with being safe from dangerous elements. However, it is more about emotional safety.
When you are in a conscious relationship, you suddenly feel free to discuss anything with your partner without holding back. You are free to be yourself in the presence of your partner without feeling remorseful or reluctant.
Nothing scares you, and you have nothing to hide from your partner. That's because you know they are your haven and will always be yours.
9. The partners are confident in each other
In a world full of deceits in relationships, it is customary to see partners doubting each other. Social media platforms aren't making things better either. However, one of the qualities of a conscious relationship is having confidence in your partner.
Regardless of the number of failed relationships, conscious couples know what they want. They have mastered the art of shunning and shutting out distractions. Instead, they devote themselves to each other's promises and goals.
They believe so much in each other, making it easy for other things to matter less. Mutuality in conscious relationships is based on solid confidence in each other. Without this, it becomes easy for the partners to stray.
Also Try: Should You Be in a Relationship Quiz
10. Self-fulfillment is assured
Even though a conscious relationship involves understanding two individuals, it doesn't mean neglecting self-actualization. In building a relationship, it is vital not to overlook the needs and dreams of each partner.
Without self-fulfillment, the individuals in a relationship might feel encamped. A relationship that leaves little room for personal growth is not worthy. Therefore, self-fulfillment is vital to the success of any relationship.
Steps to build a conscious relationship
Here are some ways you can build a conscious relationship with your partner.
To build a conscious relationship involves being intentional. You first must be sure of what you want out of a relationship. That's why it is not advisable to rush into a relationship, especially after a failed one.
Focus on the right things
In addition, to build a conscious relationship, you must put aside your emotions. It would help if you thought about your needs, goals, and aspirations. Once you know these, the next step is to seek partners who have the same inclinations as yours.
Also Try: How Do You Show Love Quiz
Align both of yours needs
Meanwhile, you and your love interest don't need similar characteristics. A conscious relationship is about agreement and mutuality. It would help if you didn't go into a relationship assuming your partner knows what you want, or you know what they want. That is wrong and can lead to the quick end of the relationship.
Instead, have meaningful communication with your partner to know their intentions. Beyond love, couples must be willing to discuss other things that make a relationship worthy. Once there is an agreement of mutuality in conscious relationships, that's when the real work starts.
Individuals should understand that no relationship is perfect. A "seemingly" perfect relationship only involves partners ready to put in the effort and make the relationship thrive.
Conclusion
One of the common questions among couples is, "What is a conscious relationship?" A conscious relationship entails a partnership where the individuals involved have a purpose.
The partners are not just in the relationship for its fun, but they want to achieve something great together. Some of the qualities of a conscious relationship include communication, trust, confidence, setting goals, etc.
Share this article on
Want to have a happier, healthier marriage?
If you feel disconnected or frustrated about the state of your marriage but want to avoid separation and/or divorce, the marriage.com course meant for married couples is an excellent resource to help you overcome the most challenging aspects of being married.
More On This Topic
You May Also Like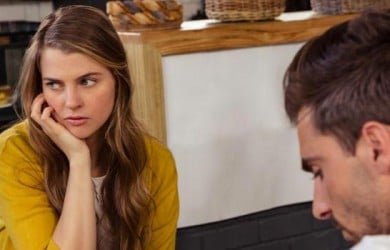 Popular Topics On Married Life