10 Contrasts Between Arrogant and Confident Partner
There are a few different types of partners that are possible within a relationship. However, two of the most common types are confidence vs. arrogance. You may want to learn more about the differences between these types. Keep reading for information on partners and how to know what type you and your mate are.
What is arrogance in a relationship?
If you are wondering what arrogance means, it is a term that means that someone thinks they are better than others. If a person is arrogant, they likely don't feel like they need anyone's opinion on something or that they could improve their behavior in any way.
Another way to think about it when you want to define arrogance is that someone is showing pride. If a person is too prideful, this can be considered arrogance.
In a relationship, you may notice that your partner doesn't ask your opinion and often tells you what you need to be doing without thinking about how their actions may be inappropriate. It is possible that some people don't like themselves or are ashamed of themselves, and instead of acting on these feelings, they act arrogantly instead.
To learn more about how to deal with arrogant people, check out this video:
What does being confident mean in a relationship?
When you are confident in a relationship, this usually means that you are also secure. You will be able to treat your mate with the respect they deserve, and you won't mind being vulnerable and letting someone know how you feel.
In other words, confident people can let their guard down a little bit when they are dating, and they will also be able to make compromises. This means they will allow the other person into their life; they won't shut themselves off, which may be what happens when someone has an arrogant personality.
How can you tell if someone is confident or arrogant in a relationship?
One way to determine if someone has confidence vs. arrogance is to look at how they treat others. If they aren't really worried about someone's opinion or input on anything, chances are that they are an arrogant person.
On the other hand, if a person is confident, they will likely be kind to others and want to hear what they have to say. Consider how you act in a relationship so that you can pick up on the traits of arrogance and confidence.
Self-confidence could also cause you to take fewer risks, which is not likely the case for arrogant people.
How does arrogance affect a relationship?
Arrogant people or signs of arrogance can affect a relationship in a number of different ways. One way is that it may cause the other person in the relationship to feel like they aren't appreciated. It could harm their self-esteem.
Moreover, when there is arrogance present in a relationship, you may be blamed for others' mistakes and insecurities. This may cause strife within your bond, even if you are in love or want to make it work.
If you are dealing with the effects of how arrogance destroys relationships, you may want to try relationship counseling. This involves working with a therapist to communicate better or grow your bond with each other.
When you want to define an arrogant person, this is a person who is certain of themselves and thinks they are better than other people. They may feel their opinion matters above everyone else's and that whatever they do is the most popular thing. You will be unlikely to change their mind about these things too.
However, when you are considering confidence vs. arrogance, a confident person will have less of a negative effect on a relationship since they may be more willing to work things out and make sure that both parties have the things they want and need. It will be a 50-50 partnership.
10 contrasts between arrogant and confident partners
Many contrasts may occur between confidence and arrogance in a relationship. Read this list for information on how arrogance destroys relationships.
1. Won't spend time with you
One of the examples of arrogance that may be present in your relationship is when your mate won't spend time with you. They likely want to do exactly what they want to do, but if you want to spend time with them or do something together, they may not be interested.
Instead, they may prefer to do their own thing until they decide that they want to hang out.
Related Reading: 

15 Reasons Why Quality Time Is So Important in a Relationship
2. Don't want to be an example
Another difference between arrogance and confidence has to do with how a person acts daily. An arrogant person won't want people to pay attention to their actions but to what they say instead.
For example, if someone says that they eat healthy and exercise, but others have caught them lying about these things, an arrogant person doesn't want to be told that they are being a hypocrite.
Related Reading: 

25 Examples of Manipulation in Relationships
3. Buys what they want
Another way you can judge confidence vs. arrogance is when it comes to what a person spends money on. An arrogant person likely buys what they want without considering anyone else.
You may have asked your partner to pick up dinner, and instead of asking what you want, they either bring you something they like that you don't, or don't even consider that you would need to eat too.
4. Don't want your input
Have you ever been around someone that thought they knew everything, and you couldn't make them think differently? This is another of the major examples of arrogant behavior that you may see in a relationship.
If your mate talks all the time, even about stuff they don't know about and expects you to believe them no matter what, they are likely an arrogant person. This is also true if they never believe what you say, but only their opinion.
5. Communicates when it's easy
Another difference between arrogance and confidence in a relationship revolves around how prompt communication is. An arrogant person will only talk to you or text you back when it is convenient for them. They don't care if you are waiting for their reply for hours.
A confident person will reply as soon as possible and likely send a polite message back.
Related Reading: 

20 Ways to Improve Communication in a Relationship
6. Blames you for their mistakes
You may have been in a relationship where you were blamed every time something happened, or you got into an argument. This is how arrogant people act when they are dating someone. Instead of focusing on what they are doing wrong, they may watch you like a hawk to point out mistakes.
Sometimes they may even fuss at you for things they have done, even if you had nothing to do with it.
Related Reading: 

How to Deal With Someone Who Blames You for Everything
7. Talks to people rudely
Confidence vs. arrogance is also apparent when talking to other people. If a person is arrogant, they will likely be unable to speak politely to others, even their mate. They may be cordial sometimes, but it will be difficult for them to be nice at all times.
They may act rudely or in a manner like they are better than others. They may also talk over people or keep them from speaking.
8. Isn't generally nice
Essentially, an arrogant person won't think they are doing anything wrong. They likely believe they have no aspects of themselves that they need to work on, and even if they know that they aren't perfect, they will probably act like they are.
This means they may come across as rude or someone you generally don't want to be around.
9. Wants to be noticed
When you are trying to spot confidence vs. arrogance, you can sometimes tell by what a person is talking about. Arrogant people may talk in a loud voice or boastful manner to impress people.
They may also say things they think other people want to hear so that they can be noticed. In their head, they may feel that they are well-liked if people pay attention to them. This may not be the case, however.
Related Reading: 

25 Signs He Wants You to Notice Him
10. Will keep you at arm's length
You should also be aware that getting close to someone arrogant will be hard. Since they may be experiencing low self-esteem, they will likely put you at arm's length.
They may not feel comfortable being themselves with you and only let you see their outer shell, like everyone else. This can make it difficult to have a meaningful connection with an arrogant person.
FAQs
Let's discuss some most asked questions about arrogance and confidence. 0
Is arrogance better than confidence?
Most of the time, arrogance is not better than confidence. When it comes to confidence vs. arrogance, confidence should be the trait that you want more. For example, a 2018 study shows that when people have low self esteem levels, this could cause them to have malicious envy.
This means that if someone doesn't like themselves, or perhaps is an arrogant person, they may be envious of others, with malicious intent. This could cause them to do hurtful things to people or harbor ill feelings toward them.
How to be confident and not arrogant?
When trying to be confident and not arrogant, it could take a bit of time to get right. You must be sure of your convictions, but not to the point where you must tell everyone your opinion.
A confident person will feel comfortable giving their perspective on things, but they will also understand that other people can have opinions as well. On the other hand, the characteristics of an arrogant person won't allow them to take criticism or feel like they have anything to learn from other people.
If you want to exude confidence vs. arrogance, you should first learn to believe in yourself and be sure of your decisions. This can go a long way on the path to confidence.
Keep in mind that if you want to know how to stop being arrogant, there are ways that you can accomplish this. One is to be true to yourself. Know your strengths and weaknesses and work on them. No one expects you to be perfect, so don't be mad at yourself if you aren't.
Another technique is to consider therapy. If your arrogance is present because of a self-confidence problem or you have a mental condition like depression that is causing you to act a certain way, a professional can help you.
Or, if you are wondering how to deal with arrogant people, this may take some work. You should always be respectful of them, and when you catch them in a lie or spreading information that isn't true, make sure to show them a source that shows the truth.
Additionally, it would be best if you did what you could not to argue with them. If they need to be heard, let them be heard. This doesn't take anything away from you, even if you can't express yourself in front of them.
Final thought
Anytime you are trying to determine confidence vs. arrogance regarding your relationship, this can be tricky. Arrogant partners may mistreat you in several ways or leave you feeling bad about yourself. Confident partners are more likely to build you up and show they care.
Suppose you are concerned that your partner is arrogant. In that case, you may want to talk to a therapist to help strengthen your relationship or to lend a hand when it comes to making a decision of whether you want to stay in this type of relationship or not.
You can also do more research online when it comes to how to deal with people that are arrogant.
Share this article on
Want to have a happier, healthier marriage?
If you feel disconnected or frustrated about the state of your marriage but want to avoid separation and/or divorce, the marriage.com course meant for married couples is an excellent resource to help you overcome the most challenging aspects of being married.
More On This Topic
You May Also Like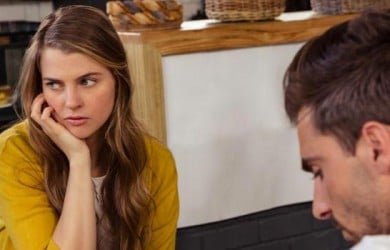 Popular Topics On Married Life