Single? How Long Should You Wait, Until Your Next Relationship?
Look around. Everyone is in love, except for us.
Have you ever thought that way?
Have you ever felt all alone in the world of love, when everyone else seems to have it together but you don't?
If you're single, how long should you wait… Before you find that "perfect relationship".
Being in love is amazing.
Being in love, according to many people, is the reason we are on earth.
But is it really?
And what common mistakes do we make , what is the MOST common mistake we make after the ending of a relationship, that will guarantee more failure in the future?
A number of years ago a young woman contacted me and hired me as her counselor via Skype from another country, she was frustrated because the man she dated for several years had just left her seven days before, a total shock, according to her it came from out of the blue.
And now, she wanted a couple tips from me during our sessions, so she could jump back into the game of love.
Hold on, I told her.
"What is the average length of time that you've taken in the past, I asked, when one relationship ended and your new one began?"
She hesitated, and then told me that the longest she had been alone was six months. But more often than not, she was in a new relationship within three months.
And that's conservative. Over the past 30 years in the world of personal growth, I've seen more and more people jumping from one relationship to another, as a matter fact, many people already have their new lover picked out before the divorce is signed or their current dating relationship is completely over.
As we worked together, I told her that if she continued to repeat the patterns of going from one relationship into another without doing any work in between, her success rate would be exactly where it is right now: zero.
So how long should we wait in between love relationships? It's easy. A minimal of 365 days. End of statement.
And why is that?
The world of relationships is in deep trouble, statistics say 41-50% or more of first relationships end in divorce, 60-67% of second relationships end in divorce and 73-74% of third relationships end in divorce.
You got it? We have this love and relationship thing all wrong.
Here are the benefits of taking 365 days off at the end of a relationship, before going into the next one:
1. Get to know yourself
Many times we lose ourselves in a relationship, doing so many of the things our partner wants us to do, and neglecting our own needs. Stop it now. Get to know yourself. Fall in love with yourself all over again.
2. Work with a professional
Work with a professional counselor, life coach, minister in order to see your role in the dysfunction and the death of your last relationship.
I know, I know, you didn't have a role, it was all their fault right?
Not right at all. When you can see the role that you played, you can forgive yourself and make a decision not to do that again in the future.
Did you drink too much? Were you codependent? Were you passive aggressive? Did you isolate, and shut down when there was conflict?
These things need to be fixed, before you bring someone else into your web of nastiness.
3. What were the traits that your last partner had,
Write these traits down. Whatever they are. Write them down. Get comfortable with the fact that your next partner should not have any of these same traits… And you'll give yourself a better chance in love.
4. Experience the fear of being alone
When you go for 365 days without a relationship, you'll understand what neediness looks like… What the fear of being alone looks like… And you can master these two issues before you go into another love relationship.
I constantly tell my single clients, that when they can go through the holidays, birthdays, celebrations, weddings, funerals and more single… And be happy doing it… They're in a great place to choose another happy person to bond with.
But if you're needy, lonely, I guarantee you you'll pick the same unfortunate individuals that you did in the past… just with a different name and face.
In our most recent top-selling book "Angel on a surfboard: a mystical romance novel that explores the keys to deep love", the lead character Sandy Tavish is seduced by this gorgeous woman, and she invites him over to her house for dinner.
Within a matter of minutes she is walking him down the hallway, directly into her bedroom to have sex.
She tells Sandy, that she just ended a long-term relationship and now she's ready for the real thing, and she picked Sandy as her next victim.
Sandy, while tempted, told her that she needed more time to heal, and reluctantly she agreed.
While this might sound like harsh advice, I can promise you it works. Get to know yourself again. Learn how to set healthy boundaries and consequences in life.
And when you do? You'll give yourself the best chance for that long term love relationship you so desire.
Share this article on
Want to have a happier, healthier marriage?
If you feel disconnected or frustrated about the state of your marriage but want to avoid separation and/or divorce, the marriage.com course meant for married couples is an excellent resource to help you overcome the most challenging aspects of being married.
Learn More On This Topic
You May Also Like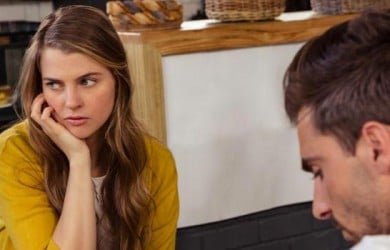 Popular Topics On Married Life