10 Ways to Cope With an Unemployed Husband
Unemployment rates are high on the rundown as one of life's stress-inducing and mentally exhausting events.
However, while the ramifications for those jobless are all well-documented, there's another loss whose enduring is less frequently considered: the spouse.
If your husband has lost his job, it can be stressful for you too. It is hard to cope with an unemployed husband as this can be a frustrating and demoralizing time for him.
While trying to help your significant other through a rough time, you may have to bear considerable mayhem yourself. Fortunately, there are many resources and guidance for those dealing with unemployment.
In this article, we try to help spouses of unemployed partners.
10 ways to cope with an unemployed husband
Joblessness can leave an individual—and a couple—feeling overpowered, weak, and unnerved. Indeed, the partner searching for work can pursue all the suggested ventures for getting that next job; however, it can be some time before the husband secures the job.
Fortunately, in the meantime, the couple can settle on positive choices that can finally reinforce their relationship.
Here are ways to cope with an unemployed husband:
1. Finding the right balance
Joblessness places strain on a marital relationship for obvious reasons.
Besides joblessness's financial strain on a family unit, a life partner who keeps working faces issues managing a distressed, depressed family member.
A spouse whose work is now a couple's only source of income may suddenly have to shoulder the weight of paying bills. Moreover, they must also play the role of counselor and cheerleader to a traumatized, unsettled husband.
Any partner trying to learn how to cope with an unemployed husband walks a fine line between a caring helper and a mentor.
If you have a caretaker personality, you may need to watch a propensity to give your life partner consent to remain stuck in self-indulgence and inaction.
Meanwhile, if you push too much, you may risk coming off as cold and ruthless.
2. Anticipate what's coming
At the earliest opportunity after unemployment, you and your better half ought to sit together and strategize the pursuit of employment and talk about ways to take off or possibly limit conflicts that accompany unemployment stress.
The days ahead aren't simple for you if you are trying to cope with an unemployed husband.
Set your heads together to think of a "plan of attack" — because that is what you'll have to deal with the sheer pressure that can undermine your relationship in these rough and harsh conditions.
3. Don't go too hard on each other
How to cope with an unemployed husband? First, practice an attitude that regards unemployment as a temporary— and manageable — circumstance.
The rehashed dismissal that runs with a pursuit of employment is hard. Any criticism or harshness can be misunderstood as losing respect for an unemployed husband.
Be open to what life may attempt to show you both through this experience.
Related Reading: 

If Relationships Are Hard Then Why Do We Still Yearn for It?

4. Encourage using quality time
To cope with an unemployed husband, demand at least one night in seven days when you can plan time alone so that you can spend some quality time with them.
Help your significant other comprehend that the time you spend on yourself will enable you to be a better life partner when you're as one — because it will. Indeed, even in the best of times, it's great to develop your side interests and interests.
While there might be times when you might be close to losing patience with an unemployed husband, try to be encouraging despite it. That is what your partner needs at this point.
5. Give them hope
How to cope with an unemployed husband? The most important thing to do is acknowledge that you'll have great and terrible days.
On the great days, examine what makes them great and conceptualize approaches to keep up positive energy, hitting the sack at a reasonable hour, rising together, morning exercise, supplication time, and so forth.
Keep up a daily practice however much as could reasonably be expected. Be commonly responsible, setting a day-by-day plan for both of you; prospective team member meetups, individual arrangements, tasks around the house, etc.
6. Make cost-effective plans
Unemployment can make individuals need to pull back — yet abstain from ending up socially disengaged.
Plan activities that will help let off steam but at the same time are free or cost-effective.
Get outside in the fresh air, ride a bike, enjoy a picnic; plan a time when you agree to put aside job worries and focus only on having fun.
Chill out and let positive energy radiate from the two parties.
7. Help with his job application
Instead of resenting your unemployed husband, try to help him out with job applications.
You can look at his job applications and highlight things that he may include in this. You can edit it to further his prospects and possibilities in the job market.
Learning how to deal with an unemployed husband involves understanding that your partner may need some help with their job applications, as they might need help to see what is lacking.
8. Look for ways to save money
If you are not considering divorcing an unemployed husband, you can support your husband by looking for ways to save money.
Losing one's job affects them financially and that can lead to embarrassment and guilt. But you can limit this by offering practical ways to save money to help relieve some of the pressure on them. It will also help them feel genuinely supported.
Watch this video to learn more about ways to save money:
9. Encourage communication
Trying to learn how to deal with a jobless husband? Try to keep all doors for communication open.
An unemployed partner may feel inclined to isolate themself or become quieter, but you must allow them chances to share their feelings. Don't allow them to get comfortable with an unhealthy degree of isolation.
Related Reading: 

10 Trusted Tips For Encouraging Communication With Your Spouse
10. Consult a therapist
When all else fails, couples therapy can help you in learning how to deal with an unemployed spouse.
A therapist can help you both deal with sensitive situations in a considerate and healthy manner. They can ensure that the unemployed spouse is not hurt while the other spouse's feelings are also taken into account.
How do you motivate an unemployed husband
If you have been wondering, "How do I help my unemployed husband," try to take an approach that helps them stay motivated.
Joblessness can be demoralizing and make a person question their abilities. So, you must talk to your unemployed partner in a manner that reminds them of their abilities and skills.
You can also give them examples of people who have been in similar situations and have managed to get their life back on track. Success stories can motivate and inspire them.
Should I divorce my unemployed husband?
Divorce is a serious decision that should be carefully considered. You should not make a hasty decision because of a temporary situation.
Marriages usually have their ups and downs, but if you love your partner and see a future with them, you can work through tough situations together. Joblessly can be when you show your support and understanding for your partner.
However, if you find that unemployment has created an irreversible problem between you and your partner, then you can go for couples counseling to figure out whether divorce is the right option for you.
Final thoughts
Unemployment can be a mentally, financially and professionally challenging time for many. But they can fare better if they have a partner supporting them in a kind, considerate and accommodating manner.
By offering your partner your counsel, encouragement and support, you can help them get their life back on track. But it can also help deepen the bond that the both of you share.
Share this article on
Want to have a happier, healthier marriage?
If you feel disconnected or frustrated about the state of your marriage but want to avoid separation and/or divorce, the marriage.com course meant for married couples is an excellent resource to help you overcome the most challenging aspects of being married.
Learn More On This Topic
You May Also Like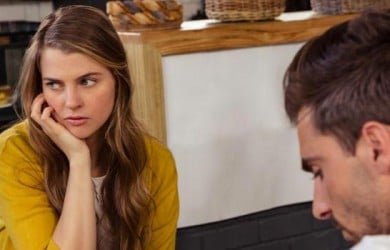 Popular Topics On Married Life