What Is Emotional Labor in Relationship & How to Talk About It
You may not have heard of the term emotional labor in relationships, but if you are in a committed relationship or marriage, it is important to understand this concept.
Emotional labor in relationships, when shared unfairly, can lead to turmoil. Here, learn about emotional responsibility within a relationship and how to address it, so it does not become problematic.
What is emotional labor?
Emotional labor in relationships is a general term used to describe the mental load required to carry out household tasks, maintain a relationship, and care for a family.
Part of emotional labor in relationships involves problem-solving, providing support to your partner, allowing your partner to vent to you, and being respectful during arguments. All of these tasks require mental or emotional effort, and they also require us to regulate our own emotions.
Another way to look at emotional labor in relationships is to think of it as the effort that is required to keep other people happy in a relationship.
This effort is often invisible, and it involves tasks such as managing schedules, remembering to send birthday cards, and having conversations about difficult matters.
A recent study in the journal Psychology of Women Quarterly assessed the emotional labor of a group of women and found that their emotional responsibility included the following:
Mental activity required to accomplish family goals

Planning and strategizing

Anticipating family needs

Learning and remembering information and details

Thinking about parenting practices

Engaging in family management activities, such as juggling demands and solving problems

Managing their own behaviors and emotions to benefit the family
Specific tasks involved in emotional labor at home.
According to the study, it included giving instructions to babysitters and caregivers when parents needed to be away.
It mentally prepared them to come home after a day at work and shift to the role of wife and mother, developing values and beliefs surrounding parenting philosophy, ensuring that children are eating and sleeping well, managing time constraints, and making plans for chores.
What to do about emotional labor in relationships?
Emotional work in a relationship is unavoidable.
Part of a marriage or committed partnership is supporting each other, working together to solve problems, and dealing with mentally taxing tasks, such as remembering when bills are due, ensuring the kids get to practice on time, and managing household chores.
When there is an emotional imbalance is where couples run into problems.
Psychology of Women Quarterly also says that women perceive themselves as doing the majority of the emotional labor in their families, regardless of whether they are working and their husband's level of involvement.
While it is not always the case that my husband does nothing around the house, the reality is that women tend to carry the burden of emotional responsibility, perhaps due to common gender norms.
Over time, this can lead to frustration and resentment if one member of the partnership feels that they are doing all of the emotional work.
The partner who carries the majority of the mental load may become overworked and stressed if they feel they do not have any help managing emotional responsibility.
In this case, it is time to have a conversation about fairly dividing the responsibilities. The emotional labor in relationships may not be avoidable, but it is possible to take some of the burdens off of one partner so it is shared more equally.
Signs you're doing all of the emotional labor in relationships
If you have been struggling with what feels like emotional imbalance, here are some signs you have been doing all of the emotional labor in relationships all along:
You know the family's entire schedule at all times, whereas your partner does not.

You do all of the tending to your children's emotional needs.

You are the one who is responsible for ensuring all household chores are done.

You are expected to be available at all times to listen to your partner's problems or allow them to vent, but they do not do the same for you.

You feel as if you have to compromise your boundaries or needs more often than your partner does.
In general, if you are carrying the majority of the emotional labor in relationships, you may simply feel overwhelmed.
Five-Step Process to Balance Emotional Labor
1. If you are dealing with an emotional imbalance within your relationship, the first step is to identify the problem.
Remember, emotional labor is often invisible to others, so it may be difficult in the beginning to know what the problem is.
However, if you notice some of the signs that you're doing all of the emotional labor in the relationship, the mental load you are carrying is likely to blame.
2. Once you have identified the problem, the second step is to have a conversation with your partner.
Keep in mind that your spouse or significant other may not even be aware that you are struggling with emotional imbalance. You cannot assume that your partner is aware of the problem. This is why a conversation is so important.
In the video below, Jessica and Ahmad talk about important conversations that we must have with our partner. Check it out:
3. Next, you must agree on a way of dividing emotional labor at home.
Be clear about what you need from your partner. It may be helpful to develop an emotional labor checklist that outlines who is responsible for certain tasks within the family.
4. The fourth step is to have regular check-ins with your partner, in which you discuss whether the emotional labor checklist is working and how each of you is managing your tasks.
5. The fifth step, which may not always be necessary, is to seek guidance from a professional. If you cannot get on the same page about emotional labor in relationships, a neutral party, such as a family or couple therapist, can assist you.
Therapy can also help each of you to work through underlying issues that led to the emotional imbalance in the first place.
How to Talk to Your Partner For Help With Emotional Labor
If you are seeking help from your partner to correct the emotional imbalance, it is important to communicate your needs effectively.
Instead of blaming, complaining, or dropping hints, it is helpful to have a conversation during which you clearly express what it is that you need from your partner. Think about how you would like your day to go and how your partner can help you make the day a little easier.
During the conversation, you must also be open to hearing your partner's perspective and compromising.
Another helpful strategy when talking to your partner to ask for help with emotional labor examples. For instance, you might explain that you always manage the kids' daily routines, plan the weekly schedule for the family, or do all of the legwork for family gatherings.
Next, explain how the burden of doing all the emotional labor affects you. You may share that you are overwhelmed, stressed, or simply unable to balance the demands of handling the entire mental load on your own.
You can finish the conversation by naming a few of your emotional responsibilities that you would like your partner to take over in the future. Be sure to ask for help rather than engaging in criticism.
For instance, the conversation is not likely to go well if you say, "You never help around the house!" Instead, ask for what you need, with the understanding that your hope is that your spouse will take on these extra tasks in the future without needing constant reminders.
Micromanaging or nagging your partner to do the things they have been asked to do becomes emotional labor in and of itself.
How to Equally Divide Emotional Labor With Your Partner
Due to gender norms, most of the emotional responsibility may fall on women, but it is possible to divide these tasks more fairly. To equally divide the emotional labor, it can be helpful to create an emotional labor checklist, similar to a chore list.
Agree upon who will take care of specific tasks, and be open to compromising and considering your partner's strengths and preferences.
Maybe your partner can assume responsibility for walking the dog, but you will continue the task of picking the kids up from school and ensuring they have dinner before soccer practice.
When determining how to divide emotional labor, you may decide that you do not necessarily need to create a 50/50 balance between you and your partner.
It can be helpful to create a list of all the emotional demands in the relationship and determine a few demands that your partner would be willing to take on to lessen your load.
This can reduce the conflict and resentment that builds when one partner carries the majority of the emotional responsibility.
However you decide to divide emotional labor, it can be helpful to display a list of each person's responsibilities in plain sight, so you do not have to remind your spouse of their daily duties.
Positive Impacts of Men Taking on Emotional Labor
The reality is that emotionally exhausting relationships are no fun. When one partner carries the majority of the emotional load, anger and resentment can build up, and you may find yourself constantly nagging your partner or starting fights over the lack of support you feel you receive.
This is why men taking on emotional labor is so beneficial for a relationship. Once your partner works with you to correct the emotional imbalance in the relationship, you are likely to notice that you feel less stressed, as well as more appreciative of your partner.
All of this means that not only will your own sense of wellbeing improve, but your relationship will also improve as well.
In fact, a 2018 study found that both married and cohabitating partners had better relationships when labor around the house was fairly divided.
Conclusion
Emotional labor is part of any relationship.
You and your partner must manage conflict, ensure that household chores are done, and engage in activities to manage family life and schedules. While these tasks require planning and organization and are mentally taxing, they do not have to create problems in the relationship.
Emotional labor becomes problematic when one partner is doing all of the work and builds resentment toward the partner who seems to have a get-out-of-jail-free card.
If this is the case in your relationship, you likely have an emotional imbalance, which can be resolved with an honest conversation.
If talking with your partner isn't enough to correct the situation, it may be time to seek couples counseling or consider whether your own behavior is contributing to emotional imbalance.
Do you have a need to always be in control? Does taking on the majority of the work around the house make you feel needed? Whatever the reason for emotional imbalance, it is important to resolve it, both for your own sanity and the health of your relationship.
Share this article on
Want to have a happier, healthier marriage?
If you feel disconnected or frustrated about the state of your marriage but want to avoid separation and/or divorce, the marriage.com course meant for married couples is an excellent resource to help you overcome the most challenging aspects of being married.
Learn More On This Topic
You May Also Like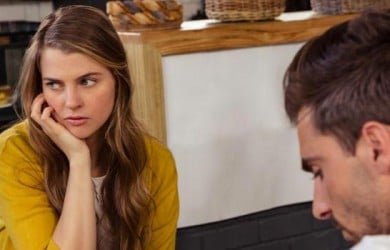 Popular Topics On Married Life