11 Tips for Letting Go of a Toxic Relationship
Being in a toxic relationship is challenging, to say the least, and walking away from a toxic relationship all the more challenging. Many quote have been written on the topic of letting go of negative people. Some of them can be inspiring and encouraging you to leave a toxic relationship.
"It's better to be healthy alone than sick with someone else." – Phil McGraw
Although difficult, letting go of toxic relationships is possible. Read on to hear how to let go of toxic people.
1. Recognize it is toxic
The first step in letting go of toxic love is the same as in any problem-solving. Admit there is a problem. What are the signs of toxic relationships that you are noticing?
2. Don't blame yourself
Letting go of toxic people is often so difficult because we feel there is our own doing in what is happening, hence hope that if we do something differently the relationship will become better. Yet, this is not entirely true. If someone doesn't want to change, there is no way you can make it better. A relationship is a two-way street, so you can't carry the blame for it not working out.
Related Reading: How to Handle a Toxic Girlfriend
3. Surround yourself with support
Letting go of an unhealthy relationship is easier with friends on your side. Spend time with people that make you feel worthy of love and remind you how it is to be appreciated for who you are. It becomes less burdensome to leave when you feel valuable. Loneliness motivates the renewal of social connections.
Therefore, when you are isolated from your friends you might slip easier into coming back to the toxic relationship.
4. Accept an apology is not coming your way
When someone you love is toxic their apology might never come. Someone who doesn't see a mistake in their behavior can't apologize for it or change. Letting go of toxic people means letting go of the expectations we have from them.
Related Reading: Turning a Toxic Relationship into a Healthy Relationship
5. Realize it is okay to go separate ways
"Sometimes good things fall apart so better things can fall together." – Marilyn Monroe
Some people are not meant to stay in your life. They are meant to enter, teach you a lesson, and move on. To make a relationship work, besides love, both partners need to invest and work on it constantly. When the other side loves you with words, yet actions lack, it is okay to go separate ways.
6. Decrease contact gradually
Wondering how to move on from a toxic relationship? Start having less and less communication with them. The less there is of them in your life the more you will see benefits of it.
Related Reading: The Psychology of Toxic Relationships
7. Focus on healthy relationships
Letting of toxic people becomes easier when we surround ourselves with healthy relationships. This makes the distinction all the more clear and it becomes easier to leave the toxic one. We begin to realize it can be different and we deserve better.
8. Realize you deserve better
To get out of a toxic relationship for good you need to stop coming back to them. The best way to stop the cycle of reconciliation is to realize you deserve better than what you had with them. What are the things you are bringing to the table? Imagine a relationship in which it is reciprocated. You are worthy of such happiness.
Related Reading: How to Recover From a Toxic Relationship
9. Stop waiting on them to change
There is a silly joke in the therapy community. "How many psychologists are needed to change a lightbulb? None, the lightbulb needs to want to change."
Although silly, you get the gist. If they are not willing to change and show that through actions, you should stop waiting. Just maybe you leaving will be the impulse they need to start considering the change. However, you should focus on yourself and finding a person that can be what you need.
10. Take some time to rest
When you break off a toxic relationship you feel exhausted and need time to process all the emotions. If at all possible, take some time to rest and heal uninterruptedly. If it is okay to rest when we are physically sick, it is okay to rest when we need psychological healing.
Related Reading: Ways to Fix a Toxic Relationship
11. Consider therapy
Everything is easier with the right support by your side. A therapist will help you make all of the steps on the list fit your unique situation. This helps in finding peace after a toxic relationship and healing faster.
Benefits of Getting Out Of A Toxic Relationship For Good
Figuring out how to let go of a toxic relationship is not painless. However, research shows it is worth it. What are the benefits of letting go of toxic people from your life?
More enthusiasm and hope.

You will notice that you believe there are options and solutions are possible.

You feel energized and invigorated

. Letting go of toxic people frees up a lot of energy that was being drained in that relationship.

Your confidence and sense of self-worth grow.

When no one is dragging you down you feel the veil has lifted and you begin to

appreciate and love yourself more

.

Feeling you can accomplish anything.

Overcoming the challenges of being with and letting go of toxic people makes a person aware of their strengths and capacities.

Rebuilding your social circle.

You no longer have to distance yourself from people and their judgment for being with a toxic person. Letting go of toxic people helps you reconnect with your friends and family.
Final thoughts
It is hard letting go of toxic people. It is a process and you should try to follow your own pace. If you are not sure how to let go of a bad relationship, start by recognizing you are in one. It is beneficial to surround yourself with your support system and consider coundeling. The rest of the advice about letting go of toxic people becomes easier to follow when you have someone to lean on.
The video below highlights it is important to outgrow certain people and move on for your growth and for theirs. Surround yourself with people who bring out the absolute best out of you.
Remember, it gets better and many benefits await you on the other side. Your outlook on life and yourself become infinitely more positive and optimistic. We will end with a quote:
"Letting go of toxic people is an act of self-care." -Karen Salmasohn
Share this article on
Want to have a happier, healthier marriage?
If you feel disconnected or frustrated about the state of your marriage but want to avoid separation and/or divorce, the marriage.com course meant for married couples is an excellent resource to help you overcome the most challenging aspects of being married.
Learn More On This Topic
You May Also Like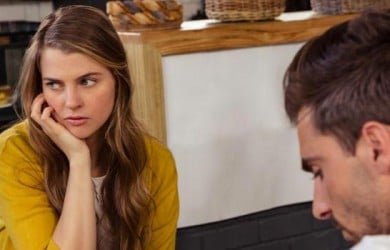 Popular Topics On Married Life