How to Handle Rejection From a Woman
No matter your intentions when approaching a woman, rejection is painful; however, it should not prevent you from living your life. By learning how to handle rejection from a woman, you can grow personally instead of worrying about what if she says no.
When you give rejection too much attention, it begins to affect you negatively. Whether you were asking the woman on a date, a one-night stand, or a marriage proposal, having your request blown away is not a pleasant experience.
We will show you how to handle rejection from a woman the right way so that you don't erroneously ruin whatever relationship you have with her presently.
Patrick McIntyre's book, 'How to handle rejection', guides everyone on the skills needed to deal with rejection constructively and conquer the fear of being rejected for good. He calls the fear of rejection a form of self-sabotage or suicide that can deter your chances of finding true love.
How to respond when a woman rejects you
When you approach a woman with an offer, she either accepts or rejects you. It is vital to know how to react if you get rejected by a girl as it is always a possibility. It is crucial to mention that how you respond depends on how severe the issue is for you.
For context, if you ask a girl to hang out with you over coffee, and she refuses, you might not take it to heart. In comparison, if you proposition your long-time crush and she turns you down, you might hurt for a long time.
When dealing with rejection from a girl, remember to act maturely, even if you are hurt. You don't have to insult or punish her through various means. Try not to make a mess because you might ruin the chances of her reconsidering your offer.
10 ways to respond to rejection from a woman
Getting rejected by every girl can be an excruciating experience. However, acting the right way is in your best interest because it determines your growth and maturity. What's more, assessing your mistakes can teach you to avoid them when you approach the next woman.
Here are some ways on how to respond to rejection from a woman:
Realize that not everyone will accept and love you
One of the ways to reduce the feeling of disappointment is to learn that you won't be in everyone's good books. Training yourself how to handle rejection from a woman involves practicing acceptance. Remember, it is impossible to control the way someone feels towards you.
She might not see you as a partner, but other ladies might. Someone out there is waiting to love and accept you; you just haven't met them yet. Recognizing that everyone will not love and accept you is crucial as it will make it easier for you to move on with your life.
The need to please everyone is a common desire, but it should not stop you from being yourself. Clinical Psychologist Emma Reed Turrell, in her book 'Pleasing Yourself,' talks about the hit that self-worth and self-confidence take when the need to impress everyone drives you.
It might be an impossible task to keep your cool after a rejection, but you will be glad later that you didn't embarrass yourself. Control the urge to lash out in response to a rejection. Understanding how to handle rejection from a woman involves maintaining composure with maturity.
When you play it cool, you provide yourself the chance to assess the situation correctly and look for a solution. If you get rejected by a girl in person, you should act cool and composed. When you get to the comfort of your home, you can express your real and raw emotions.
Marriage and Family Therapist Dr. Elayne Savage, in her book 'Don't Take It Personally: The Art of Dealing with Rejection,' explores the concept of rejection in romantic pursuits. She sees rejection as part of life and encourages making personal boundaries that will help you not take each rejection personally.
Not all women are the same
When you have to deal with rejection from a girl, you need to remember that not all girls are the same. For instance, a flirty pickup line might work on one woman, and another might find it offensive. So, modify your strategy based on the personality of the woman you like.
Related Reading: How to Flirt With a Girl
If you wonder what to do if a girl rejects you, reflection should be your priority. Getting turned down is the time to think about how you could have performed better. If you want to achieve success in your proposals, you need to reflect on the past rejections.
What were the words you said to her and was there a way to convey it better? Did you meet her at the right place and time, or you just bumped into her and tabled your offer? Ask yourself questions like these to assist you in assessing your actions constructively.
It is crucial to learn that our egos are motivated by attention, action, and recognition. Due to this, if you allow your ego to control your emotions, it will prevent you from thinking clearly. Ego is not a good companion to your process of learning how to handle rejection from a woman.
If you allow your ego to dictate what you say and how you act when a woman says no, you might regret your actions later. Even though a rejection shifts your mood to the negative side, you need to train yourself to remain neutral as possible.
Related Reading: 10 Signs of Ego in Relationship and What to Do
Another way on how to handle rejection from a woman is to give her space. The same applies if you get rejected online. There is no need to stalk her in person or on social media platforms. To keep your head high, maintain distance, and work on your recovery.
Some people lurk around a woman when she rejects them, hoping that she will change her mind. However, it ends up bothering some women, strengthening their resolve not to rescind their rejection. If you are praying for another chance, you need to practice giving space and working on your growth.
Don't spread rumors about her
One of the petty behaviors people display after getting rejected is badmouthing the person who rejected them to other people, particularly their friends. The purpose of this is to ignite hate and discord so that everyone would be on their side.
However, people who badmouth or spread rumors about someone who rejects them also destroy their chances with their women. No one would want to be with someone who circulates stories. Being petty and immature in this manner is the worst way to examine how to handle rejection from a woman.
When people observe that badmouthing is your fallback plan, they stay away from you. Instead of spreading rumors about the woman who rejected you, say nice things about her. When she hears your compliments from other people, she might be open to reviewing her decision.
It is not a good strategy to beg a woman immediately after she rejects you. During the heat of that moment, begging her might amount to further humiliation. You should not press someone to go out or have sexual escapades with you; it should have mutual consent.
If you don't want to give up, you ask for another chance with her at a later time instead of begging instantly. Begging a woman to reverse her rejection decision places her on a pedestal higher than yours, and she will crave to be with someone who is at par with her.
Not all women think the same way. Some women can playfully reject you so that you try a second time. If you are discouraged and decide not to give another attempt, you might lose your chance with her. It helps to maintain a respectful distance instead of acting rashly.
While you are strategizing for your comeback, ensure you approach her with confidence instead of timidity. Sometimes, all women want is reassurance when you approach them. So, trying again will not hurt if you are sure that she is the right person for you.
Studies have revealed that mate rejection is an integral part of the human experience and human evolution. It can teach important lessons in social interaction and understanding success in romantic advances by learning from previous rejections.
Sometimes, one of the surefire ways to track your progress is a failure. In this context, rejection is a failure, and you should see it as a chance to get better at what you do. Learn how to handle rejection from a woman by seeing them as seeds for growth.
If you've always said, "women always reject me," it means your approach is wrong, and you need to either modify or change it. It is necessary to view rejection from the angle that sometimes, it is inevitable, and you need a non-acceptance experience to adjust your tactics.
In Colt Bayard's book titled, How to handle rejection from a woman, the author narrates his experience on how he lived through rejection. He shares six essential principles to remember to address rejection positively.
Watch this video to better understand how to handle rejection from a woman:

Conclusion
One reality you should never forget is that it is not easy to survive the dating world without setbacks, and rejection is one of them. If you can't understand how to handle rejection from a woman, you will keep making the same mistakes.
The fear of romantic rejection can stop you from approaching the woman you are interested in. However, with the steps mentioned in this article, you can be brave by preparing yourself for the possibility of rejection.
Share this article on
Want to have a happier, healthier marriage?
If you feel disconnected or frustrated about the state of your marriage but want to avoid separation and/or divorce, the marriage.com course meant for married couples is an excellent resource to help you overcome the most challenging aspects of being married.
More On This Topic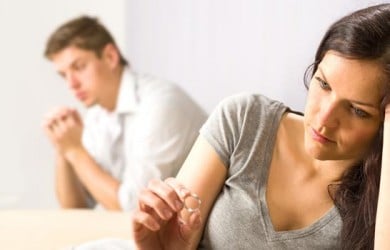 You May Also Like