10 Tips for Having an Amazing First Date
Having a first date is one of the most exciting experiences in a new relationship. It's romantic and starts you off with those new crush butterflies. It's also the first real opportunity you have to get to know someone new in your life.
That being said, it's also incredibly nerve-wracking. Choosing what to wear, worrying about what to talk about or how to end the night can be incredibly stressful. By the time your date arrives to pick you up, you're so worn out from worry that you wonder who invented the "first date" anyway and what were they thinking!
If you're about to go on a first date you should be excited, not horrified! Don't let your nerves rob you of an incredible evening with someone new. Here are 10 tips for getting a second date.
1. Calm your nerves
It is perfectly normal to feel nervous butterflies before your first date. Take comfort in the fact that your date is probably feeling the same way you are. Research shows that doing a little bit of yoga before a date can actually reduce stress and anxiety, specifically doing a "power stance".
2. Put your phone away
Unless your family member is in the hospital or you're waiting on a call that you just won a million dollars, there is no reason why you should be texting in the middle of your date.
Putting your phone away for the night tells your date they have your undivided attention and shows respect.
3. Respect boundaries
When a first date is going well it can be really exciting. Still, you must respect your partner's boundaries.
Be polite to your date and respectful of their thoughts and opinions and don't pressure them to do anything they aren't into.
Taking things back to your apartment, trying to force a kiss or a hug, or doing five shots in a row "just for fun" are probably all better left avoided if your date clearly isn't feeling it.
4. Go somewhere fun
Dinner and a movie are a great standard for a first date. But without the dinner portion, it would be all wrong.
Why? Dinner provides the new couples a chance to talk and get to know one another, while the movie provides entertainment (and some relief to making conversation!) Without the dinner, you just have two people watching a movie who aren't able to talk to connect on a deeper level.
When you are planning your first date, choose an activity you both enjoy and give yourselves plenty of time to chat before you get on with an activity.
5. Engage your date
A first date is all about getting to know each other. As excited as you are about sharing stories and facts about yourself, just remember you have to engage your date as well.
Take turn asking get-to-know-you questions so that you both have an equal share in learning about each other.
6. Wear something that makes you feel great
Confidence is key when it comes to going on a first date.
You're going to be nervous enough about making conversation and how to act. One thing you shouldn't have to worry about is the way you look.
Boost your confidence by looking good for your date. Get showered and shaved, curl your hair, and dress in something that makes you feel absolutely amazing.
7. Be yourself
Everyone wants to make a good first impression. But, if you are hoping your date goes well and that this new connection blossoms into a relationship, you have to be yourself.
You don't have to go telling all your faults to this new person in your life, but don't pretend to be someone you're not, either.
For example, don't pretend you're crazy into rock-climbing when you've never scaled a wall in your life all because your date loves it.
Be your charming, likable self throughout the date.
8. Watch what you order
No, we don't mean order a salad when you really want a big juicy steak just so you can appear more ladylike.
What this means is don't order anything that's going to make you feel awkward or uncomfortable. Ribs, crab legs or chicken wings are a little hands-on for a first date and may have you feeling like a bit of a mess.
Similarly, a meal doused in garlic isn't going to do you any favors if you plan on getting a goodnight kiss.
9. Be safe
If you are meeting your date for the first time from off the internet or through a friendly set-up, exercise caution. For example, choose somewhere that is public and avoid being anywhere alone with this person.
Let a trusted friend or family member know exactly where you will be for the evening and trust your gut instinct. If something is making you feel uncomfortable or uneasy, bail out.
Always have a friend ready who will call you with a get out of jail free card and who will be willing to come and pick you up if necessary.
Even if you trust your date, it's always better to be safe than sorry.
Furthermore, if things get a little hot and heavy on your first date, it's good to be "safe" in that area as well and always use protection.
10. Find common ground
The best way to have a successful first date is to find common ground with your partner. Research shows that shared activities promote relationship satisfaction. Find something you both have in common or choose an activity you're both really passionate about.
Not only will sharing things in common start a foundation for a healthy relationship in the future, but it will also make you feel more comfortable and give you more to talk about during the date.
If you want to have an amazing first date, you have to find a way to calm your nerves. Dress up in something that makes you feel confident. Be respectful to your partner and choose somewhere for your date that you can actually talk and get to know one another.
Share this article on
Want to have a happier, healthier marriage?
If you feel disconnected or frustrated about the state of your marriage but want to avoid separation and/or divorce, the marriage.com course meant for married couples is an excellent resource to help you overcome the most challenging aspects of being married.
More On This Topic
You May Also Like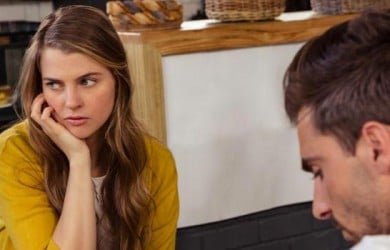 Popular Topics On Married Life