How to Ground Yourself in a Relationship: 11 Effective Ways
Knowing how to ground yourself in a relationship can be challenging in today's fast-paced world. However, there's a powerful practice that can provide a solid foundation for love and connection, thereby initiating and maintaining a grounded love.
Grounding techniques offer a way to anchor your mind, body, and emotions in the present moment, fostering clarity, stability, and self-awareness. Incorporating grounding exercises into your daily routine can enhance your relationship in numerous ways.
In this article, we will explore seven grounding exercises that can contribute to a happier, more fulfilling relationship.
What is grounding in a relationship?
Grounding exercises in a relationship refer to the practice of consciously connecting with oneself and the present moment to foster emotional stability, self-awareness, and a deeper connection with one's partner.
It involves techniques that help individuals stay rooted, centered, and focused, despite external stressors or distractions.
How to ground yourself can include mindfulness exercises, deep breathing, meditation, physical activities in nature, journaling, or engaging in hobbies that bring joy and relaxation.
By grounding yourself, you better manage your emotions, communicate effectively, and create a safe and supportive space within your relationship.
Grounding ultimately allows for increased intimacy, understanding, and a stronger bond between partners – leading to a higher sense of emotional satisfaction in the relationship.
How and why do you ground yourself in love?
Making your relationship rooted and grounded in love involves consciously nurturing a deep connection with yourself and your partner, fostering a sense of security, trust, and emotional stability within the relationship.
This is how to ground yourself in love.
1. Self-reflection:
Take time to reflect on your emotions, needs, and values. Understand yourself better because when you do, communication becomes seamless and exciting.
7 ways grounding yourself can help your relationship
After figuring out how to ground yourself in a relationship, you must also know why doing so is vital. Here are 7 ways grounding oneself can help their relationship.
1. It stabilizes your emotions
Grounding techniques enable you to regulate your emotions effectively. By staying present and mindful, you can manage any overwhelming feelings that may arise within the relationship.
This allows you to respond to your partner with patience and understanding rather than reacting impulsively.
2. It makes you understand your needs better
One importance of grounding yourself is that it fosters self-awareness, helping you understand your own needs, desires, and triggers. This awareness enables you to communicate your boundaries and expectations clearly to your partner.
When you are attuned to your deepest needs and aware of your emotions and how they may influence your behavior, you can make conscious choices that align with the well-being of both yourself and your relationship.
3. Active listening
Being grounded in love encourages active listening, where you are fully present and engaged in the conversation with your partner.
By grounding yourself in the moment, you can focus on understanding their perspective without distractions or judgment. This deepens the connection between you and allows for more effective communication and problem-solving.
4. It makes you understand your partner's feelings
Consider this a spin-off of the previous point. By practicing active listening in your relationships, you position yourself to better understand your partner and their needs.
This will, in turn, reduce unnecessary friction in the relationship.
5. Gives a better way to resolve conflicts
Knowing how to ground yourself provides a sense of stability during conflicts or disagreements. By grounding yourself, you can approach conflicts with a calmer and more rational mindset, facilitating constructive conversations and problem-solving.
This helps prevent conflicts from escalating and promotes healthier resolutions.
6. It helps you reduce anxiety
Grounding exercises help reduce stress and anxiety, allowing you to approach your relationship with a greater sense of calm and balance.
When you are less stressed, you can navigate challenges with resilience and clarity, maintaining a positive atmosphere with your partner.
Watch this video to learn more about what anxiety is:
7. Increased intimacy and connection
Grounding yourself fosters a deeper connection and intimacy with your partner. By being fully present and engaged, you create a space where vulnerability, trust, and love can flourish.
Grounding techniques allow you to fully appreciate and cherish the moments shared with your partner, enhancing the overall quality of the relationship.
Some commonly asked questions
Here are some frequently asked questions concerning how to ground yourself in a relationship and their answers.
How do you stay grounded when dating?
To stay grounded when dating, prioritize self-care and self-reflection, practice mindfulness, set clear boundaries, communicate openly and honestly, and take time for yourself.
These practices can help you stay centered, navigate uncertainties, and build healthier connections with your partner.
What type of love is grounded?
Grounded love is characterized by stability, security, and a deep sense of connection. It is built on trust, open communication, and mutual support. Grounded love is rooted in self-awareness, emotional balance, and a solid foundation of shared values and understanding.
Final thoughts
Knowing how to ground yourself in a relationship can bring about numerous benefits, fostering a healthier and more fulfilling partnership.
Additionally, seeking couples counseling can provide valuable guidance and support in navigating challenges and deepening your bond.
So, make a commitment to grounding yourself and nurturing your relationship, and watch as it flourishes into a strong, harmonious, and lasting connection.
Share this article on
Want to have a happier, healthier marriage?
If you feel disconnected or frustrated about the state of your marriage but want to avoid separation and/or divorce, the marriage.com course meant for married couples is an excellent resource to help you overcome the most challenging aspects of being married.
Learn More On This Topic
You May Also Like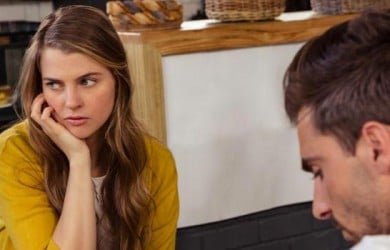 Popular Topics On Married Life