10 Reflection Questions to Know You're Ready for a Relationship
Starting a new relationship can be overwhelming, especially if you just ended one. If you're contemplating dating someone new, below is a list of self-reflection questions to prepare you.
These relationship reflection questions can help you see how ready and open you are to a new partnership. Understand that self-reflection questions for relationships are not formulas for a perfect relationship. They are supposed to be reflected upon, which might open you to things to know before getting into a relationship.
11 Reflection questions for relationship readiness
These self-reflection questions will make it easier to understand what you want out of the relationship.
1. Am I ready for a relationship?
One of the relationship reflection questions to ask yourself before dating is, "Am I ready for a relationship?" This is quite important because relationships demand a lot. It might be more challenging if you have had several failed relationships in the past.
Asking if you are ready to meet someone new means you want to be mentally and physically prepared to accept another person into your life. For instance, can you accommodate a new lover, despite your current routine and activities?
Don't be deceived; relationships are pleasant to experience, but they demand effort, sacrifice, and compromises. It takes time and energy; therefore, be confident you can commit to another with your current lifestyle.
If you are still hurting from your previous relationship or hope to make up with your ex, it might be best not to date at this time. Also, suppose you have a new job, goals to achieve or a family emergency. In that case, it is best not to drag another human into it. Relax until you are clear-headed with no deep commitment to anything.
Related Reading: 

9 Ways to Know If You Are Ready for a Relationship or Not
2. Am I hopeful for a new relationship?
Before dating, one of the self-reflection questions you need to ask yourself is if you are hopeful for a new relationship. It's tempting when you see others having a loving moment and caring for each other. You may wish to have a committed relationship to make you happy one day.
However, are you hopeful enough? Do you sometimes think specific issues in your past relationship might repeat themselves? Do you see yourself happy with another person? Do you think you will need your soulmate one day?
You say you want to date again, but you get discouraged every time. You feel you can't commit to another. That's your state of mind working on you. As long as humans live, people will experience heartbreak.
However, your failed relationships in the past have nothing to do with new connections. It does not mean you have a low chance of happiness. You won't make any moves when you are not motivated to date again.
3. Am I over my ex
This question is one of the questions to ask yourself before getting into a relationship. Do you wish you didn't break up with your ex? Does your ex still have a hold on you? Do you secretly crave seeing your ex again? If the answer is yes, it's best not to date another person.
One of the common issues in a relationship is infidelity. It's unfair to drag another person into a rollercoaster of your emotions. No one deserves to be a rebound for another. Ensure you work on yourself before getting into a new relationship.
4. Are you open to a new relationship?
One of the questions to ask when dating someone is your openness to courtship. You want to be in a relationship, but you have some clauses behind it. For example, "I want to date again, but I am too old" or "I want to be in a relationship, but I'm poor."
When you use clauses behind your statements like this, it means you are not genuinely ready for what's to come in a relationship. You can't predict what will happen in a new relationship.
Of course, you can have or set some standards for yourself, as long as they are rational. For example, you can decide not to communicate with any ex. However, when you set some unimaginable rules for yourself, you close any dating opportunity that might come.
Being open to a relationship means you are ready to experience a loving partnership and its other side. All you need to be honest is to be clear and genuine with yourself. If you continue to focus on these limitations, it prevents you from great opportunities.
Learn about the signs of an incompatible relationship in this video:
5. Am I picky
You may be picky if you look for reasons not to date someone, no matter how hidden. Do you always find something or a weakness to say about someone? Do you quickly dismiss someone as a potential partner just immediately after considering them?
Of course, people have standards and desires in a relationship. It will be unfair to drop these to satisfy someone in a relationship. Nonetheless, there are some things you must ignore when trying to date.
For example, not dating someone because they don't sing is weird. Few people know how to sing, so you might have to cut that out. Sadly, being picky won't help you. Aside from that, we all have weaknesses that we deal it. Instead of rejecting everyone, choose someone whose imperfections you can deal with.
Related Reading: 

10 Tips For Dating Someone Who Never Been in a Relationship
6. What are the problems in your past relationship?
Suppose you have reservations about a new relationship but want one. One of the things to know before getting into a relationship is the issues that didn't make your past relationships work.
Think deeply about those problems and highlight them. The best way to reflect is to list these problems and find solutions.
7. What worked out in the past
As you list issues you had in your previous relationship, you should also highlight the successful things. Did your ex compliment you for buying her gifts? Did he appreciate that you call or text often?
Reflect on everything that made your ex happy and take note of them. Look around you if you can't pinpoint anything in your past relationships. Perhaps, it's your parents' or friends' relationship. Whatever works in any relationship, take inspiration from them.
8. What kind of relationship do I want?
One of the questions to ask before dating someone is, "What type of relationship do you want?" The past is the past, and you are presented with the future now. What kind of relationship do you want now? What do you wish to see in your new partner? Are you looking for a fling or a long-term relationship? Do you want to take the relationship slow or dive into a committed relationship?
Whatever your answers are, ensure you discuss them with your new partner. Also, listen to your potential partner's wishes, needs, and wants. Please make a list of what they say and place them alongside yours.
Do they align? Can you make it work? This strategy ensures both of you are on the same page. Besides, there won't be many surprises in the future if you eventually date.
9. Do we have the same values?
Another self-reflection question is if you have the same principles, values, and morals as your new partner. It's not just enough to have the same hobby or like the same food. You must be sure of their conviction when it comes to some issues.
What's your potential partner's belief system? What are they passionate about? How do they react to some situations? If you wish to end up with them, what do you think they will teach your kids?
The answers to these questions will help you understand how to deal with them and if they are the right person. Importantly, it helps you build the proper connection.
Related Reading: 

11 Core Relationship Values Every Couple Must Have
10. Will I be proud to introduce this person to my friends and family?
One of the questions to ask yourself before dating is, "Will I be confident in introducing my new partner to friends and family?" You may like their personality and company. However, something is missing if you are reluctant to take them to events where your friends are.
Although there is little your friends and family can say about your relationship life, they still influence your decision. It's the reason many people ensure that their partners are accepted by their loved ones. If you aren't excited about introducing your spouse to the people around you, you should leave.
11. Will I be happy if I date again?
One of the essential self-reflection questions you must ask is if you will be happy when you have a new partner. You may think you should date because your friends are doing the same.
However, will you get what you want from a relationship or need to relax a bit? Are there some issues you need to settle before committing? Will you get the happiness, contentment, and inner peace you want in a relationship? If you think it won't, then there is no point in dating another person.
True happiness is internal. If you can't find it yourself, you won't find it in others. If there are other means of being happy without dating, then it won't hurt to explore the option.
Final thought
Self-reflection questions for relationships can help you make the best decisions before dating. They are questions to ask before getting into a new relationship. They allow you to weigh your readiness and openness to relationships when you doubt yourself.
If you've considered all the questions to ask before starting a relationship and are confident that you are ready to date, don't waste more time.
Share this article on
Want to have a happier, healthier marriage?
If you feel disconnected or frustrated about the state of your marriage but want to avoid separation and/or divorce, the marriage.com course meant for married couples is an excellent resource to help you overcome the most challenging aspects of being married.
More On This Topic
You May Also Like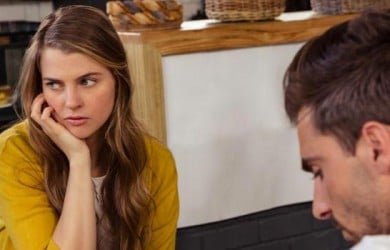 Popular Topics On Married Life