10 Ways to End a Bad Relationship for Good
Are you in a relationship that you suspect isn't healthy? If so, you may be wondering what the best way to end it is. This article should shed some light on this issue. Keep reading for information on how to get out of a bad relationship. It may be able to provide the advice that you need.
What is the definition of a bad relationship?
It may be considered a bad relationship if you aren't getting the things you need out of a relationship. For example, if you cannot trust your partner or they do not treat you correctly, this likely indicates a bad relationship.
Noticing these things might cause you to wish you knew how to get out of a bad relationship. Keep reading for further help with this.
Check out this video for signs you may be in an unhealthy relationship:
3 Signs you should end a relationship
A few major signs may be present when it is time to end a bad relationship.
One is when you are unable to agree on anything. If you find that you and your partner argue each time you talk, even if the issue is minor, this could mean that the relationship is at its breaking point.
Another sign to consider is if you think you would like to date someone else. When you no longer have feelings for your mate but are interested in another person, this may also clue you that you must end your current relationship.
If you don't wish to spend any time with your partner, this can also indicate that the relationship is not healthy. Also, when two people are dating and live different lives, their relationship may not be strong.
Related Reading: 

10 Signs of a Dead-End Relationship and Ways to End It
Take the time to consider all of your options and determine what you would like to do if you notice that these signs are present in your relationship. This may also help you decide how to get out of a bad relationship.
What is an example of a bad relationship?
A possible example of a bad relationship is when gaslighting takes place. If this is present, it means that one person in the couple could be trying to convince the other that any concerns they have aren't valid. In other words, gaslighting makes someone confused about their point of view, and they might also question their thinking.
For instance, if you were trying to discuss an issue with your spouse and they told you that your opinion wasn't valid or that this issue didn't happen, this may be gaslighting.
An individual attempting to gaslight you will try to convince you that your memory can't be trusted and that they haven't done anything wrong. If you have experienced this, you must think about getting out of a bad relationship.
When should you leave a bad relationship?
Anytime you feel like you don't wish to work on your relationship or that the other person isn't committed to you, this is when you should consider walking away from a bad relationship.
Related Reading: 11 Tips for Letting Go of a Toxic Relationship
In other words, if you are having to put too much effort into simply being in the same room with your partner, this may be the time to consider your options and cut ties. If you don't know exactly how to leave a bad relationship, you might want to discuss this with people in your inner circle to see if they could help you.
Why is it so hard to leave a bad relationship?
It may be difficult to leave a bad relationship because you care about the person you are dating or married to. Moreover, it could be challenging because they control you, or you are unsure of what you will do if you are alone.
If you are uncertain about how to leave or what steps to take, you can talk to friends and family members, who may be able to provide advice for leaving a bad relationship.
Related Reading: 

15 Ways to Know When to Leave a Relationship
10 Ways to end a bad relationship for good
Once you determine that your relationship is over, you might also need to know how to get out of a bad relationship. Here are a few ways to contemplate.
1. Have a plan
One of the first aspects to think about when you plan to leave a bad relationship is what steps you need to take to leave your partner and how to go about them. You may have to determine where you are going to live, what you will do to support yourself, and other options.
Take your time determining what goals you will need to meet and how you must meet them. It may take plenty of planning when you are leaving a relationship for good, especially if you have been in the relationship for several years.
Related Reading: 10 Signs It's Time to Break up & Get Over a 5-Year Relationship
2. Be honest about your feelings
When you are leaving a bad relationship, something else you must do is always be honest about your feelings. If you don't have any feelings for your mate, are no longer attracted to them, or are fearful of them, don't ignore these intuitions. You must be honest with yourself and make a change.
If your relationship is ending and there hasn't been abuse, you should talk about these things with your mate. However, when this would be a dangerous situation, you may want to keep these thoughts to yourself.
Also Try

- 

Ending Relationship Quiz
3. Don't ignore red flags
Another point to ponder when determining how to get out of a bad relationship is red flags. If there have been red flags through the course of your relationship, it is necessary to remember these things to protect yourself.
It may be easy to overlook troubling behavior when you care about someone and love them, but you should do your best to refrain from doing this. At the same time, it is necessary to understand when to let go of a relationship. When you are being mistreated, it may be the correct time.
Perhaps your mate has been unfaithful in the past or tends to talk down to you. These traits may not change, so you should understand that these behaviors could happen many times throughout your relationship. It would help if you did not ignore this behavior since it could signal your partner that you don't mind being treated disrespectfully.
If you are unsure if you have the strength to leave a bad relationship, especially one where there was abuse involved, you can contact the National Domestic Abuse Hotline at 1-800-799-SAFE. They should be able to provide you with help on how to get out of a bad relationship and additional resources that may lend a hand.
4. Get help from friends
You can also seek help from friends when moving on from your partnership. They may be able to offer advice, a different perspective, or even tell you what they did when they were in a similar situation.
Besides that, a friend or family member might have the ability to provide financial assistance or another type of help while you get back on your feet. It is possible they could help you find a job or housing.
Related Reading- 

How to Deal with Financial Stress in Marriage Without Losing Your Mind
Make sure you only rely on loved ones that you trust, however. It would be problematic to enlist the help of someone, and they ultimately change their mind and let you down.
5. Stay busy
As you are learning more about how to overcome a bad relationship, you may find that it is helpful to stay busy. This could mean changing your routine or finding something to do if you have a lot of time on your hands.
Consider taking a class or learning a new skill. If you wish to engage in something simpler, you might want to start reading more or looking up recipes and crafts to explore online.
It would help if you also did everything to stay away from social media after leaving a bad relationship. This should prevent you from seeing messages from your ex or hurtful posts that could leave you feeling bad about yourself.
6. Think about the positives
Even after leaving a relationship, it can take a long time to move on. When you are stressing over how to get over someone bad for you, one thing you may want to do is focus on the positives.
This doesn't mean thinking about the good qualities in your ex. Instead, it would help if you considered the positives to look forward to when it comes to your new life and routine.
You may be able to choose what you want to eat all the time, and you don't have to share the remote. These aspects could make you happy. Think about all the ways your life has changed and the things that are improving.
If you are optimistic about your situation, this could improve your health. For this reason, you should consider keeping a positive attitude. It could be a helpful resource for you when you are concerned about how to get out of a bad relationship.
7. Be realistic
After you begin letting go of a relationship, you must be realistic about what to expect during the grieving process since there will probably be one. Even if you were only in your previous relationship for a short time and it ended badly, you will likely still need to take some time to get over it.
Any time you care about another person, and they let you down, and it could take time to process your emotions and feel like yourself again. It would be best if you always took an opportunity to do this.
There's no set time that it will take for you to feel better when it comes to how to get out of a bad relationship, so make sure to take all the time you need to heal.
Related Reading: How to Know When to Let Go of a Relationship: 15 Signs
8. Write your thoughts down
One way that may help you get your thoughts together and process them efficiently is to write them down. You need to get a notebook and write down how you are feeling whenever you are having a trying day, or you are upset.
When you can get these thoughts out of your head, this could allow you to feel better. This is especially important if you have trouble sleeping or your thoughts are sometimes causing you anxiety.
9. Take care of you
Yet another important factor in how to deal with a bad relationship is to take care of yourself once you end things. One option when it comes to this is addressing your physical health.
Try your best to eat healthy foods, exercise regularly, and get the sleep you need. An adult should get around 7-8 hours of sleep each night, so do everything you can to accomplish this.
Related Read- The 5 Pillars of Self-Care
When you can improve these habits, this could allow you to feel better sooner, and it may also improve your mood. Furthermore, being good to yourself might be the answer you need for how to get out of a bad relationship. You may feel stronger and healthier in a short amount of time.
10. Seek therapy
If you find you are at a loss or require additional help, working with a therapist could also be a good idea. They will be able to offer advice for someone in a bad relationship and guidance on what to do after you have left this type of relationship.
They can provide you with details on how to move past a breakup, but they could also give support when it comes to lessening stress, anxiety, or other feelings that you are experiencing.
Working with a therapist will also be beneficial if you don't know who else to talk to about how you feel or what happened during your relationship.
Conclusion
When it comes to how to get out of a bad relationship, there are plenty of aspects to keep in mind. Some tips to consider are working out a plan ahead of time, ensuring that you don't ignore red flags, and working with a therapist once you determine you need more assistance.
You should also keep your support system close throughout the process to have all the support you require along the way. It could take a while to get over any relationship, so take the necessary steps to allow yourself the time to heal and be sure to address your physical and mental health along the way.
Share this article on
Want to have a happier, healthier marriage?
If you feel disconnected or frustrated about the state of your marriage but want to avoid separation and/or divorce, the marriage.com course meant for married couples is an excellent resource to help you overcome the most challenging aspects of being married.
Learn More On This Topic
You May Also Like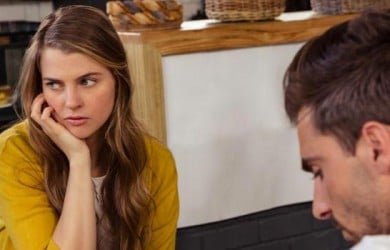 Popular Topics On Married Life