11 Awful Things That Ruin a Perfectly Good Relationship
You may have tried everything to have a good relationship with your partner, and consequently, you have the perfect relationship.
But at times you'd feel that the passion and energy your love contained at the beginning of the relationship has started to fade.
After being in a relationship for many years, you'd probably start to feel bored or the conflicts, relationship habits, patterns and behavior are taking a toll at you or your partner.
In that case, it's better to take a step back, take stock of things, and avoid being in the doldrums.
The first step in that direction is to recognize the signs of a fading relationship, before burning all chances of a happy relationship to the ground.
Here are some of the things that would ruin a perfectly good relationship
1. Holding your partner responsible for the mistakes of others
This is one of the things that answers how to ruin a relationship.
You start comparing this relationship with all the terrible ones you had previously. You become bitterly rude. You'd feel that you're exceeding limits but can't stop yourself from experiencing constant stress associated with the relationship. In this way, your partner starts having the notion that you don't want to continue.
2. Not sharing expectations
Destroying relationships on purpose revolves around not sharing anything with your partner.
You stop feeling the inclination to please your partner. Hiding everything to yourself is one of the most surefire ways to ruin a perfectly good relationship. To have a better idea, read the experts who have explained the importance of sharing expectations with your partner.
3. Avoiding communication
If someone wants to ruin a perfectly good relationship, then they would avoid any contact with their partner as much as possible.
Not replying to their texts.
Using plenty of sarcasm and hateful comments.
This would prove to be so impactful that there would be a radical difference in a very short period. This again is one of the best ways to ruin a relationship.
Experts have explained the importance of communication in a relationship. Lack of it will sound the death knell for any relationship.
4. Crossing the limits
Those on the road to ruin a perfectly good relationship, don't care about being in the limits anymore. For example, they do whatever their partner hates, violate boundaries and don't exercise discretion.
They start comparing their partner with others, predominantly in terms of being intelligent and beautiful. They oversteps clearly defined boundaries and don't respect personal spaces.
5. Never apologising
At times you'd feel bad for your actions.
But for those who are hellbent on ending the relationship, they learn to control that hysteria, sidestep the guilt pangs and get back to the tract of ending a good relationship. They never say sorry.
Apologies would prove to be a sign of weakness, and it would cause divergence from their goal.
They tell their partner that they never liked to say sorry as if that somehow justifies their awful behavior. They avoid taking responsibility for their mistakes. Relationship experts have proposed the prerequisites of apologising; however those who have made the resolution to call it quits, will ruin their perfectly good relationship by ignoring these in their behavior.
6. Indulging in fights and expanding them
If you want to ruin a perfectly good relationship, then indulge in minor fights and expand them to a greater level.
For those who have wrecked their relationship, dragging arguments and a callous onslaught of regular fights has become the top way of causing irreparable damage to a love relationship.
7. Ignoring the partner
Ignorance is one of the fastest ways to ruin a perfectly good relationship.
It will invariable leading to ending a perfectly good relationship. When your partner is talking to you about a topic, and if you are phubbing them (or ignoring them, not acknowledging their viewpoint), you are on the fastest route to becoming an estranged couple.
Not listening or paying attention to your partner is a strong indication to your spouse that you don't place a premium on the relationship.
8. Being ungrateful
No matter what your partner has done for you, and no matter how much you like it, if you never say "thank you", it's a red flag.
Ungratefulness is what destroys a relationship.
For example, your partner took hours in cooking your favorite meal, and it turned out to be very delicious as well, but you never express that you liked it. Also, you avoid admiring your partner.
These are signs that you are ruining a perfectly good relationship.
9. Mocking your partner in front of everyone
Imagine this scenario.
You plan a get together of friends and family and start discussing your partner with a touch of sarcasm. You'd sound like a weirdo, but you have to do it. You pick one of your friends and start comparing your partner. Your partner would be quite shattered as they'd feel insulted, but that doesn't alarm you.
If you have ever done something on the lines of the above situation, it is just a matter of time before you end up ruining a beautiful relationship.
Also watch: How to Avoid Common Relationship Mistakes
10. Always negating and arguing
Whatever your partner says, even if it's true, you always negate.
You argue on the small stuff. For instance, your partner talks about the weather being so pleasant. But you feel the need to nag your partner and say the opposite stuff.
You never apologize for your rude behavior. You mold a topic into a fight by being rude enough.
11. Never admiring your partner
When you're on the route to end a relationship, you often avoid praising your partner. No matter how good they look, you ignore them and never extol.
This would lead to making your partner feel that you're done with the relationship and want to move on.
If you are doing either or all of the above, you are well on your way to sabotage a relationship. Unless you are in a relationship with a dumpster fire, it is best to recognize the sure-fire signs of a relationship going downhill and work at resurrecting a healthy relationship with your partner.
Share this article on
Want to have a happier, healthier marriage?
If you feel disconnected or frustrated about the state of your marriage but want to avoid separation and/or divorce, the marriage.com course meant for married couples is an excellent resource to help you overcome the most challenging aspects of being married.
More On This Topic
You May Also Like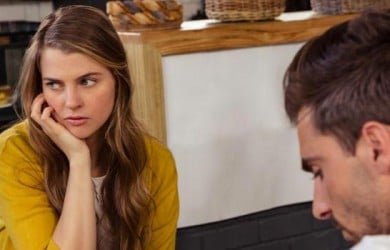 Popular Topics On Married Life