How Does a Man Feel When a Woman Walks Away
Many times, we pay close attention to the feelings of just women when their men walk out of their lives. However, not many people stop to ask themselves this question, "How does a man feel when a woman walks away?"
The truth is that many things happen when a woman leaves a man. Depending on his love and trust in her, he may experience physical stress and emotional pain. He may even undergo mental torture for a while, especially if she walked away because of no fault of his.
Walking away from a player is an entirely different ball game for a woman.
First of all, it is necessary for the woman's mental and emotional stability. However, when she pulls the plug on a relationship with a good guy for any reason, you may want to ask yourself what he thinks when you walk away.
This article will cover some salient points you can look out for. We will also answer the pressing question; "how does a man feel when a woman leaves him?"
What do guys do after a breakup?
Most times, guys experience so many emotions after a breakup. It could be anything from exhilaration to bone-crushing anguish. To deal with the effects of these feelings, they may choose to pursue a new interest, learn a new skill, throw themselves head-first into work, or give in to the pain that follows.
The next section of this article covers how a man feels when a woman walks away.
Related Reading: 

How Does A Guy Behave After A Breakup
How does a man feel when a woman walks away?
Recent CDC statistics revealed about 630,505 divorce cases in America in 2020 alone. With the divorce rate at about 2.3 per 1000 population, it is safe to assume that relationships and marriages split every day.
With these in mind, it is crucial to look at how your man's feelings may be affected if you walk out of the relationship today. How does a man feel when a woman walks away?
1. He can move on almost immediately
Many times, this is the idea many people have about men. For some reason, you may find yourself believing that he may move on immediately afterward. This could be the case if there were little or no love in the first place.
When a woman walks away silently and her man moves on almost immediately, it could be a sign that something was wrong from the start.
Related Reading: 

8 Ways on How to Accept and Move on From a Relationship
2. He may get confused
A man might get confused when a woman walks away if he did all he could to make her happy.
Then again, if the breakup was sudden and he didn't see it coming, he may be thrown into a confused state for a while as he seeks to understand what he did wrong and why the relationship couldn't be fixed.
3. He may slip into pretense
This usually happens when you deal with a man who seldom shows his feelings. If he had challenges expressing himself to you when you were committed in the relationship, there's every possibility that he would try this out.
He will try to make you feel like he isn't touched by your sudden decision to leave. This, however, may not be the case as guys like these could be the ones hiring the most.
4. He may get possessive
Possessiveness usually sets in when your relationship does not have any significant problems.
You may have been with a man who made you happy and who believed you were fully satisfied in the relationship. Then if you suddenly want out of that relationship, he may become possessive.
Here, you may find him doing all he can to get you back into his life. If he finds out that you do not have it, he can become depressed or lethal.
Watch this video to learn more about the warning signs of a possessive guy:
5. His respect levels for you may increase
One of the things you must never forget is that a high-value woman walks away when she is not treated right. Walking away is attractive when you leave a man who doesn't treat you right or like the queen you are.
Walking away when he won't commit to the relationship can be painful. However, it may cause him to have more respect for you because you are that girl who knows what she deserves and wouldn't settle for anything less.
Related Reading: 

Admiration Is an Essential Part of a Relationship
6. He may try to win back your heart
If your man was once committed to you and suddenly began to slack, you may find him doubling down on his effort to get, hold, and keep your attention.
He may reboot all the fun and amazing things he used to do at the beginning of your relationship (like taking you on vacations or just trying to enjoy the little things with you).
The man who does this is willing to give the relationship another shot.
7. He may be stuck and afraid to explore new relationships
Getting out of one strong relationship and straight into another may be challenging for some men. Research shows us that the dissolution of relationships can significantly impact one's mental health and life satisfaction.
If he falls into this category, he may be afraid to pursue new relationships even when it is evident that nothing can happen between both of you again.
This is more likely to be the case if he loved you deeply. Considering his pain, he may not be keen to relive the entire experience again. As a result, you may find him single for the longest time after walking away.
8. He may jump straight into a new relationship
Many experts call this new relationship a rebound relationship. A rebound relationship happens almost immediately after a long and intense relationship ends. Most times, the hurting one gets into this relationship to cushion the effect of the hurt they are experiencing.
If he felt the pain of the breakup so deeply, there's every possibility that he may rebound with someone else to help himself get through. The downside of many rebound relationships is that they don't tend to last for a long time.
9. Deep-seated anger
Anger after separation could either be directed toward the woman (for walking away) or toward himself (for giving her up without a fight). If left unchecked, this anger can quickly devolve into full-blown depression and violence spells, where they can even start physically harming themselves.
10. He lives an isolated life
If he used to be the life of the party, you may notice that he would start withdrawing into his shell. He may begin to step back from all the things he used to do or the things that gave him joy and took up his time.
This could involve staying away from friends and family, staying away from social gatherings, and ha may even find it challenging to take care of himself for a while.
11. He holds on to hope
When a man loves a woman who has just walked out of the relationship, he hopes that she will come back to him someday soon. He'll show this by trying out different things like getting back to her, talking things through, or just waiting.
12. Acceptance
Acceptance is the last stage of the long and painful journey the man may go through after his woman has walked away.
At this stage, he comes to terms with what's lost is lost and that there's nothing he can do again. This is where he begins to take conscious steps to get his life back on track.
Note, however, that it may take some time before he gets to this stage.
Related Reading: 

Developing Acceptance Skills in a Relationship
Why walking away from a man works
When a woman leaves a man, it may make a man feel strong emotions of regret or shame. You may even get him to commit by walking away. Here are some reasons why walking away from him works.
1. He loves you deeply
A man who never loved you will move on immediately after you have walked away. He may even think of your exit as good riddance.
Related Reading: 

30 Signs He Loves You
2. He is unable to detach himself from memories of you
Difficulty to detach mostly would occur if you spent so much time together. When a man cannot eliminate your memories from his mind, walking away may hurt him deeper than he thought.
3. He may have been gearing up for something bigger
Walking away from a man who wouldn't commit to marriage is one thing. However, if you walk away from a man who loved you deeply and would have married you, he may find it difficult to move on.
Reasons a woman leaves a man
There are many reasons why a woman may leave a man. These reasons can be related to the man she is with, the dynamics within the relationship, or things going on in her personal/professional life. Some of these reasons include:
1. Feeling unsafe in the relationship
Physical and emotional safety are things that most women look for in a relationship. When a woman doesn't feel safe around a man, she would most likely want out of that relationship.
2. Maybe she met someone better
A woman can leave a man when she meets someone better than him, someone she has fallen in love with and is willing to be in a committed relationship with.
3. Mistreatment
Mistreatment is one of the most common reasons why a woman can walk out of a relationship. If the man doesn't treat her right, she is most likely to call it quits and go figure out her life.
How do guys deal with heartbreak?
Many guys deal with heartbreak in different ways. Some seek mental/emotional help, others throw themselves into their work, while another fraction immerses themselves in learning new skills or hobbies.
If you are currently at this place and need to make sense of what's happening to you, here are some ways men handle breakups.
Conclusion
If you have been wondering how does a man feel when a woman walks away, you now know that different men deal with breakups in different ways.
Some may get angry, while others may get depressed. The levels of intensity would vary depending on how intensely the man feels about his beloved and the relationship.
However, does a man respect a woman who walks away is a difficult question to answer. However, it is the responsibility of a woman to prioritize her mental health and do what's best for her.
When you are together with a man who doesn't treat you right, walking away may be necessary.
Share this article on
Want to have a happier, healthier marriage?
If you feel disconnected or frustrated about the state of your marriage but want to avoid separation and/or divorce, the marriage.com course meant for married couples is an excellent resource to help you overcome the most challenging aspects of being married.
Learn More On This Topic
You May Also Like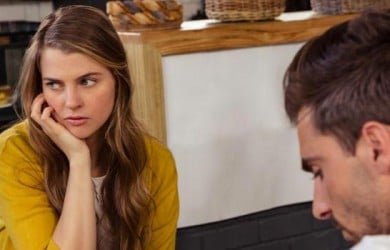 Popular Topics On Married Life