10 Tips on How to Be in Your Feminine Energy With a Man
Does learning how to be in your feminine energy with a man mean you need to play games or be a sensitive wallflower? Not at all.
While women are often portrayed as nurturing, graceful, and meek, those are just some qualities of feminine energy.
Modern-day feminine energy also includes standing up for yourself, maintaining independence, and having the power to know what you want.
If you're looking for the man of your dreams, learning how to be feminine in a relationship is the key. Studies show that men who view women or men as typically feminine are more attracted to them and experience a greater desire for a long-term relationship.
Here are 10 tips on how to be in your feminine energy with a man, as well as what to do when you're dating a feminine person.
What is feminine energy in a man?
Learning how to deal with a feminine man isn't a bad thing. There are many benefits to dating a man with feminine energy that you will come to love and appreciate.
Some pros of dating a man with feminine energy include:
He cares about his looks and always looks well-groomed.

He is fashion-forward and loves to shop.

He loves the same romantic comedies and dramas you do.

He is open and expressive about his feelings.

He has a great relationship with his mom/sister.

He is equally as attuned and sensitive to your feelings.

He is clean and organized.
On the other hand, here are some things about dating men with feminine energy that you may not be so crazy about:
His primping can get irritating.

He always dresses to the nines, even when all you want is to run around town in your messy bun and sweats.

His fashion habits are expensive.

He's so sensitive you tiptoe around his feelings.

He isn't naturally handy – toilet's broken? Call a plumber because your man can't figure it out.

He doesn't know anything about cars.

He doesn't make you feel safe in the traditional way a masculine partner does
Dating men with feminine energy may take some getting used to, but it isn't a bad thing at all.
If you love shopping, emotionally vulnerable conversation, and a guy who knows the value of a good rom-com, a feminine man is going to be your new favorite playmate.
How does feminine energy attract a man?
Once you learn how to be in your feminine energy with a man, you'll be able to attract a partner by simply being yourself.
How?
By showing off your feminine side when you're around the man you like. One of the most attractive things to a man is confidence, playfulness, and positivity. Your feminine energy is all about knowing what you want and striving to look on the bright side when things aren't going your way.
Using your feminine energy to attract a man should not be a game you play with him. It should be a natural, mysterious allure brought on by your natural personality.
What makes a man more feminine?
Men with feminine energy aren't afraid to break out of social norms. They follow their hearts and do what comes naturally to them.
Feminine energy in a relationship means that your partner has dominant traits of being communicative, thoughtful, calm, and taking care of themselves and others.
He is more in tune with his emotions and values the finer things in life.
10 tips to be in your feminine energy with a man
Being in your feminine energy with a man means allowing yourself to be receptive, nurturing, and open. It can create a dynamic of polarity and attraction, where the man can step into his masculine energy.
Here are 10 useful tips on how to be in your feminine energy with a man.
1. Be nurturing
Learn how to be feminine in a relationship by embracing your nurturing nature.
Someone who is nurturing wants to help others. They look for ways to be useful or to lighten someone's load.
As a woman, you are a natural caretaker, so the next time you feel compelled to make your guy dinner or give him a massage, just do it!
2. Bring him into your world
You can learn how to be in your feminine energy with a man by helping your man see where you're coming from.
Don't shy away from your emotions. They were given to you for a reason. You are not "too much" for expressing how you feel.
Embracing your emotions is a strength that will improve communication and acceptance in your relationship.
3. Get physical
One tip for how to be in your feminine energy with a man is not to be afraid of physical touch.
Men love a confident woman, so be confident and flirt and feel free to touch your guy as you talk to him.
Touch his shoulder when he makes you laugh, let your leg brush up against his when you sit down or hold his hand as you walk.
The sensations will give him butterflies and keep him thinking about you all day.
Related Reading: 

What is the Difference Between Emotional Love and Physical Love

?
4. Be true to your instincts
If your gut is telling you something feels good, go with it.
If your instincts tell you to head in the opposite direction of a certain guy, job, or friendship? Listen to it.
Your instincts make up your intellectual, feminine energy, including knowing when it's time to attend relationship counseling.
Relationship counseling can help you and your spouse learn how to navigate challenges that come from being in a serious relationship and blend your energies together.
5. Spark your creativity
Another tip for how to be feminine in a relationship is to let your dynamic energy flow. Do something creative that moves you to be your best self.
Don't get so lost in your relationship that you forget who you are.
Nurture your friendships and tackle your favorite hobbies regularly. These are the things that make you who you are – and are a large reason why your spouse fell in love with you.
Here are some hacks on being more creative. Watch the video:

6. Work on self-love
Before you can have a loving, healthy relationship, you first need to love yourself.
Self-love is important to learn how to be in your feminine energy with a man because, like sparking your creativity, it keeps you true to yourself.
Relax, take a deep breath, and meditate on who you are, who you want to be, and where you want your life to go from this point on.
Regularly connecting this way will help you have trust and faith in your decision-making skills.
Related Reading: 

5 Reasons Why Importance of Self-Love Is Crucial in a Relationship
7. Express empathy freely
One tip for how to be in your feminine energy with a man is to allow yourself to have empathy.
Empathy is your natural ability to feel what someone else is feeling. It's putting yourself in someone's shoes and seeing things from their perspective.
Not only does this allow you to better understand your partner, but it shows them kindness and love in the moments when they need it the most.
8. Complement each other
Not compliment, as in "You look gorgeous tonight" – but complement, as in being one of two parts that mutually complete each other.
The easiest way to use feminine energy to attract a man is to let nature take its course. Men and women's energies were designed to complement each other.
Where women are more sensitive, men have the strength to carry her load.

Where women like to talk and explore a problem, men are fixers. They want to take action.

Where women naturally nurture, men naturally hunt – as in, take care of the family.
It can be difficult to know how to deal with a feminine man for this exact reason. Male and female energies balance each other, and when there is an imbalance, it can cause couples to feel lost in their relationship.
9. Work on your communication skills
One tip for how to be in your feminine energy with a man is to express yourself.
Communication is one of the best skills a feminine woman possesses. It's the way she flirts, gets to know her partner, and expresses her concerns.
Studies show that couples are happier and treat each other with more positivity when they communicate openly with each other.
Related Reading: 

10 Effective Communication Skills in Relationships for Healthy Marriages
10. Be playful
Playful feminine energy makes a man fall in love. Playful girls are seen as flirtatious, low-maintenance, and a little bit naughty.
Research published in the American Journal of Play shows that a fun-loving attitude can be incredibly attractive to the opposite sex.
Not only is it fun to be around someone playful, but studies show that playfulness in adulthood is often perceived as intellectually stimulating, personally interesting, and entertaining.
Related Reading: 

How to Be Playful in a Relationship 20 Effective Tips
Some worthy questions!
Showing your feminine energy to someone requires you to focus on your inner feminine values. Let's look at some questions on accentuating feminine energy within one's self.
How do you use feminine energy to connect with a man?
Feminine energy dating isn't a game. It's an expression of your true self. When you let it shine, your energy will make you bright, playful, and transparent to a potential partner. It's the authenticity that allows you and your partner to be vulnerable together.
Being vulnerable with your partner heightens emotional intimacy, which studies show is closely associated with marital satisfaction.
What is feminine energy in a relationship?
Feminine energy makes a man fall in love because it shows him how dynamic and spontaneous you are.
Feminine energy in a relationship is the ability to empathize, prioritize your feelings, and communicate well with your spouse.
These are wonderful qualities that create a happy, satisfying relationship. But, if there is an imbalance between energies (such as dating a man with feminine energy), it can cause trouble in your romantic dynamic.
How do you show your feminine side to a guy?
Showing off your feminine energy in a relationship is as easy as just being you. You never want to force a personality trait to impress your partner.
If you are naturally feminine, your spouse will see how gentle, kind, delicate, empathetic, sensitive, and modest you are.
Bring out the best of your feminine self!
Learning how to be in your feminine energy with a man will mean the difference between a good relationship and a great one.
What if you keep dating men with feminine energy? Embrace it!
Look for ways that you're similar and look past the ways he is different from the usual masculine energy you find yourself attracted to.
You can show off your feminine energy in a relationship by letting your true personality shine.
Embrace your feminine side and get physical, make yourself a priority, express empathy, and communicate openly. When you do, you'll attract a partner who will love you for you.
Share this article on
Want to have a happier, healthier marriage?
If you feel disconnected or frustrated about the state of your marriage but want to avoid separation and/or divorce, the marriage.com course meant for married couples is an excellent resource to help you overcome the most challenging aspects of being married.
More On This Topic
You May Also Like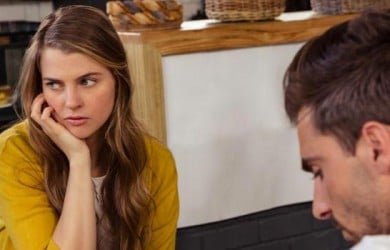 Popular Topics On Married Life