12 Things You Need to do When a Woman Gives Up on a Relationship
Being in love with your woman is one of the most beautiful things to experience. It gets much better if the feeling is mutual. Even though the relationship experiences some crisis, it makes both parties stronger eventually.
However, when a woman gives up on a relationship, she is fed up and wants to call it quits. In this article, you will learn possible reasons why women give up on a relationship. You will also know what to do when she wants to part ways with you.
When a woman gives up on you, what does it mean?
When a woman gives up on you, it means that she has lost every hope of being your partner. She might have been waiting for you or the relationship to get better.
However, she has evaluated all her options and seen that it was an entire waste of her time. When a woman gets to this point in her life, there is a minimal chance that she would ever come back, except things are set in the right way.
It is important to have a broad picture of why breakups happen, and why partners suggest it to their better-half. Check out this research study by Michael J. Rosenfeld titled: Who wants the Breakup?
How to know when a woman gives up on you?
One of the ways to know when a woman gives up on a relationship is when she does not give you attention like before. You will discover that she is more absorbed in her private affairs, and she will have little or no time to talk to you.
Also, if a woman is tired of a relationship, she might not be interested in bonding intimately with you like before.
She might prefer to remain celibate or seek sexual satisfaction from a third party. You will discover that she uses you to pass the time before she leaves and finds someone who catches her fancy.
5 reasons that can make a woman give up on a relationship
Before a woman can decide to give up on a relationship, it must have been a painful decision for her to make. She might be deeply in love with her partner, but choosing to let go could be for the greater good.
Here are some possible reasons that make a woman give up on the union with her partner.
1. Lack of attention
If you have asked yourself questions like am I the problem in my relationship? One possibility to consider is that you might not have given her much attention. Women want their partners to always create time and give them attention.
Even though you are not together in the same location, they expect you to find ways to still keep up communication. Therefore, when they see that you always have excuses not to be around them, they can reconsider their position in the relationship.
When women see that they are not given much attention, they feel taken for granted. If your woman begins to complain about not getting attention, you need to start spending more quality time with them.
Related Reading: 

What Happens When There Is Lack of Attention in Relationship?
2. Insecurity
Everyone experiences insecurity at different points in their lives, and it only shows that we are afraid to lose what we hold dear. However, if a woman has insecure feelings for a long time, she might walk out of the relationship.
When insecurity becomes a present feature in a relationship, it can make a woman walk out of the union. If she always has to seek your permission for all her activities, she will get tired because she craves freedom. No woman likes to be bugged or monitored for a long time.
Therefore, she will prefer to break free from the relationship because she feels imprisoned. You need to evaluate your relationship to confirm if you act insecure before she gets to her breaking point.
3. The intimacy has declined
If the intimacy in the relationship begins to reduce, she might get bored and want to leave the relationship. Usually, one of the reasons why intimacy dies in a relationship is because partners don't have time for each other.
They are too absorbed in their engagements, which prevents them from paying attention to their partner's emotional needs.
This lack of intimacy can also affect the passion in the bedroom. Sexual encounters between couples can become monotonous because there is no intimacy to light up their passions. To revive the spark in your relationship, you need to create more time for your partner and try new things in the bedroom.
4. Comparisons
Women don't appreciate it when compared to other ladies because it makes them feel less than enough. They might think that they have fallen out of favor with you, and it can affect their self-esteem.
When they also notice that you hardly say good things about them and complain more often, they feel pressured to leave the relationship. If you claim to love and cherish your woman, do not compare her to anyone, not even your exes.
Women don't like to be seen in the shadow of their counterparts. Regular comparisons show that you are using a third party as a standard for behaving and acting.
Related Reading: 

10 Reasons You Should Never Compare Relationships or Your Partner
5. Lies and secrets
When a woman gives up on a union, it might be because lies and secrets are in the mix. If you want to have a healthy relationship, you need to be plain honest with your woman.
Avoid keeping things from her that she might get to find out later. When your woman discovers that you don't want her to know some of the things you are doing, she could get pissed. If it becomes a regular habit, she might think of leaving the relationship.
In Dr. Orian Smith's book titled 10 Reasons why relationships fail, you will see the common reasons why your woman was tired of the relationship.
12 things to do if a woman gives up on a relationship
When a woman gives up on a relationship, it is a situation that you might find hard to get over. You will feel inadequate because your woman probably does not know your worth.
1. Give her space
When she gives up on the relationship, you need to give her some space. The primary reason why this is important is that she needs time to process her emotions and decide what is best for herself. It is vital to acknowledge her feelings and give her enough time to conclude on her next line of action.
During this phase, do not pressurize her. If she reaches out to you, ensure you communicate. You don't have to disappear from her life permanently because she might still want the relationship. Rather, ensure she has some breathing space.
Related Reading: 

Let There Be Some Space in Your Relationship
2. Have an open and honest conversation
If you observe the signs that a woman is fed up in a relationship, one of the important things to discuss openly with her. You need to know the exact reasons why she wants to leave the relationship. It is also important she hears your point of view.
However, the trick here is to ensure you are not defensive. Rather, point out your flaws and your strengths. If you still want her back, make her aware that you recognize where your flaws are, and you are ready to change.
Related Reading: 

Open Communication In a Relationship: How to Make it Work
3. Don't enter into another relationship
When a woman is done with a relationship, one of the mistakes their partners make is to go on a rebound relationship. This means entering into another relationship with a third party to fill in the emotional gap.
These rebound relationships often do not have a solid foundation, and they don't last. Such relationships do not give you sufficient time to heal and move on.
4. Reach out to your support system
While you wonder what happens when a woman gives up on you, you need to start relying on are your close friends and family, who constitute your support system. It can be difficult to process your emotions when your woman is done with the relationship.
With your support system, you can heal from your heartbreak. You can also keep a clear head and focus on other aspects of your life.
5. Distract yourself with healthy activities
When a woman is about giving up on a relationship, you need to find healthy distractions to not mentally and emotionally affect you. You are likely to experience a broad range of emotions that can leave you destabilized.
However, by focusing on healthy activities, you will think less about the breakup, and it would be easy to heal.
6. Try to socialize and meet new people
One of the things to do when a woman gives up on a relationship is to be proactive in hanging out and meeting new people. Your social life might not be alive at this point, but it is important to meet new minds and bond with people. Doing this would help to keep your mind off the failed relationship.
7. Revisit your goals and dreams
When a woman gives up on a relationship, you might be discouraged from chasing your goals, especially if you plan with her.
If you feel this way, you need to go back to the drawing table and restructure your goals. Do not get too caught up in the web of painful and overwhelming emotional and mental feelings so that you would not forget to attend to your goals.
8. Revisit the root cause of conflicts
If someone is fed up with a relationship, it is usually because of some unresolved conflicts. You need to identify the causes and see if it is worth ending the relationship. You can make your woman see why these conflicts should not end the relationship.
9. Remind her of memories
When a woman gives up on a relationship, it might help to walk down memory lane to remind her of the good times you shared. You can make her remember what made the two of you fall in love with each other in the first place. When you start to bring up the surreal memories, it might inspire your woman to reconsider leaving the relationship.
The efforts to make her remember would make her see that she should not give up because the union is worth fighting for.
10. Point out intimacy issues
Sometimes, when a woman gives up on a relationship, it might be because of intimacy issues. Having a beautiful sex life is what couples look forward to. If one party is not satisfied with the intimacy level of their partner, they might get discouraged and want to leave the relationship.
Therefore, you need to communicate with your woman to ensure that she is not leaving because of the intimacy you once shared. If intimacy is the singular cause, you need to seek professional help on how to spice up your sex life and make your bond stronger.
11. Reach out to trusted people she is accountable to
Before giving up on women who want to leave a relationship, it is important to have conversations with people that she is accountable to. You can use this opportunity to plead your cause and hope that they can convince her to have a rethink. Sometimes, women are more likely to listen to people that they respect. Hence, you can try this option to see if she will budge or not.
12. Find professional help
Dealing with rejection can be a lot to handle. Hence, finding professional help can be a great choice to get yourself back on track.
One of the things to do when a woman gives up on a relationship is to seek professional help. You can do your research for a reputable and trusted therapist to help you when the going gets tough.
If you are strategizing on what to do after your woman gives up on the relationship, John Alexander's book titled: How to get your woman back in 30 days or less, contains some useful tips.
Conclusion
When a woman gives up on a relationship, the things you do after then determine if you can get her back or not. After reading this article, you would know the right things to do to win her heart. Also, you will know the reasons why she gave up on the relationship so that you won't repeat those mistakes.
Here are some tips to make your partner happy:
Share this article on
Want to have a happier, healthier marriage?
If you feel disconnected or frustrated about the state of your marriage but want to avoid separation and/or divorce, the marriage.com course meant for married couples is an excellent resource to help you overcome the most challenging aspects of being married.
More On This Topic
You May Also Like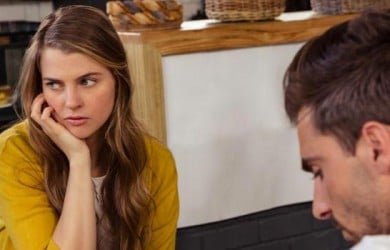 Popular Topics On Married Life