10 Ways Men Deal With Breakups
Breaking up from a romantic relationship is no joke. A study on the impact of breakups on mental health for the 18-35 age group found that "the dissolution of an unmarried relationship was related to an increase in psychological distress and a decline in life satisfaction."
There are plenty of notions on how men deal with breakups but the fact is every person can have their own approach to cope with heartbreak. Some people can be visibly dull during this phase while some recover pretty fast and move on.
How does a guy behave after a breakup
How men deal with breakups can depend on multiple factors like the intensity of their relationship, their emotional stability, and of course, their decision-making ability. Nevertheless, dealing with the betrayal of a breakup and the following distress is hard.
To learn more about how men deal with breakups you can click here.
10 ways a man handles a breakup
When we talk about heartbreaks, both men and women have been stereotyped by society and popular culture. Talking of how men deal with breakups, we usually picture an unshaven young guy in shabby clothes, hanging out with random people he meets online.
There can be multiple stages of breakup for guys. Let's look at 10 possible ways in which a man is likely to handle a breakup.
1. The hibernation period
Men can experience a host of breakup emotions like anger, confusion, betrayal, numbness, loss, and sadness.
It is believed that unlike women, men are more likely to shield their feelings from friends, family and society in general.
Because of this inclination to hibernate from the world, male psychology after breakup might divert him to spend most nights in and blow off any opportunity to socialize with the outside world. This hibernation period is essential for getting over the depression and low self-esteem that is expected following a breakup.
2. Casual sexual engagements
There's comfort in the knowledge that, while in a romantic relationship, you can share physical intimacy with someone you care about. The oxytocin released during physical intimacy has been proven to give a boost of happiness and lowered stress.
Even something as simple and sweet as holding hands with someone can have a soothing effect on your cardiovascular health. After a breakup, men are often left craving for this sense of pleasure.
This temporary boost of pleasure and emotional connectivity can be intoxicating for someone who just had their constant source of affection ripped away from them. So, it's no surprise that sleeping around is one prominent inclusion in breakup stages for guys.
Related Reading: 

10 Characteristics of a Healthy Sexual Relationship
3. They go on rebound
Many guys after a breakup may not consider giving time for emotional healing. Some of them download dating apps or get out there in the real world to find themselves a rebound ASAP. Men breaking up on grounds of emotional or physical dissatisfaction may also consider finding a new partner immediately.
A rebound relationship is when someone quickly jumps into a serious relationship following a breakup without having the proper time to get over their last relationship.
This is often the worst breakup advice for guys and girls since the freshly dumped participant hasn't given themselves a chance to recover from their past hurt and insecurity. This can also bring tension and distrust into a new relationship.
Related Reading: 

15 Signs of a Rebound Relationship
4. Turning on the ex
One of the most common coping mechanisms after a breakup is turning on the ex. Some men dealing with heartbreak can possibly adopt a revengeful streak. Bitterness in a romantic relationship can be a reason why such men breakup and turn hateful toward the previous partner.
While this may sound like a ridiculously immature way of dealing with breakups, it's also completely understandable even though it may not be justifiable. He might be heartbroken, and his self-esteem may have taken a huge hit.
The last person he may want to be nice to is someone who just shattered his heart into a million pieces. Here are a few ways how men deal with breakups when they want to turn on their ex:
Removing the ex/blocking them across social media

Ignoring phone calls/texts

Gossiping, lying or talking about the ex to others

Being blatantly cruel to the ex when in public together

Purposely saying things to hurt the ex
Bottomline is – It's never okay to be cruel to someone else after a breakup, but know that this nasty behavior crops up from deep pain.
5. Drinking in excess
A man or woman dealing with a heartbreak can try to indulge in a lot of temporary pleasures. Excessive partying is one of those things. There are women at parties, friends, and an abundant supply of drinks. After all, you can't feel pain if you can't feel anything.
Partying is also a way for men to reconnect with their friends and gather a support system during their troubled times. This is important for them, considering studies show that friend and family support can lower psychological distress in a person after a sudden negative change in their life.
6. Wallowing
Wallowing as a trait is often labeled on women going through troubles. But men, too, can lounge around when stressed.
The snacks may switch from ice cream to chips or chicken wings, and the movie may be an action thriller and not a rom-com, but the action is the same: Wallowing.
That's right, women don't have a monopoly on wallowing after a breakup!
Many men aren't always the best at expressing their emotions, so instead, they might curl up into a blanket and binge-watch web shows, ignoring their phones, friends and family.
7. Keeping busy
Opposite of hibernating, some men choose to keep busy in order to get over their broken hearts.
He may take up a new hobby or find a renewed passion for an old one. He may begin to travel or become one of those 'Say yes to every opportunity!' guys. This is, of course, all in an attempt to remember the person he was before he got into a romantic relationship and distract himself from the pain of breakup.
While anyone going through a breakup is highly recommended to confront and deal with their negative emotions, keeping busy can actually have a very healing effect on a guy's behavior after a breakup.
Watch this video by 'Coping with Depression' Author, Tiffanie Verbeke to learn more on how keeping busy can be a stress-survival technique.
8. The longing to get back
It's natural to miss your partner after being freshly out of a relationship. While some men are ego-driven enough not to think about getting back to their ex, some constantly reach out to the other person in the hope of rekindling the relationship.
Although there's nothing wrong in conveying your affection and trying to regain what the two of you had, it's not correct to trouble the ex with constant calls and messages if your efforts are not reciprocated. Physically stalking the other person is one extreme form of such cases.
9. Emotional meltdown
A breakup can be a life changing event leading to a sense of extreme loss in an emotionally-inclined person. Once a guy has exhausted all other options of coping up from heartbreak, he might go through an emotional breakdown.
Men may not get all teary-eyed in the middle of a crowd like how they show in movies.
But they do experience emotional meltdowns.
This way of coping is not exactly negative since crying or emoting can help a person confront their feelings and accept the situation. A man might need support in case he's experiencing frequent meltdowns as it can escalate his stress level or hamper his daily routine.
10. The gradual acceptance
It takes time but it happens! After his breakup, there usually comes a time in a man's life when he starts to come to peace with the reality at hand. He accepts the fact that the person he was with is no longer a part of his life and routine and it is somehow okay.
This phase isn't totally free of feelings of sadness and anger but it's better than what the person was going through just after the break up. This stage slowly and steadily marks the onset of the healing process.
Related Reading: 

Developing Acceptance Skills in a Relationship
Commonly asked questions
How do you know if a man is hurting after a breakup?
Be it a man or a woman, heartbreak causes feelings of hurt and loss. Sometimes, the disappointment is visible through the person's behavior and expressions. There can be instances where a man is hurting in oblivion without letting those around him know about his pain.
One has to pay attention to minor details in order to understand if he is coping with a breakup.
Final takeaway
Breakups are hard. They take a toll on your emotions and may lead you to act in ways you normally wouldn't. Letting go of an emotional attachment can be difficult for all human beings, be it a man or a woman.
It's always advisable to resort to more affirmative ways to help you heal from the sense of loss instead of adopting temporary or destructive coping methods. Both men and women can consult a relationship therapist if they find it hard to deal with this situation and move on positively.
Share this article on
Want to have a happier, healthier marriage?
If you feel disconnected or frustrated about the state of your marriage but want to avoid separation and/or divorce, the marriage.com course meant for married couples is an excellent resource to help you overcome the most challenging aspects of being married.
You May Also Like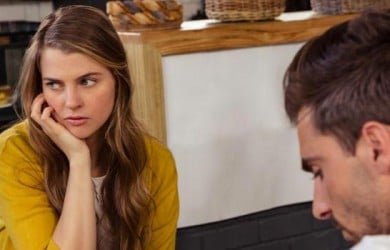 Popular Topics On Married Life