Attachment Issues: 10 Steps Healing Your Attachment Issues in Relationships
Did you know that you may be experiencing attachment issues in your relationship? If you are trying to get your bond back on track and you aren't sure what is going on, this may be something to look into further. Keep reading this article for more information on attachment issues and how to fix them.
What are attachment issues?
This type of issue, also known as attachment problems, refers to issues you have regarding relationships. You may not feel secure or fulfilled in a relationship, or it may take certain things to make you feel this way.
Your attachment style is the reason why you may or may not experience an attachment problem in a relationship. It is thought that attachment styles develop when you are a baby and are determined by the care you received from your parents or caregiver.
For example, when a baby is cared for, meaning it is soothed and its needs are met consistently, they may have a different attachment style than a baby who wasn't soothed when they cried.
Your attachment refers to how safe or secure your parents made you feel. If you were cared for properly, you probably felt protected and like you could count on them. This can carry over into all types of relationships as you grow.
On the other hand, if you weren't given the things you need, this can also affect the way you form relationships as you age.
Why do attachment issues matter?
Relationship attachment issues matter because they can affect how you bond with other people. When you can understand what your style is, it may help you learn more about others as well.
Some attachment styles affect other styles, meaning that two people may have conflict in a relationship based on what attachment wounds they are trying to overcome.
Remember that healing attachment issues is possible, especially if you are willing to put the time and energy into it.
How to deal with attachment issues?
When it comes to how to overcome attachment issues, there are a few things that you can do. You should do your best to find out more about attachment theory, so you will be better able to understand the differences in the types of attachment and how they can affect you throughout your life.
Besides that, it may be helpful to work with a therapist or talk to someone you trust about what you are experiencing.
10 Ways to heal your attachment issues in a relationship
Here's a look at how to heal attachment issues that you may want to try for yourself.
1. Learn more about attachment styles
When you are at a loss as to how to fix attachment issues, the first thing that you may want to do is learn more about what they are and how they make a person behave.
You should be able to research online to find more information in addition to this article's details.
2. Determine what your style is
Once you learn about this theory and why it is valid, this may help you understand some of your traits and how you behave toward other people.
In other words, you may be able to determine what your attachment style is, which can not only clue you into how you are acting in certain situations but can also provide you with an opportunity to be aware of and change these things.
3. Know your boundaries and expectations
Something else that may help you work through emotional attachment issues is knowing your boundaries and expectations. For instance, when you can pinpoint things you may do because of your attachment style, it can also help you prevent them.
Perhaps you get overwhelmed if your partner doesn't text you back right away or if they aren't as excited about something as you.
This could cause you to feel like they don't love you anymore. Once you are apprised of how attachment works, you may notice when you feel this way and can take a breath and relax instead of feeling anxious.
4. Talk to your partner
It would help if you also talked to your partner when you are doing your best to overcome attachment issues.
After all, both people in a relationship will have attachment styles, which can influence their behavior. When you comprehend your style more, you can talk to them about how you act and what you want to change.
Moreover, you can share the information you researched with them if they are interested. This may help you communicate better and understand each other more.
5. Work with a therapist
It may be worthwhile to work with a therapist for emotional attachment issues. You can visit with a therapist when you are in a relationship and would like to work out any disagreements you have, if you are trying to find a partner to spend your time with, or if you want to find out more about how to fix attachment problems.
You might be expressing symptoms of mental health conditions that can also be alleviated.
When you can sit down with a professional, they may provide you with expert advice and further information on the behaviors you may exhibit because of your attachment style.
They should also help you change how you act when you wish to by explaining how to set goals and change your mindset.
6. Work on yourself
As you work on your mental health, you may also want to work on your overall wellness. It may not be easy to be the best you when you aren't taking care of your physical health or are not busy enough.
Do your best to ensure that you sleep enough hours at night, eat a balanced diet, and exercise regularly. Besides, it may be good to consider a hobby or stick to a routine.
This can be helpful in several ways, including helping you get through your days without spending a lot of time worrying or daydreaming, and it may allow you to get all the things accomplished in a day you want to.
7. Write down your thoughts
Part of working on yourself may be to start jotting your thoughts down.
Stress and anxiety can be challenging to deal with on your own, so when you are feeling burned out or stressed, writing thoughts down in a journal or a note on your phone may be able to get these troubling thoughts out of your head and allow you to feel more like yourself.
In some forms of therapy, writing in a journal may also be part of the therapeutic process.
Related Reading: 

How to Change Your Thoughts in Order to Commit Back to Your Marriage
8. Don't keep to yourself
When you do everything you can to address how your attachment affects you and your relationship, you should refrain from keeping to yourself. It can be helpful to have other people's perspectives, and they may also have advice that you can benefit from.
Staying social may be able to keep you from becoming too focused on what is wrong and how you are going to fix it. Chances are that any issues you are facing can be worked out, but they may not be able to clear up overnight. It is okay to spend time with people you care about and have fun with.
Related Reading: 

10 Ways on How to Put Yourself First in a Relationship and Why
9. Set goals
Another thing to contemplate when working on how to get over attachment issues is to set goals for yourself. Goals can help you stay on track and keep you from becoming overwhelmed in different aspects of your life.
You can talk to your therapist about the best way to set goals and how to follow through.
The key is ensuring your goals are manageable and can be met. Even if you have a big goal you want to meet, such as changing traits related to your attachment style, this can be broken up into smaller goals that are easier to meet.
10. Keep at it
Again, this will be an ongoing process when you are trying to heal a relationship or your attachment to one. It may take a while to get right, even when you are doing everything you can and working with a therapist.
Stay positive and work at it daily so you don't get discouraged. Hang in there and understand that your partner is likely noticing and appreciating your actions.
For more information on strengthening your relationship, watch this video:
Types of attachment style
There are four major attachment styles that are possible. Some types may be more likely to cause attachment issues in your relationship.
1. Secure attachment
Secure attachment occurs when a child's needs are met, comforted, and they feel safe with their caregiver.
When a person with secure attachment becomes an adult, they should be able to have healthy relationships with their partners, be someone that their mate can lean on, and communicate effectively.
2. Anxious attachment
When a baby doesn't have their needs met the same way every time, sometimes they are comforted, and other times they are allowed to cry without being tended to.
This can lead to anxious attachment. When an individual with anxious attachment has relationships as an adult, they may need to be told that they are cared about often. They might also need to be in a relationship at all times.
Related Reading: 

How Attachment Styles Affect Relationships
3. Avoidant attachment
Babies with avoidant attachment, which occurs when their needs are not met, and a caregiver likely avoided them regularly. The baby likely began to think that they had to fend for themselves and couldn't trust their parents.
In adulthood, this could mean a person has difficulty opening up to others, even in long-term relationships. It may be very difficult for them to trust someone else.
4. Disorganized attachment
Disorganized attachment generally occurs when a parent cannot be a parent to their child. They may have suffered from a mental health condition or an addiction and couldn't comfort or meet your needs.
As a baby treated this way grows up, they may also experience a mental health concern or an addiction. They may not even be able to have meaningful relationships.
FAQ
Why do I have attachment issues?
You may have attachment issues because of the way you were treated by your first caregiver as a baby. You may not exhibit attachment issues if you were given the needed things and were soothed when you cried.
On the other hand, if you were not given the things you need, and your parents avoided you, you may behave in certain ways in all relationships because you feel like you need to look out for yourself.
How to stop attachment issues?
It is possible to stop attachment issues, and there are a few ways to do so. One is to learn more about attachment theory, which can help you decipher your style.
This can help you notice your behavior and change some of your actions.
You can also work with a therapist for support. They should be able to guide you further and help you meet your goals concerning any issues you are facing in relationships.
Takeaway
Attachment issues can be present in any relationship, and if they occur in yours, it may be time to find out more, such as the attachment issues meaning, how to deal with them, and what attachment refers to.
Think about following the advice in this article first, which may help you address any concerns you have in your relationships.
Share this article on
Want to have a happier, healthier marriage?
If you feel disconnected or frustrated about the state of your marriage but want to avoid separation and/or divorce, the marriage.com course meant for married couples is an excellent resource to help you overcome the most challenging aspects of being married.
More On This Topic
You May Also Like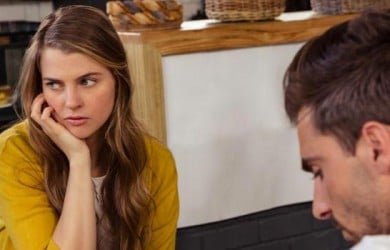 Popular Topics On Married Life