Marital Abandonment: Meaning and Its Impact
Marriage is an exciting and joyful journey for people, but they don't think about marital abandonment. What is marital abandonment, and how does it affect individuals?
Marriage is one of the important institutions in our society. It is the foundation upon which many things are built. Therefore, people value its existence. Unfortunately, marital abandonment is a topic people don't like to discuss. It feels like it's almost forbidden to speak about it.
However, abandonment in marriage happens more than you think. Once lovely and close couples might feel distanced from each other and no longer share their love for each other. So, what is abandonment in a marriage?
When a husband or wife abandons marriage, what happens? Are there abandonment marriage laws? What are the consequences of marriage abandonment? Read on to find out.
What is marital abandonment?
Many people ask, "What is abandonment in marriage?" Marriage abandonment is when one partner leaves his family, cuts ties with them, and abandons their duties and responsibilities. It also happens when one spouse stops providing or contributing to the family and marriage growth.
The abandoned spouse continues to wait until they can't take it any longer. While some people leave their family temporarily only to come back after some months or weeks, others leave permanently, leaving everything, including their spouse or children, properties, and financial obligations. There are two types of marital abandonment – criminal abandonment and constructive abandonment.
What is criminal abandonment?
Legally, a spouse must take care of their children and dependent spouse. Suppose they leave their family and refuse to take up this task or provide financial means. In that case, it can be considered criminal spouse abandonment.
For instance, if your partner is sick and you leave the marriage, it can be considered criminal abandonment. That means you are leaving a partner who needs you at the most critical time. The court may not recognize or grant your decision due to leaving a partner who needs your support.
Nonetheless, you can still get a divorce in some states. Before you file any report, be acquainted with your state's abandonment of marriage law. That way, you can decide if your husband or wife abandons the marriage. For example, you must support your claims with evidence suggesting separate living conditions or long-term absence.
What is constructive abandonment?
Another type of marriage abandonment is constructive abandonment. It is a situation where one partner leaves the other on the ground that frustrates and makes life hard for you. If you can prove to the court that your partner makes life intolerable and the solution is to leave the marriage, you can leave the union.
Some logical reasons an abandoned spouse can use to file for abandonment in marriage are infidelity, domestic abuse, lack of financial support, and refusal to have sex with your partner.
What is the difference between separation and abandonment?
Separation and marriage abandonment are two different words with some similarities. As such, people might use one in place of another.
To start with, separation means a temporary leave in a marriage. It occurs when one partner moves out of their matrimonial home but continues to fulfill all financial, family, and marital obligations.
Also, separation can happen if one partner leaves the house after an argument but returns home after some days or weeks. These are normal situations in marriage, as people disagree and argue occasionally.
On the other hand, marriage abandonment happens without any genuine or logical reason. It occurs when the partner leaves without communicating with the other and without the intent of coming back. Before considering marriage abandonment, one spouse's leave must have exceeded a specific time, usually a year.
Knowing the difference between separation and marriage abandonment helps you know your options and the decision to take next.
Impact of marital abandonment
For every action, there is a reaction. Marital abandonment is viewed negatively because of its effects on the abandoned spouse and children. Spouses are separated, and children are distanced from their parents.
These usually have effects on the children and the individuals involved. So, what are the consequences of marriage abandonment? Check the following impacts of marital abandonment:
1. Criminal offense
One of the consequences of marriage abandonment is that the partner at fault is breaking the law. In some countries like the USA and UK, leaving a dependent partner and children without any logical reason or explanation attract a penalty and affect the award of alimony in a divorce settlement.
For example, abandoning and not providing care for dependent, minor children, ailing spouses, or minor children are considered criminal abandonment. According to California Family Code Section 7820, the family law court can terminate your parental rights if you abandon your children.
2. You may spend more
According to some states or countries, the parent who abandons their family and minor children may be required to pay more for child support. That leaves a huge gap in your finances, thereby crippling other things. Besides this, you may be required to pay other fees you didn't budget for when you leave your marriage the legal way.
3. You may not get child custody
In any marriage abandonment case involving minors, the children's best interests come first. In other words, the judge will consider how the judgment can favor the children rather than the adults involved. This involves where the children will live, how much parenting visitation is, and how parents share decision-making.
While the child or children's custody is not used to punish parents, a parent who has abandoned their family without reason or communication may not have a chance of getting custody of the children. This fact affects a judge's conclusions about your parental responsibilities, strength, and willingness to look out for their welfare. The judge considers these factors with other things to make their decisions.
However, it doesn't mean you won't get any share in the parenting. The final judgment depends on the judge and the abandonment marriage law of your state or country.
Related Reading: 

Child Custody and Visitation Rights in a Legal Separation
4. Long-term hatred
One inevitable thing about marital abandonment is the hatred that breeds between partners or the children. A partner who suddenly leaves with no communication or intentions of returning tells their partner that they aren't worth the effort.
It might also mean to the other person that you don't trust them or believe in your union. These make one partner loathe the other. In some cases, the children might hate one parent for a long time. It may be permanent or temporary, depending on the situation.
5. It might affect the property division
Another impact of marital abandonment is sharing of properties. Like child custody laws, many states consider several factors before passing their judgment in a divorce case. These may include how much a spouse gets and how long.
In some states, the laws consider spouse misconduct, such as marital abandonment. Although the financial aspect is the most important, abandonment in marriage is a factor if it affects an ailing partner or minor children. One way that might affect the one who leaves is in property divisions.
Some states use the term "equity division" rule. This term implies that the judge decides on a fair way of distributing a couple's assets and debts. However, a judge may award the spouse that was left a greater share of the property unless stated otherwise by the state.
If you left your partner for more than a year, this might be your case if the judge considers your marital abandonment. But that doesn't mean you will lose your properties.
6. Death
Another impact of marital abandonment is that it might lead to the death of one partner. If a person leaves their ailing partner suddenly, it might affect them greatly. Besides financial support, emotional support can help sick individuals recuperate in time. Thinking about the absence of a partner can aggravate the illness of a sick person.
There are better ways to leave a marriage you don't want or don't align with your values. Engaging in marital abandonment is not one of them. Suppose you have tried to resolve the matter or communicate with your spouse several times. In that case, you may consider going for marital counseling.
In addition, marriage abandonment is only allowed in the case of life-threatening. If your spouse threatens your life or makes life unbearable for you, you may leave. Leaving your partner and children, in this case, is considered constructive abandonment, as discussed above.
Related Reading: 

8 Steps to Moving on After the Death of Spouse
FAQs
Let's have a look at the most asked questions about marital abandonment.
What is emotional abandonment in a marriage?
Emotional abandonment in a marriage happens when one partner is no longer emotionally connected to their partner. They see or have no reason to be intimate with their partner or create any bond. Also, you don't trust your partner enough to share things with them, and no feelings are attached to this situation.
Learn more about emotional abandonment with this video.
How do you prove desertion in marriage?
Before filing for marital abandonment, it is important to show proof or evidence backing your marriage abandonment case. Often, it would mean that your partner didn't inform you of their decision to leave. Also, it must have been up to or over a year before you can consider marital abandonment. With this proof, your lawyer can establish desertion in marriage.
Final thought
Marriage brings together individuals, but many people often engage in marital abandonment. It means leaving your partner and children without communicating or the intention of leaving.
Marital abandonment is considered an offense in many states and countries. It requires penalties, and its impacts are great. For instance, abandonment in marriage can affect child custody, the division of property, or feelings among family members.
Share this article on
Want to have a happier, healthier marriage?
If you feel disconnected or frustrated about the state of your marriage but want to avoid separation and/or divorce, the marriage.com course meant for married couples is an excellent resource to help you overcome the most challenging aspects of being married.
Learn More On This Topic
You May Also Like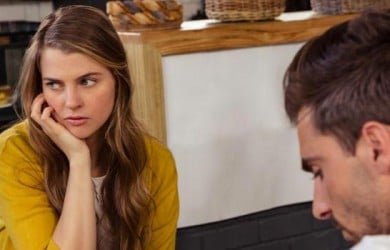 Popular Topics On Married Life