How to Be the Perfect Housewife-10 Ways
A housewife is a person whose work is running or managing the family's home. This job involves caring for the children, cooking meals, and doing everything that makes the home function. Being a housewife means making life easier for everyone, including yourself.
When the novelty wears off and the wedding bells fade, you may wonder how to be the perfect housewife. We have the answers! This article will teach you how to be a housewife and create a stay-at-home wife schedule. It will also look at stay-at-home wife duties and discuss all the qualities of a wife.
So, how to be the perfect housewife?
Whether you are trying to be a traditional housewife or simply looking to step up your game, this article can teach you how to be a good housewife so that you can live happily ever after.
10 tips to help you become the perfect housewife
While times have changed, many things have stayed the same. Becoming a housewife is a dream come true for some women. It may be something that they fantasized about as a child and a position that they happily embrace today.
Whether being a homemaker was your life-long dream or something that fell into your lap, some tips can make this job of how to be the perfect housewife more manageable.
1. Food will fuel the family
There are many responsibilities of a homemaker, some more fun than others.
One of the primary responsibilities of any homemaker is to plan, prep, and cook dinner. Dinner can be one of the most daunting tasks of a stay-at-home-wife, but creating a solid plan that includes healthy meals will make this job much more manageable.
Aim to plan your family's meals for the entire week and shop for the ingredients ahead of time. Having a solid plan in place will save you stress and make your job much easier.
2. Create a cleaning schedule
Keeping your house clean can seem like an impossible task at times. Creating a cleaning schedule can help you complete this overwhelming task quickly and efficiently. Make a list of all the house chores and decide how often to do them.
Choose which days and times will be for which tasks, and do not be afraid to delegate to others as needed.
3. Keep on top of dirty clothes
Many stay-at-home wives say that laundry is their biggest burden.
Dirty clothes can pile up quickly, especially when you have little ones in the house. Stay on top of laundry and avoid having a mountain by doing a load each morning and putting it away each evening. Doing laundry as it arises can save you so much time and energy.
4. Get a head start
If you want to know how to be the perfect housewife, start early– in the morning, that is. Waking up early gives you time to breathe and allows you to get organized for the day. That extra hour or a quiet cup of coffee can make all the difference on busy, hectic days.
5. Create a nighttime routine
While mornings can be chaotic, nighttimes come in as a close second. Being a homemaker involves creating a nighttime routine that helps your family function. Bathing children and getting them ready for bed are only part of this process.
A homemaker must also think ahead by planning for tomorrow. Pick up clutter, prepare school lunches, and ensure that everything is in place for the day ahead. Doing this in the evening will help to create a more peaceful morning.
6. Create a positive environment
A family home should be full of love and encouragement, and negativity should be left at the door. Aim to make your home a positive place for your family to be. Do this by ensuring that all of your needs are being met, not just those of your family.
You must put yourself first if you hope to be useful to anyone else, and you need to embrace your role as a housewife. You are allowed to take a break when you need one, and you are free to rearrange the schedule so that it works better for you.
With time, you will find your footing and fall into a routine. In the meantime, find something that works for you and your family.
Related Reading: 

How to Be a Confident Wife in Your Marriage
7. Don't forget why you're here
Before anything else, your marriage is the thing that brought you to this place, and it needs to be your priority. Many stay-at-home wives complain that their relationships suffer. Prevent this pitfall by making your marriage a priority. Date nights, movie nights, and time alone are essential to success.
8. Doll yourself up
One thing that has not changed with time is the need to maintain your appearance.
Looking good can help both you and your marriage. Being a stay-at-home wife should not mean you live in track pants and pajamas. Make an effort to look good, not only for your family but for yourself as well.
When you do not look your best, chances are you will not feel your best. Set aside some time to groom and enjoy enhancing your appearance. You will be thankful for the break and inspired by your reflection.
9. Remember that there are two adults
Partners often tell marriage counselors that their spouse treats them like children. Avoid this common issue by reminding yourself that there are two adults in your home. Your partner is a capable person who wants to help you.
When you are feeling overwhelmed or need a helping hand, do not be afraid to ask.
Also Try: 

What Kind Of Wife Are You?
10. Form a separate identity
Being the perfect housewife should not consume your identity. Instead, this label should be a small part of who you are as a person. Fill your life with activities that inspire you and make you feel fulfilled.
While caring for a home and taking care of children can be a full-time job, it should not be all you have in life. Find those things that you enjoy doing and add them to your schedule. Taking time for yourself is imperative to running a successful home.
You and your family will benefit from you finding hobbies that you love and enjoying them.
Check out this video where Lisa Nichols talks about how to keep your identity intact in relationships:

Takeaway
Times have changed a lot since the early days of being a housewife, and our rules need to change along with it. A wife has many responsibilities, but you can achieve them with a little luck and a lot of planning. Creating a schedule that works for you and your family will be the catalyst for success.
Remember, being the perfect housewife is a worthy goal to have, but it is merely a tiny part of who you are as a person. Try your best and celebrate the small successes as they come.
Above all else, remember that there will be good days and bad ones. Take each of them in stride and learn from your mistakes as you move forward.
Share this article on
Want to have a happier, healthier marriage?
If you feel disconnected or frustrated about the state of your marriage but want to avoid separation and/or divorce, the marriage.com course meant for married couples is an excellent resource to help you overcome the most challenging aspects of being married.
Learn More On This Topic
You May Also Like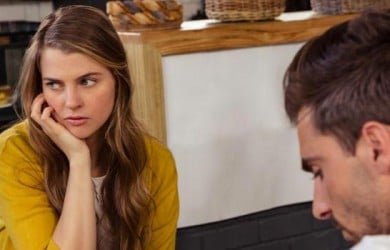 Popular Topics On Married Life