Top 10 Things That Couples Argue About the Most
When people see lovey-dovey pictures of couples on the internet, they may wish to have a relationship that looks as beautiful as theirs.
However, many people are unaware that beneath good-looking pictures, couples may experience tough conflicts. This does not exclude that these conflicts can be handled appropriately when the right steps are taken.
In this article, you will learn the common reasons why couple arguments happen and the ideal way to handle them.
10 reasons why couples argue
Every relationship or marriage is likely to experience conflict because of the peculiarities of both partners. Some reasons why spouses might argue are sometimes general issues that many couples experience.
Here are some of the reasons for couple arguments
1. Communication
When communication is not up to par, it can cause conflict in the relationship. Some partners may complain that their better half does not invest enough time in communicating with them. The lack of constant communication can be one of the reasons why you would find a couple arguing.
Related Reading: 

10 Effective Communication Skills in Relationships for Healthy Marriages
2. Intimacy
Another reason why relationship arguments may occur is when intimacy is not a regular feature in a relationship. One of the partners might not be dedicating enough time to be intimate with their partner, which could affect the one on the receiving end. Spending more intimate time with your partner can be one of the solutions to reducing arguments in the relationship.
3. Time
Quality time is an essential ingredient in every relationship, and when it is missing, couples are likely to argue about it. Therefore, partners need to figure out how to fight off every factor that might prevent them from spending time with each other.
4. Jealousy
If jealousy exists in a relationship, it can cause arguments between couples. For example, some partners may be jealous of each other's progress in different aspects of their lives. This jealousy can even cause rivalry at some point, which may lead to constant arguing with each other.
5. The Past
One of the reasons that might cause couple arguments is when they keep bringing up issues in the past. Sometimes, it might be a sign that one party has not healed from the incident that occurred then. However, it is best to let things stay in the past and focus on the present and future.
Related Reading: 

Should You Tell Your Partner Everything About Your Past or Not?
6. Responsibilities
Responsibilities or chores in a relationship are one of the reasons why couples argue. If there are no clear-cut rules on how couples in the relationship handle these responsibilities, it can cause frequent arguments.
7. Control
Some partners might want to exert control or dominance over the other person because they probably want them to do their bidding. However, in a healthy relationship, control doesn't exist. Rather, both parties work together as a team to move the union in the right direction.
8. Future plans
When it comes to laying out plans for the future, it might be exhausting and can cause friction in the relationship when both parties have different opinions or perspectives. Therefore, avoiding arguments when making plans can be done when discussions are done respectfully and healthily.
9. Cleanliness
If one of the partners in a relationship is not clean, the other party might not be comfortable with their habit. Hence, they might only be able to stop arguing about it when the defaulting party decides to improve their behavior.
Related Reading: 

7 Reasons Why You Should Be Helping Your Wife Clean the House
10. Poor listening skills
When one partner lacks good listening skills, it can cause couple arguments. This might be because one party does not pick out the details when conversing with their partner. When people hear instead of listening, they might need help to pick up the nuances of each discussion.
To learn more about couples arguments and common marital problems, check out this insightful study by Amy J Rauer and other authors. This study is titled: What are the Marital Problems of Happy Couples. You will learn more about these problems in this Multimethod, Two-sample investigation.
10 things that couples argue about
It is quite usual for couples to argue about different things in their relationships. Often, it is because they hold opposing views, and each party wants to be listened to. Here are the common things arguing couples may quarrel about.
1. Sex
In relationships or marriages, sex is one of the common features that both parties may argue about. This might be because one partner is not getting enough satisfaction as they should while the other partner may not have the capacity to meet their partner's expectations. To avoid arguing about sex regularly, couples may need to discuss and find a balance.
2. Money
Money is one of the causes of couples' arguments in relationships. Usually, this happens when there is no structure in the relationship on how finances should be handled.
For example, one of the partners in the relationship might feel overwhelmed because of the expenses, and they might revolt, which could lead to an argument.
3. Family
Some partners might not have a smooth relationship with their in-laws, which might cause couple arguments. To avoid such, it is essential to create healthy boundaries that promote a good rapport between couples and their in-laws.
4. Parenting styles
For people who have children, they might experience couple arguments when it comes to different parenting styles. The couple needs to create a balanced plan that should be consistently practiced to make parenting more rewarding.
5. Talking to ex-partners
For questions like why do couples argue, one of the reasons might be when one of them is still communicating actively with their ex-partner. This act can breed mistrust and jealousy in the relationship, and it might make the other partner start doubting their place in the union.
6. Sharing private information with third parties
The act of giving private or sensitive information to people outside the relationship can also be the cause of couple arguments. It is important to mention that not all information should be privy to third parties. Such information should be kept within the confines of the relationship.
Related Reading: 

How Much Privacy in a Relationship Is Acceptable?
7. Religion
Sometimes, couple arguments might occur due to differences in the choice of religion. However, it may be difficult for them to achieve a balance when it comes to this, so it is best to create a system that promotes respect for each other's religion.
8. Being possessive
Another reason why couple arguments may happen is when one partner is being too possessive. One of the partners might always want to be around their spouse without giving them space for personal time.
In such cases, it is advisable to strike a balance by realizing that everyone craves their space even though they are in a romantic relationship.
Watch this video to learn the signs that you're in a possessive relationship:
9. Choice of friends
Sometimes when couples argue, it might be because of their choice of friends. For example, one party might not be comfortable with their partner's circle of friends due to reasons best known to them.
Related Reading: 

12 Reasons Why You Need to Build Friendship Before Relationship
10. Support system
Having a support system is one of the things that many people crave. However, if partners cannot rely on each other to support the relationship, it can turn loveable partners into an arguing couple.
How to handle relationship arguments
When couple arguments are not handled the right way, it can cause resentment in the long run. All relationships experience conflicts, but knowing how to handle them appropriately might determine if the relationship is heading in the right direction.
One of the effective ways to handle two people arguing in a relationship is to establish boundaries. Both parties should be treated respectfully, and arguments should be devoid of name-calling. It is also important to learn to compromise when neither party is willing to shift their ground. Sometimes, compromising allows both parties to find a middle ground where each person will feel content with the result.
To learn more about handling relationship arguments, this book titled The Couples' Manual by Don Ferguson is for you. This book contains a Do-It-Yourself Guide to building, repairing, and maintaining Exceptional Relationships.
You can also refer to this article for detailed advice on how to handle relationship arguments.
FAQ
Let's look at some of the most asked questions about the reasons why couples argue commonly.
Is it better to ignore or argue?
If possible, avoiding arguments or not ignoring your partner might be best. One of the most suitable things to do is to have conversations that are not heated. When having such discussions, each party should be allowed to air their minds respectably.
Takeaway
With the points mentioned in this piece, you may have realized that many relationships experience couple arguments. However, these arguments can be nipped in the bud when both parties are intentional about making the relationship work.
To learn more about how to handle married people arguing, you can go for couples counseling or take a course on conflict resolution.
Stopping arguments in a relationship might be challenging, but Sharon Rivkin has a solution for couples in this situation in her book titled Breaking the Argument Cycle. This book contains quintessential tips to stop arguments and resolve conflicts.
Share this article on
Want to have a happier, healthier marriage?
If you feel disconnected or frustrated about the state of your marriage but want to avoid separation and/or divorce, the marriage.com course meant for married couples is an excellent resource to help you overcome the most challenging aspects of being married.
More On This Topic
You May Also Like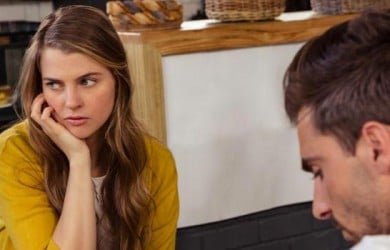 Popular Topics On Married Life