125 Words of Affirmation Every Wife Wants to Hear
Words can shape our beliefs, affect our emotions and influence our behavior. It is no argument that words are powerful but can the right words positively affect a relationship?
Studies have revealed that words, whether negative or positive have a strong effect on us psychologically and a significant impact on the outcome of our lives.
Words can hurt but also heal and bring a smile to the face of a loved one. Daily words of affirmation to your wife can uplift her spirit and be appreciated as much as actions.
What does it mean to affirm your wife?
Words of affirmation for her don't have to be fancy and come in the form of a poem. It can be straightforward and still have a great effect if said with sincerity.
Words of affirmation quotes for her can boost your wife's self-esteem when she is feeling down and brighten up her day. This is a way of reaching your wife's heart and telling her she is loved and cared for. Marriage positive affirmations include:-
1. Intellectual intelligence
You can go past her physical attributes and compliment her mind and achievements.
By complimenting her hard work and progress, you are encouraging her, which will help her feel more confident and less vulnerable.
2. Emotional intelligence
Problems are a constant in life, and you can compliment your wife when she successfully handles one. This will boost her confidence and put a smile on her face.
Related Reading: 5 Tips for Enhancing Emotional Intelligence in Relationships
3. Physical attributes
It would help if you reminded your partner how beautiful they are and how good they look.
Let them know that you are attracted to and faithful to them. Physical attraction shouldn't be waived in relationships because it leads to physical intimacy and connection between partners.
Complimenting your wife on her looks and outfit will keep a smile on her face and help her feel loved.
Now that you know what marital affirmations mean, let's jump into the best love affirmations for her.
This video explains the benefits of words of affirmation
125 Words of affirmation every wife wants to hear
Are you looking for the best wife affirmations? We got you covered. Here are some examples of what a wife wants to hear from her husband or partner.
You are the most beautiful woman I have ever seen.

You make me a better person.

You give a lot, and I appreciate how much you sacrifice for our family.

I love it when you tell me how much I mean to you.

You are my wonder woman, and there is nothing life throws into your path you can't handle.

I have learned so much from you.

I appreciate your devotion to our family.

I enjoy spending time with you.

Your devotion to God inspires me.

I have enjoyed watching you grow into the woman you are today.

You are fun to be with, and I love spending time with you.

You can make me laugh, irrespective of the situation.

You are a fantastic person.

Our kids are lucky to have you as a mother.

You bring out the best in me.

You always look beautiful.

I am happy and proud to be your partner.

Your smile is beautiful.

I am proud of you.

I respect the woman you are.

I love how your mind works and produces great ideas.

Coming home to you is my favorite part of the day.

You are a woman of integrity.

I have confidence in you.

I have a surprise for you, a getaway weekend, just me and you because I love seeing you happy.

This is an exquisite meal, and you're the best cook in the world.

I am the luckiest person in the world because I married you.

Recommend a movie to watch because your recommendations are awesome.

Thank you for your patience with me and the kids.

God wanted me to be happy, so he made you my wife.

You bring out the best in me.

You are a warm-hearted person.

I love running to you with all my worries because you always manage to put a smile on my face.

You are as beautiful as the day we met.

My favorite place in this world is in your arms.

I wouldn't be the person I am today without your support.

Loving you is effortless.

I would be empty without you.

The best day of my life was when you said yes and agreed to marry me.

My heart will always be with you, irrespective of the distance between us.

I love your eyes; I can drown in them.

Every day I wake up and see that I get to spend the rest of my life with you makes me happy.

When I'm gone this week, remember, home is where my heart is.

You are my world.

The house chores never stop coming, and you never quit. Thank you for everything.

I love how hard you work.

You are so intelligent.

I always value your opinion.

Your strength inspires me.

You are an excellent role model for our kids.

You have a lot to offer.

You are my best friend, and I won't have it any other way.

All my worries drift away when I am with you.

You make me a happy man.

I am proud of all that you have accomplished.

I appreciate how much you respect me.

I would do anything to make you happy.

You can ask me anything, and I would love to do it.

I love all that you are, your imperfections and faults.

You are always on my mind.

I am amazed at how you are always right.

You are a great mother and wife.

I will never stop loving you.

I am blessed to have you in my life.

I couldn't do this without you.

I love your new haircut, you look wonderful.

You are extremely special to me.

You are an inspiration.

I trust your judgment.

You are one in a million and a dream come true.

Going through life is easier with you by my side.
I don't know how I would survive without you.

You are incredible, and I knew you could do it.

Your mind is beautiful, and I love how it works.

Your perspective is incredible. I love how you view the world.

Thank you for…..

Hey there, beautiful, you look amazing today.

You always see what I need; thank you, my love.

You are a great lover and partner.

I will never leave your side and always be there for you.

I feel safe and loved with you.

You have a great sense of humor.

This was so thoughtful and kind of you. I appreciate it.

Thank you for always making time for me.

You are always present for the people in your life and me. You are an amazing friend.

I can always count on you.

Good job on………

I love being in your company.

I can never repay you for all that you have done.

You always have a solution to my problems.

I am extremely lucky to have a wife I can trust with anything.

I love how you are unwavering in your faith, and I respect the kind of woman you are and your morals.

Hats off to all the hard work you put into managing this household, excelling in your career, and bringing up the kids.

I desire you every second of every day. There is nothing I wouldn't do to be with you.

There is nothing I can't handle when you are by my side.

I don't deserve you, but I thank God daily that you are mine.

I look forward to growing old with you and loving you every day.

You come first in my life, and I will move mountains to make you happy.

You are all I need and want; I don't need anything else in this life.

Thank you for believing in me and always standing by me.

I appreciate your loyalty toward our family and me.

I appreciate how you overcame our differences, and I will work harder to be a great partner.

You always take my breath away when you walk into a room.

You understand my love language and always make sure I feel loved.

I am so happy that I married you.

You will always be in my heart, and stay safe in it.

I will never hurt or break your heart.

I only have eyes for you; you are everything I want in a woman.

You make my heart sing with joy.

I trust and believe in you.

I need you, and I am grateful every day for you.

I am thankful for our life together.

Thank you for always listening to me.

I miss you when we are apart.

With you, I feel like there is nothing I cannot accomplish.

I am amazed at how you handled that like a pro.

You broaden my perspective.

I hope you know how much you mean to me.

You make everything worthwhile. I wouldn't want anyone else.

I love you so much.

You are not a pushover, and I love your strength.

I admire you.

You are beautiful both inside and out.

You are the perfect choice for me, and I could have never found anyone better than you.
Final thoughts
Words of affirmation are a way of showing your loved ones how much they mean to you. They are positive words that have so many benefits on the psychological well-being of your spouse.
FAQS
How do I give my wife a word of affirmation?
Affirmations for your partner should be given with sincerity and love. They can either be spoken or written down.
Whether your wife is drawn to words of affirmation or not, complimenting or affirming her can lift her spirits.
Words of affirmation ideas include telling her that you love her, how beautiful she looks, or that she makes you a better man. These are just a few ways of giving your wife a word of affirmation.
What are words of affirmation for a woman?
Words of affirmation for your wife are a way of showing love. Words of affirmation are empathetic and given to uplift, support, or cheer someone.
Words of affirmation for your partner are a way to express your emotions and let your significant other know that you love and appreciate them.
 Related Reading: 

100+ Words of Affirmation For Her
What is the most powerful word of affirmation for a wife?
Any word of affirmation can be powerful if genuine and backed up by the right intention.
The intention behind the words is just as powerful as the words themselves. Your wife will most likely care about the emotions behind it and can discard the words if she feels you aren't being genuine.
In other words, do not fake it! Simple words like "I love you" or "you make me happy" can put a smile on her face if you mean every word.
Takeaway
To profess your love for your wife, you don't need to be a poet or Romeo. Positive affirmations for the wife are enough.
Please pay attention to your wife and her accomplishments, and never fail to compliment her. Daily marriage affirmations will boost her confidence and remind her how much she means to you.
Go through the examples of words of affirmation stated above to find what best suits your situation.
Share this article on
Want to have a happier, healthier marriage?
If you feel disconnected or frustrated about the state of your marriage but want to avoid separation and/or divorce, the marriage.com course meant for married couples is an excellent resource to help you overcome the most challenging aspects of being married.
More On This Topic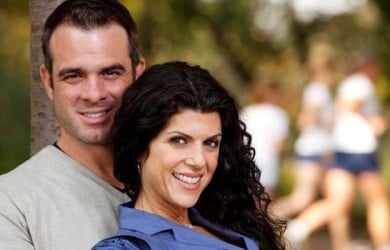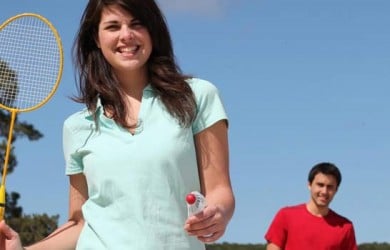 You May Also Like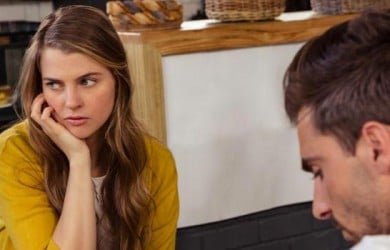 Popular Topics On Married Life