11 ways on How to Improve Your Marriage Without Talking About It
Isn't discussing your problems with your partner supposed to help resolve the issues and make your relationship better? Is there a way to improve your marriage without communication? Or how do you improve your marriage without talking about it?
Are your discussions with your partner usually takes you to a tipping point where things start to bother you?
You have tried everything from communicating openly and politely to giving warnings and ultimatums, and nothing has worked out. This makes you wonder what to do next or how to save your marriage without talking about it.
Don't worry; we have got your back. Consider reading this article to find out how to improve your marriage without talking about it, along with some of the best love language deposits/ways to improve a marriage.
How to improve a marriage without love
When two individuals decide to marry each other, that's because they share feelings of love, affection, and care.
However, in some cases, people start to see their love fade with each passing day, which can lead to a loss of affection and care toward each other.
There can be countless reasons that contribute to a loveless marriage. It could be due to financial stress, or one of the partners may have fallen out of love, etc.
If you are struggling with this situation or know someone who is experiencing a loveless marriage, here is an in-depth article that will help you determine how to improve your marriage without talking about it.
11 ways to improve your marriage without talking about it
How to fix your marriage without talking about it? Well, this is a common situation that, unfortunately, many people have experienced. However, we have outlined some of the best ways to help you improve your marriage without talking about it.
1. Spend more time together
Sure, in this busy world, it can take a lot of work to carve out a few minutes to spend quality time together. However, spending time together and creating positive memories can strengthen your bond.
How to do this: You can revisit old places where you used to hang out during the earlier phases of your relationship. Or maybe you prefer to go to your favorite restaurant to share an amazing time together.
2. Hug your spouse at least six times a day
This may seem childish, but this is probably one of the best ways to improve your marriage without talking about it.
Hugging is a non-sexual yet one of the most intimate and heartwarming gestures you should practice more.
Hugging your partner a few times during the day can increase love between the two and help you both feel relaxed simultaneously. Plus, hugging is the best way to connect with your spouse while there is less verbal communication in between.
Related Reading

: 

9 Different Types of Hugs and What They Mean
3. Focus on the positive side
While there might be a lot of negativity around the house due to the disagreements between you and your partner, focusing on the things you like about them can help you suffer less.
How to do this: You can spare a few moments and look at the positives of your spouse rather than noticing and picking on the bad habits.
By doing so, you will always be able to find something to appreciate about your partner, which can help improve your relationship.
4. Commit to an action that showcases love
How can you make your marriage better without talking about it? Well, there might be many gestures that your spouse prefers to showcase love with.
It could be anything from trying their favorite recipe or buying a present to simply taking them for an evening walk or watching their favorite movie together.
Learning and incorporating these small gestures can create a lot of difference in your relationship. If you can't come up with anything, help them with their daily work or give them a soothing massage after a tiring day.
5. Surprise them with a thoughtful present
How about surprising your spouse with a thoughtful gift to make them feel special? Don't worry; it doesn't have to be anything complicated; even a small present like flowers, cupcakes, or their favorite playlist can do the trick for you.
Doing so will make them realize that you are putting effort into making things work out. Plus, such small gestures are also helpful in making the marriage better.
Related Reading

: 

5 Gift Ideas to Strengthen Your Relationship
6. Try initiating intimacy
If you have no communication in your marriage and both are experiencing a lack of intimacy, then it's time to explore new ways to spice up things in the bedroom.
In fact, many relationship experts believe that intimacy is a powerful way to reconnect with your spouse.
How to do this: Try talking to your partner about their sexual preferences and transform your sexual life accordingly to make things better in your relationship.
7. Prioritize self-care
Have you seen when two young individuals go on a date? Undoubtedly, they put a lot of effort into getting dressed up. But why do they do that? Of course, they want to look presentable and confident, but they also want to attract their partner.
Yes, dressing up and looking decent in front of your spouse can add a spark to your relationship, and it can also bring back the lost intimacy. So, always prioritize self-care for the benefit of your relationship.
8. Respect each other
To restore lost love, make sure to treat each other with respect. Try to stop doing things your partner doesn't like or appreciate. Or do not put them in those situations where they feel uncomfortable or angry.
How to do this: Try to respect their boundaries, and once you establish respect, you will be able to build feelings of love, trust, and belongingness.
Related Reading

: 

10 Reasons Why Respect Is Important in a Relationship
9. Do not expect your partner knows everything
Your partner is not a psychic or a magician. So, it's better not to waste time by playing the guessing game about what your spouse expects from this relationship.
Instead, try to ask them directly, as marriage without communication can lead to a breakup, separation, or divorce.
If you feel you are missing something in your relationship, you must prioritize sitting together to understand each other's needs and expectations to improve your relationship.
Here is an in-depth video that can help you to understand why communicating effectively with your partner is important-
10. Patience is the key
Remember, fixing your marriage takes time, so have patience. If you are willing to work together and try to change your behavior according to your relationship, do not lose hope.
With time, you will see the improvements that will contribute to building the desired relationship with your partner.
11. Take professional help
A licensed counselor can help you improve your relationship with your partner. In fact, today, many happy couples find therapy sessions extremely helpful as it helps to maintain and enhance their romantic connection.
Or the other way is to look for online counseling, where you can opt for marriage counseling courses like "save my marriage course." These sessions can help couples like you learn how to face disagreements together or improve communication to resolve conflicts actively in a relationship.
Commonly asked questions
Check out further notes on improving your marriage without talking about it:
How to save a struggling marriage?
When a problem arises in a relationship, some couples find it easier to get a divorce, while others try to work things out to save their marriage.
However, if you are struggling with your relationship or evading divorce, the following are some proactive measures you can take to strengthen your marriage.
Communicate openly about your issues and simultaneously listen to your partner's point of view. This way, you both will be able to understand and resolve the problem asap.

Do not expect your partner to stay with you 24×7; instead, give them space or some relaxation time with their friends so they won't feel suffocated.

Do not hold a grudge; try to forgive your partner quickly. Holding a grudge affects your mental health and frustrates your partner at the same time.

Get indulged in those activities that you both enjoy doing together. Take out some time from your busy schedule and follow your favorite activities to spend a good time together.
The bottom line
You must have now gotten a fairly good idea of how to make your marriage better without talking about it. However, living in the same house when your relationship is falling apart is not easy.
Yet, at the end of the day, it's all about love and how you manage your setbacks and get up together again.
Just keep in mind that the best way to manage a healthy relationship is by keeping your egos aside and understanding each other's points of view.
It's recommended to have patience, as the relationship takes time to recover. With time, you will be able to see the improvements that will help you build the desired relationship with your partner.
Share this article on
Want to have a happier, healthier marriage?
If you feel disconnected or frustrated about the state of your marriage but want to avoid separation and/or divorce, the marriage.com course meant for married couples is an excellent resource to help you overcome the most challenging aspects of being married.
More On This Topic
You May Also Like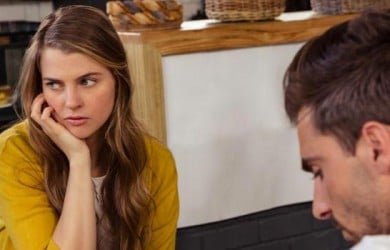 Popular Topics On Married Life