Navigating the Premarital Paperwork: The Marriage License Process
Adopted by the United Nations in December 2013, Article 16 of the Universal Declaration of Human Rights states,

"Men and women of full age, without any limitation due to race, nationality, or religion, have the right to marry and to found a family. They are entitled to equal rights as to marriage, during the marriage, and at its dissolution. Marriage shall be entered into only with the free and full consent of the intending spouses."

Simply put, consenting human beings of a particular age have the right to marry. That said, the sanctioning of marriage is controlled by governments.
Licensing background in the United States
In the United States, common-law marriages were once recognized as legal and valid, but by the mid-19th Century, some states began to invalidate the practice of common-law marriages.
Interestingly, the states of North Carolina and Tennessee (Tennessee was once part of North Carolina) never recognized marriage at the common law as legitimate.
Today, the federal government mandates that marriages be recognized from state to state. Further, a movement remains afoot that ensures that states have some sort of conformity with marriage laws and licensing practices.
However, with different state requirements, there are many questions that one might wonder about what is a marriage license.
How to get a marriage license or a marriage certificate? Where to get a marriage license? How long does it take to get a marriage license? How to apply for a marriage license? How to get a copy of the marriage license? And how much does it cost to get a marriage license?
This article aims at illuminating and guiding you through the process of applying for a marriage license and how to obtain a marriage license.
Marriage license process
Given the numerous items that every engaged couple must contend with, filing a marriage license application and obtaining the marriage license can often feel like the most daunting.
While every county in the United States has a different process for what is needed to get a marriage license, there are some common threads in the process.
This article will help you find your way through the legal process that marks the premarital period. When in doubt, ask questions.
Step 1– Can I marry?
If you plan on getting married in the United States, know who you are authorized to marry in the United States. Given sweeping changes in recent years, heterosexual and homosexual partners may marry.
However, some individuals who cannot give informed consent, specifically those with significant mental disabilities, may not be able to marry. Age is also an important consideration. In most states, 18 is the legal age of marriage.
In a few states, individuals younger than the age of 18 may marry with parental consent before marrying. In the great state of Nebraska, the legal age to marry is 19. Persons younger than 19 must obtain notarized parental consent.
It is also important to ensure that you are not closely related to the individual that you intend to marry. Most states will not allow marriage to an individual who is closely related to you.
Step 2– Terminate current marriages
We hate to mention this, but some individuals still do not realize that an existing marriage must be terminated before you consider a second marriage. If you are currently married in the eyes of the court, it is illegal to remarry.
And did we mention just plain immoral? Before you move on to a second, third, or subsequent marriage, please ensure that any "old ones" are legally finished. Your new spouse thanks you too.
Step 3– Establish your identity
All states and counties will insist on proof of identity when you apply for a marriage license. Some jurisdictions may require multiple forms of identification.
In most cases, you will also be required to provide your Social Security Number. This does not necessarily mean that you will have to produce a physical card. Often, tax returns help establish "SSN to the court.
Passports, driver's licenses, military id cards, and the like serve as suitable examples of identification. Some states will ask to see a valid birth certificate.
Do not wait until the week of the marriage to try to obtain all of these documents if you do not have them.
Where do you get your marriage license?
Before the blessed documents for a marriage license can be placed in the mail, partners need to know where one must go to obtain a marriage license.
In most judicatories, marriage licenses may be obtained by appearing in person at the county court, which is typically situated at the county seat.
The license seeker must present appropriate identification and submit the application for a marriage license to the clerk of court or the clerk's designee and then render payment for the license.
Some states allow outside agencies and vendors to interact with partners interested in obtaining a marriage license. Of all states, Nevada appears to have the most flexible marriage license guidelines.
How long does it take to apply for a marriage license?
Because most marriage license issuances presuppose a detailed records search, it may be several hours or as many as several days before the license is available for the couple's pick-up and use.
In some states, multiple copies of the document will be issued to the couple with the caveat that several of the signed copies are returned to the appropriate registrar's.
Below is a list of states that currently have waiting periods for obtaining a marriage license.
Alaska: three (3) business days
Delaware: 24 hours. If both of you are nonresidents, there are a 96 hours waiting period.
District of Columbia: Five (5) days
Florida: No waiting period for Florida residents have both completed a state-sanctioned marriage preparation course within the last 12 months.
There is a three-day waiting period for Florida residents who have not taken the course. Out-of-State residents should obtain a license from their home state prior to a Florida wedding.
Illinois: 24 hours
Iowa: Three (3) business days
Kansas: Three (3) days
Louisiana: 72 hours. Out-of-state couples can get married in New Orleans without the 72-hour wait.
Maryland: 48 hours
Massachusetts: Three (3) days
Michigan: Three (3) days
Minnesota: Five (5) days
Mississippi: None
Missouri: Three (3) days
New Hampshire: Three (3) days
New Jersey: 72 hours
New York: 24 hours
Oregon: Three (3) days
Pennsylvania: Three (3) days
South Carolina: 24 hours
Texas: 72 hours
Washington: Three (3) days
Wisconsin: Six (6) days
Wyoming: None
Final thoughts
Do not be discouraged, friend, you will get married. However, sometimes it takes ample time to gather the appropriate documentation and wait for the issuance of a license.
If you are still confused about where to apply for a marriage license, you might want to look into an 'online marriage license.' Applying for a marriage license online can be less strenuous and efficient.
If you paid attention to the information above, you will "get it done."
Also watch: How to apply for a marriage license in Denver.
Share this article on
Want to have a happier, healthier marriage?
If you feel disconnected or frustrated about the state of your marriage but want to avoid separation and/or divorce, the marriage.com course meant for married couples is an excellent resource to help you overcome the most challenging aspects of being married.
Learn More On This Topic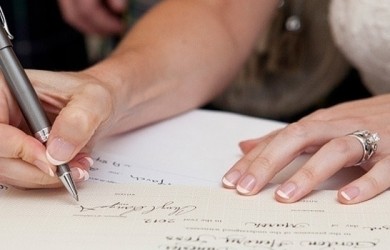 You May Also Like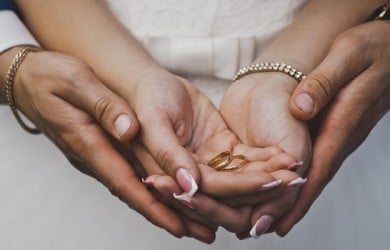 Popular Topics On Getting Married