4 Solid Reasons Why Women Want Tall Men
Something is interesting about tall men. According to Stulp 2013, tall men are more likely to win presidential votes and even be re-elected. This is because taller men tend to project exemplary leadership skills which are a result of their self-esteem. Besides, it's said that taller men are happier, they don't tend to be jealous of other people. These are just but some of the reasons why women want tall men.
When it comes to relationships, couples tend to look into several factors so that they can end up with their perfect match and yes, they are right. After all, do you want to spend the rest of your life with someone you don't like?
In most cases, women are shorter than the men, which is normal. Most women are comfortable when their men are slightly taller than them, but not the other way around.
A study that was done in 2013 by psychologists like Abraham Buunk, Gert Stulp, and Thomas Pollet to find out the reasons why most women were attracted to taller men. Besides, they also tried to look into why some people are contented with their original height.
1. Taller men are stronger
Evolutionary speaking, the reason why women want tall men is because they could be stronger and that they could provide protection against physical threats to the family.
Now, if you still believe and think traditionally, then you might be convinced with this argument, but let's get real here:
The truth is that tallness does not offer any advantage to be stronger. Some short men are much stronger than taller men.
First, you may think that tall men are strong because you are probably conflating their height with weight and strength.
Second, when men are "looked up to," they may start feeling like they have some advantages over shorter men.
Third, there is no scientific or proven data that can be used to back up this perception. So, it's just talking. People have the opinion, but it can't be justified.
2. Tall guys are considered confident
Most shorter men will oppose this, but it's the truth.
Most tall men appear more confident.
So, this could be another reason why women want tall men. On the contrary, most short men will feel neglected and suffer from low self-esteem. Besides, taller men are killing it on dating sites.
The confidence increases when ladies meet taller guys, and because tall men already know that ladies are after them, the confidence will grow.
3. Tall men will act as your personal bodyguard
When a lady dates a tall guy, she feels protected. Usually, you imagine that nothing can stop your tall guy no matter what. It doesn't matter to you. As long as you got the tall guy you always desired, you will make him your keeper.
Besides, women know that when they have a tall guy beside them, then no other man would stare at them with nasty glances.
It doesn't mean that short guys can't protect you. It's no secret that tall guys command more respect compared to shorter men. Imagine a tall guy approaching you. Sometimes, you won't even look him straight into the eye. You feel threatened.
4. Tall guys are more powerful
It's no longer a secret that women love power. If you are powerful, then most women will fall in love with you.
When a lady sees a tall man, she starts thinking that she's got someone who can carry the whole world. That's weird thinking, and of course, it's a perception.
Not many people will understand what ladies want, but here's the thing: Ladies love men with authority. For example, a lady will be attracted to a man that holds a managerial position, who gives commands to employees. Ladies will feel that such a guy is more attractive compared to the other men.
Bottom line
Now, all these are not justifiable. They are only perceptions made by women or ladies. Just remember that everyone is equal and that every other person has an important role to play in your life.
Share this article on
Want to have a happier, healthier marriage?
If you feel disconnected or frustrated about the state of your marriage but want to avoid separation and/or divorce, the marriage.com course meant for married couples is an excellent resource to help you overcome the most challenging aspects of being married.
More On This Topic
You May Also Like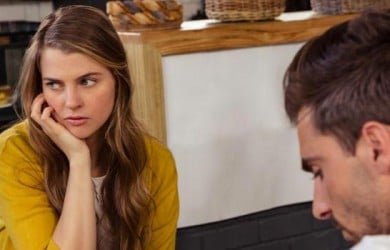 Popular Topics On Married Life