Adopting Non-Violent Communication in Relationships
"We need to improve our communication," she says. "I think we communicate just fine," he says. It is not uncommon for one partner to think that changes need to be made in the relationship and for the other to disagree or even seem indifferent.
With expressions like, "communication is a two-way street", it is natural for the partner who wants to improve communication to think that it is impossible without effort from the other person.
But is there something to be gained by working on oneself regardless of whether your partner is ready or willing to change with you. I have heard people say, "why should I bother if my partner isn't trying?" Or "I shouldn't have to do all of the work."
Changing the communication between you and your partner
I challenge this viewpoint. For just a minute, forget about whether the relationship is worth the effort or if your partner is worth the effort. The deeper question to ask yourself is do you think you are worth the effort.
With conscious determination, you can make a shift internally that could potentially reduce stress, lessen resentment, and lighten the emotional burden you may be feeling.
When you change the way you communicate, you are inherently changing the communication between you and your partner, regardless of whether your partner changes.
How is this possible?
Non-violent communication
One of my favorite communication strategies to teach individuals and couples is Non-violent Communication, a set of principles developed by Marshall Rosenberg in the 1960's.
When couples are in conflict, it is not uncommon for there to be blaming and shaming. For example, "You make me so angry when you stare at the television while I am trying to talk to you about something important."
The NVC approach teaches individuals how to express a feeling without blaming or shaming the other person.
First, a person states an observation. "I notice that you stare at the television when I start trying to talk to you about my day." Then the person expresses a feeling and a need. "I feel angry when I try to talk to you and you stare at the television. I need you to look at me when I am talking to you because I want us to feel more connected."
Lastly, the person makes a request. "Would you be willing to turn the television off for 20 minutes, so we can talk?"
What others do may be a stimulus of our feelings, but not the cause
When I share these tools with clients, they will often say "it sounds so scripted" or "no one actually talks like that'. It does seem strange at first, especially if one person is using the principles and the other is not.
However, when you stick with it, you will begin to see a difference in how you feel when you are trying to communicate something difficult.
I have personally used NVC and can attest to how empowering it can be, regardless of how my communication is perceived by the person I'm attempting to relate to.
Often in relationships, people blame their partners for "making" them feel angry, sad, lonely, etc. Marshall Rosenberg said, "what others do may be a stimulus of our feelings, but not the cause."
NVC lends itself to teaching people how to take responsibility for their feelings and do not blame others.
The method does not produce results overnight. It does take significant amounts of time and effort. Remember you are worth the effort and you might just inspire your partner to get on board once he or she sees the change in you.
Share this article on
Want to have a happier, healthier marriage?
If you feel disconnected or frustrated about the state of your marriage but want to avoid separation and/or divorce, the marriage.com course meant for married couples is an excellent resource to help you overcome the most challenging aspects of being married.
Learn More On This Topic
You May Also Like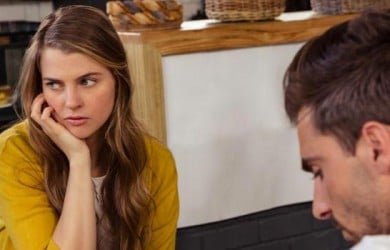 Popular Topics On Married Life