6 Tips for Writing  Non-Traditional Wedding Vows
The most crucial part of a wedding is the wedding vows. They are a pledge of life, faith, and soul, defining life commitment for two people. This commitment between two individuals is so perspicuous for those who are set on the path to honor it like it is meant to be honored.
Having to say your vow with a unique non-traditional touch makes your wedding day seem even more special as it helps you personalize the most important day of your life. Many wedding vows can seem too monotonous and slightly dull. However, with a little bit of creative juice and some inspiration, you can make your vows for your wedding fresh and unique.
To write non-traditional wedding vows can be a very tricky process with all the nervousness in the air and fear of getting cold feet. How can you focus on pouring out your heart and expressing what you feel? Well, don't you worry because mentioned below are some steps to write good, meaningful, non-traditional wedding vow for your big day.
Tips for writing non-traditional wedding vows
1. Open to inspiration
This is an essential step when it comes down to writing wedding vows. These inspirations will help you to not only find sentiments but also to gather ideas. Listen to weddings songs, read poetry, greeting cards, and wedding blogs. Also, start reading vow books that contain words of love used by other couples.
Watch wedding movies and explore the internet for love quotations, because this way you will find out words to say and gather ideas. You can even paraphrase lines from your favorite movie. An example of a movie line would be "You are pretty much the only thing that makes me wanna get up in the morning" from Me Before You. So buckle up and go crazy on Romantic chick-flicks.
2. Ask yourself key questions
Open up a blank page or a word document on your computer and ask yourself the most basic questions.
How did you meet?
What made you fall in love?
What does settling down mean to you?
What do you love about your significant other?
What do you think about the future?
What story do you want everyone to know about?
How far are you willing to go for your partner?
Once you answer these simple questions, you can use the answers by blending them in with your vows.
3. Bring back the feeling
Before you start to write, take a breath and reconnect with the moment you felt the spark, energy, and magic that made you decide to settle down. Look back at the moment when you decided that the person who you will live with for the rest of your life is you 'Ride or Die.' Remember how happy the engagement made you. Think about all the things (even the little ones) that your partner does to make and keep you happy.
Once you let your feelings flow the vows will start to pour out and you can start jotting them down.
4. Write your first draft
Such vows can be thought of as small love letter. You can start by how you first met and what you love about your significant other, whether it's the way they smile, or how their nose twitches when they get mad or how they make you feel.
You can write funny reasons as well and focus on what you expect in the future with them. You can even add in diary entries if you keep a diary. Feel free to add your own unique touch to it.
5. Perfect your draft up
Now writing vows is a significant step, and you cannot leave it for the last moment. If you don't try and take the time out to write wedding vows, then you won't be able to write down something good with the pressure of the wedding day coming up. You need to focus on writing these vows as soon as possible because your first draft will require a lot of editing and a lot of perfecting.
6. Speak from your heart
Don't be afraid to choke up, let your sentiments flow and don't be shy to add humor. Share whatever you wish and don't be afraid to go all chummy on your partner. This is your moment, and it is your big day! Make it as special and unique as you want. Make your vows real and deliver them with your heart.
Examples of some non-traditional & amusing wedding vows
To find good non-traditional wedding vows you need to search for inspiration. Mentioned below are some great witty wedding vows to take insight from, gather motivation and base your non-traditional wedding vows on the following:
"I vow to believe you when you compliment me, and I promise to reply back in sarcasm when needed."
Click to Tweet
"I vow you love you all the time, respect you all the time, support you when you don't know what you are talking but and above all make sure that I don't yell at you when I'm hungry and sick."
Click to Tweet
"I promise to fight right by your side in case the zombie apocalypse occurs. And if you turn into one (not that you're not one right now) I promise to let you bite me so we can be zombies together."
Click to Tweet
"I vow to be the ears that always listen even when we get really old and require hearing aids."
Click to Tweet
"I promise to never watch the next episode of whatever show we are into, without you by my side and if I do, I allow you to watch the whole season without me."
Click to Tweet
"I promise to always put the toilet seat down and if I don't then I promise to do the whole laundry for that month."
Click to Tweet
"I vow to trust you even when we deflect from our GPS direction, grocery list or Life goals."
Click to Tweet
"I vow to always find you hotter than Vin Diesel."
Click to Tweet
"I vow to love and be faithful to you for as long as we can stand each other"
Click to Tweet
"I promise to clean your glasses when they get smudged."
Click to Tweet
"I promise to be your partner in crime and allow you to put the blame on me if we get caught."
You can even use up Rumi's famous quote which goes:
"I do not exist, am not an entity in this world or the next, did not descend from Adam or Eve or any origin story. My place is placeless, a trace of the traceless. Neither body nor soul. I belong to the beloved, have seen the two worlds as one and that one call to and know, first, last, outer, inner, only that breath breathing human being."
Click to Tweet
Another example of an emotional yet funny wedding vow is:
"I love that you do better laundry than me and no I'm not just saying that so you do the laundry, but I really mean it. I love that you walk the dog when it's snowing and that you make sure there's always ice cream in the fridge. I promise that I will always cheer for the Jets with you even though I secretly am a fan of the Bills. I promise that I will always have a spare set of keys since you lose them and I vow to always offer you my last French fry. We are in this together and whatever obstacle might come our way, I promise to stand by your side to fight it because you are my lobster forever."
Click to Tweet
If you want to be serious, you always use some ideas such as:
"As we stand here, looking into each other's eyes and hold hands. Let the intertwining of our fingers be a symbol of our life as we walk together hand in hand today until the end of days. Always and Forever"
"I am not promising you it will be perfect or easy, it might not be a fantasy or a lifetime full of perfections. We will fight, slam doors, take the couch and be as real as we can be but I do promise you that I will stand by your side, supporting you when I can and trust you no matter where this life leads us."
These vows are bound to make your partner, and your guests get teary eyed so don't forget to keep a napkin with you.
Important points before the big day
To write some good non-traditional wedding vows you must understand how important they are and how to deliver them. You must keep in mind of some significant points before the big day arrives. Compiled below are some valuable pointers to remember before your big day.
Stress on dedication to your partner
You must keep in mind that this day is the day for you and your partner so forget that anyone is in the room and express your love like they do in Hollywood movies. Also, try your best to avoid words include "worse," "sickness," "poorer" and "death" as they do not fill the day with optimism. Focus on good energy, happy vibes and aim your attention to your partner's well-being.
Focus on positivity
Emotional vows are based on your personalized thoughts and words, and you can bring them up a notch by using lyrics to a song that holds importance to you and your partner. You can add in details about your partner that are appropriate for the guest and not very intimate and express your love for each other.
Have your vows checked
With the intensity that wedding day brings and the gathering of the audience, it might not be appropriate to blurt out something very private. To avoid any awkward situation and surprises re-check your wedding vows as much as you can. If you do want to include a surprise, then take help from a good friend or a close relative or a confidant and make them go through your vows. Make sure that whatever you write must not offend anyone.
Add-in appropriate details
If you want to add a real personal touch, then don't forget to review your progress on it. Take out ten to fifteen minutes from your schedule while you're going to sleep or brushing your teeth and add in something to your vow that wasn't there before. This will not only help you to refine what you have written but will help you memorize your vows as well.
If you don't happen to be good at writing then, as mentioned, hit the internet, search up how to write non-traditional vows, use movie quotes, song lyrics or someone else's vows that might fit your partner. And even though it is better to be creative and personalize vows, if you are not good at it then start with someone else vows.
Sometimes starting the vows is the hardest part so use traditional vows and replace their words with your own.
Write it down in advance
As mentioned before do not leave this for the last moment because it will take a lot of time along with a lot of effort to write vows and make them perfect. Writing and reading it every day for months before the big day will not only help you memorize it but will also help you fix any mistakes you might have made.
Keep in mind that vows are not supposed to be a burden but are something meaningful for you and your partner so don't lose your nerves and keep yourself calm and collected.
Your wedding day is a day of happiness. So, don't grow so nervous about your vows that you forget to put your emotions in it. Say what you want and what you feel like, having fun and making witty remarks is entirely OK.
Leave a mark on your partner and enjoy the process. Whatever you choose to do with your non-traditional vows, remember that they are a true expression of what you feel about your partner and the journey to come. Once you are done, you can always let your partner know that "You are my vow and I'll honor it by loving you each and every day for the rest of our lives."
Share this article on
Want to have a happier, healthier marriage?
If you feel disconnected or frustrated about the state of your marriage but want to avoid separation and/or divorce, the marriage.com course meant for married couples is an excellent resource to help you overcome the most challenging aspects of being married.
Learn More On This Topic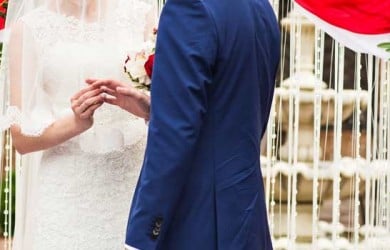 You May Also Like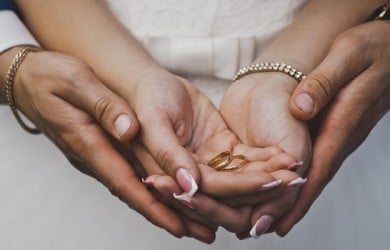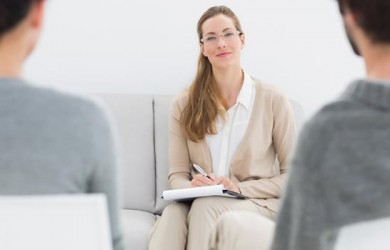 Popular Topics On Getting Married