How To Write Your Non Religious Wedding Vows
What's lovely about non-religious wedding vows is that anything goes. You can make your vows completely personalised to your tastes as a couple, and to your story without worrying about the rights and wrongs, or expectations of what you should say, or do.
With that being said, even though anything goes, you do need to keep to some boundaries for your non-religious wedding vows. You'll want to make sure that you are not waffling, boring your guests, oversharing, or offending anybody close to you, including your fiance! (well, we would assume that you won't want to do this – but it is your wedding!).
Here's our quick guide to get started with writing your non-religious wedding vows.
1. Find your story before you look for inspiration
One of the themes that may be taken for granted, with your non-religious wedding vows is that you must be an independent and free-thinking couple to choose to have a non-religious wedding in the first place. So it's important to embrace that don't you think?
To embrace your independence as a couple – before you start to search for inspiration for your vows. Take the time to start to write down what you'd like to include (if boundaries, politeness and social expectation was not an issue).
To do this jot down notes about your relationship, your memories together, times when you thought you couldn't love this person more, times when they helped you through a tough time, your favourite songs, locations, and jokes together.
Both you and your partner should write down your ideas independently (with a promise to not become frustrated or offended with each other's ideas!).
2. Discuss your preferences for your non-religious wedding vows
Before you reveal your raw idea's to each other, start to discuss and decide on, with your fiance how you would like to express your vows to each other. By not revealing your raw notes just yet, you will allow for honesty and reduce the censorship that we can often apply to other people close to us.
Questions to consider are:
Do you envision your non-religious wedding vows to be funny, romantic, dry, poetic, or inspiring?

How should you write them, together, or separately?

Do you want them to be different and unique to each person or similar?

Do you want to make the same promises to each other, or are you happy to include different promises?

Will you share your vows with each other before you get married, or keep them secret until the big day?
3. Compare and contrast
When you have written your notes and discussed your idea's for the structure and format of your vows, you can compare your lists see if there is any similarities, or any similar stories, or themes that both of you independently have chosen.
Also pay attention to ideas that your partner has expressed, that you may have missed but wished you had remembered. Make sure to tell your fiance if any of their ideas might make you feel uncomfortable if they were included in the vows, and discuss the parts you love and vice versa. This way both of you are clear about what each other likes and what to avoid. After all, the vows are written for each other.
If you didn't write down anything similar, or one of you didn't write anything that the other likes, or can relate to, that's ok too. Maybe you are opposites. This might be something you choose to highlight in your non-religious wedding vows by making completely different vows to each other. Which will personalise your vows, and embrace your style as a couple.
Equally, you may feel that you want to find something romantic, that you both like, and nothing that you've written has inspired you. Which leads us nicely onto the next point.
4. Find some inspiration or research other vows
Finding inspiration for your vows will help solve the problem you might have if you cannot both agree on any elements that you had independently chosen. And if you already have some ideas, you may find inspiration on the delivery or format of the vows, or something that might just pull your non-religious wedding vows in together tightly and create something quite wonderful!
Pinterest is a great place to start to find ideas, as well as looking at vows from religion, or other peoples non-religious wedding vows.
Keep a note, file, or Pinterest board to contain all of your ideas and then take the time to sort through them with your fiance eliminating any that you both don't agree on at all, or highlighting elements that you love (even if you don't love the whole vows).
4. Write your first draft
The final step is to write your draft, if you are doing this together as a couple, you can also take the time to read each other's and ring any changes. Remember that your first draft may not be perfect, it doesn't have to be because you'll probably edit it.
Take time to write, and then leave it for a few days, so that you can return to it with a fresh mind. You'll notice anything that you don't like so much if you leave it for a while and can keep tweaking it until you are completely satisfied. You don't have to make your first draft the final version!
Share this article on
Want to have a happier, healthier marriage?
If you feel disconnected or frustrated about the state of your marriage but want to avoid separation and/or divorce, the marriage.com course meant for married couples is an excellent resource to help you overcome the most challenging aspects of being married.
More On This Topic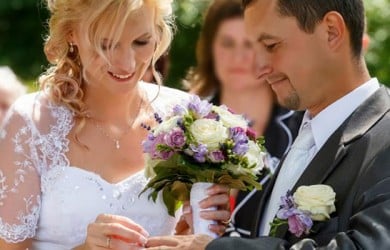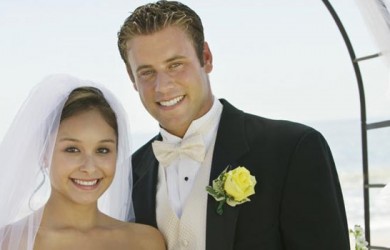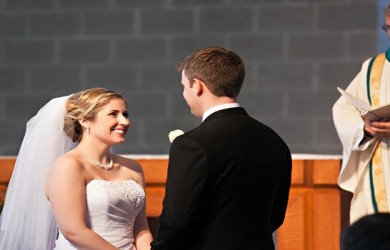 You May Also Like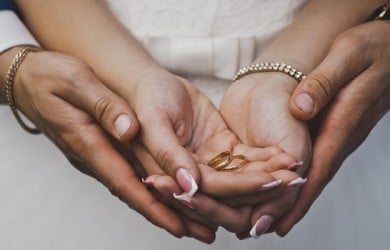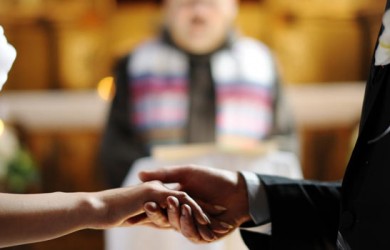 Popular Topics On Getting Married