15 Tips on How to Write Your Non-Religious Wedding Vows
What's lovely about non-religious wedding vows or secular wedding vows is that anything goes. You can make your vows completely personalized to your taste, to your story as a couple, without worrying about the rights and wrongs or expectations of what you should say or do.
That said, even though anything goes, you need to keep some boundaries for your non-religious wedding vows. You'll want to make sure that you are not waffling, boring your guests, oversharing, or offending anybody close to you, including your fiance! (well, we would assume that you won't want to do this – but it is your wedding!).
Here's our quick guide to writing your non-religious wedding vows, also known as non denominational wedding vows.
What is a humanist wedding? Watch this interesting video to know more.
15 tips on how to write your non-religious wedding vows
Here are some tips to help you jot down your non-religious vows.
1. Find your story before you look for inspiration
One of the themes that may be considered with your non-religious wedding vow ideas is that you must be an independent and free-thinking couple to choose to have a non-religious wedding in the first place.
Embrace your independence as a couple – before you start to search for inspiration for your vows. Take the time to start to write down what you'd like to include (if boundaries, politeness, and social expectation were not an issue).
To do this, jot down notes about your relationship, your memories together, times when you thought you couldn't love this person more, times when they helped you through a tough time, and your favorite songs, locations, and jokes together.
Both you and your partner should write down your ideas independently (with a promise not to become frustrated or offended by each other's ideas!).
2. Discuss your preferences for your non-religious wedding vows
Before you reveal your basic ideas to each other, start to discuss and decide, with your fiance, how you would like to express your vows to each other. By not revealing your raw notes just yet, you will allow for honesty and reduce the censorship we can often apply to people close to us.
Questions to consider are:
Do you envision your non-religious wedding vows as funny, romantic, dry, poetic, or inspiring?

How should you write them, together or separately?

Do you want them to be different and unique to each person or similar?

Do you want to make the same promises to each other, or are you happy to include different promises?

Will you share your vows before you get married, or keep them secret until the big day?
Related Reading: 

Beautiful Marriage Vows You Don't Want to Miss
3. Compare and contrast
When you have written your notes and discussed your ideas for the structure and format of your vows, you can compare your lists to see if there are any similarities, or any similar stories, or themes that both of you independently have chosen.
Also pay attention to ideas that your partner has expressed, that you may have missed but wished you had remembered. Tell your fiance if any of their ideas might make you uncomfortable if they were included in the vows, and discuss the parts you love and vice versa.
This way, you are clear about what each other likes and what to avoid. After all, the vows are written for each other.
If you didn't write down anything similar, or one of you didn't write anything that the other likes or can relate to, that's okay too. Maybe you are opposites.
This might be something you choose to highlight in your non-religious wedding vows by making completely different vows to each other. It will personalize your vows and embrace your style as a couple.
Equally, you may feel that you want to find something romantic that you both like, and nothing that you've written has inspired you.
Related Reading: 

Romantic Wedding Vows
4. Find some inspiration or research other vows
Finding inspiration for your vows will help solve the problem you might have if you both cannot agree on any elements you had independently chosen.
If you already have some ideas, you may find inspiration in the delivery or format of the vows or something that might pull your non-religious wedding vows together tightly and create something quite wonderful.
Pinterest is a great place to start finding ideas and looking at religious or other peoples' non-religious wedding vows.
Keep a note, file, or Pinterest board to contain all of your ideas, and then take the time to sort through them with your fiance, eliminating any that you both don't agree on at all or highlighting elements that you love (even if you don't love the whole vows).
5. Write your first draft
The final step is to write your draft, and if you are doing this together as a couple, you can also take the time to read each other's and ring any changes. Remember that your first draft may not be perfect. It doesn't have to be because you'll probably edit it.
Take time to write, and then leave it for a few days so that you can return to it with a fresh mind. You'll notice anything you don't like so much if you leave it for a while and can keep tweaking it until you are completely satisfied. You don't have to make your first draft the final version!
6. Include your beliefs
Just because you do not follow a specific religion does not mean you do not have the beliefs, principles, and ideas you hold dear. Including your beliefs in your non-religious wedding vows is a great idea because it gives your partner and the audience a perspective of who you are and what you believe in.
You can talk about why you chose a ceremony like this and why you believe this is a better way to go for you and your spouse. You can also talk about the way it benefits you. Apart from religious beliefs, you can talk about what beliefs or values unite you and your partner.
7. Say something for the hard times
When writing your non-religious wedding vows, acknowledge and talk about the hard times that may arise in your marriage.
As much as we may want it, troubles and problems in marriage are inevitable. How you work through them and come out stronger on the other side makes you the couple you want to be.
Including a realization that there will be hard times, but you both vow to emerge through them may be a good idea for non-religious wedding vows.
8. Let your personality reflect
It would be best if you let your personality reflect in your non-religious wedding vows. Are you generally funny, serious, goofy, or romantic? Let it show in your vows because that is what will make your spouse and the people around you connect and relate with them.
Making them quirky and fun will give the audience and your partner a good laugh, while keeping them romantic and serious may reflect your sincerity towards the marriage. However, what is most important in the process is for it to show who you are.
Related Reading: 

110 Inspirational & Funny Wedding Toast Quotes to Make Your Speech a Hit



9. Mention your family and friends
Support from family and friends means a lot when you are getting married. Only someone who does not have their backing will agree on how it feels like a missing piece. Mentioning their support and love at your wedding in your non-religious wedding vows may be a good idea.
Many couples bond on their view of their families and how close and important they hold them. If you are one of those couples, mentioning your family in your non-religious wedding vows may also mean a lot to your partner.
10. Choose your non-religious reading
Generally, when people get married in a religious ceremony, a religious book such as the Bible is read. However, in a non-religious ceremony, you can choose what you want to read as you marry.
It could be an excerpt from your favorite book or your spouse's most-loved poem. You can also get creative and write something yourself if you have a knack for it.
11. Hire an expert
Some people work as vow experts. If you struggle with your non-religious wedding vows to the point that you need help, hiring someone to guide you through them may not be a bad idea.
While the thoughts will be yours, they can help you articulate them better. They can also help you edit parts your partner may not like or things that may offend someone in the family.
12. Mention your faith in your spouse
While you may not have a specific faith you follow, your non-religious wedding vows can reflect your faith in your spouse. Talk about what aspects of them you love and adore and how much you believe in them and your marriage.
Your vows have to be genuine, and you can include how your spouse is the light that guides you and helps you differentiate between right and wrong.
Related Reading: 

I Want To Go To Church: Allowing Faith to Help Your Relationship or Marriage
13. Talk about your journey as a couple
Every couple goes through many ups and downs before finally deciding to tie the knot. Reflecting on these lows and highs when writing your vows can help you realize that you both have come a long way, and there is still a long way to go.
Talk about the past, the present, and the future you wish to build with your spouse.
14. Ask your friends for inputs
If you have mutual friends or friends who have been on this journey with you for a long time, you can ask them for input.
So many times, there are things that you did not notice, but they did. This will help you include a holistic perspective of your relationship with your spouse in your vows, which may not be bad.
15. Get it edited
Either the expert you take help from can help you edit your non-religious wedding ceremony vows, or you can take the help of a family member or friend. Running things by someone and taking a second opinion will ensure that you have not included something that could be offensive or not liked by your partner or other people in your vows.
Frequently asked questions about non-religious wedding vows
Here are some FAQs about non-religious wedding vows that you may want to know.
1. What is a non-religious wedding ceremony?
A non-religious wedding ceremony does not refer to religious ideas, texts, or idols. A couple having a non-religious wedding ceremony can choose how they wish to celebrate their wedding, about the structure, and the vows exchanged during the ceremony.
It is a symbolic, free, and personalized celebration of two people deciding to get married. A non-religious wedding ceremony does not have any religious or administrative connotations.
Related Reading: 

Traditional Wedding Vows and Ceremonies From Different Religions
2. To make it legal, what should be included in a secular ceremony?
How to have a non-religious wedding and make it legal? For any marriage ceremony to be legal, it needs the following aspects:
Exchange of vows – for a marriage to be legal, there should be an exchange of vows, whether it is religious or non-religious

Marriage license

– the couple should apply and obtain a marriage license for the marriage to be held legal

Signatures of the couple on the marriage license – the marriage license should be signed by both spouses for it to be valid
The takeaway
Whether or not you decide to have a religious or non-religious wedding ceremony, your wedding vows are vital. While you may have a little trouble writing them down, it may not be too hard if you really think about it. Follow the tips above, and write from your heart – and you should be good to go.
Share this article on
Want to have a happier, healthier marriage?
If you feel disconnected or frustrated about the state of your marriage but want to avoid separation and/or divorce, the marriage.com course meant for married couples is an excellent resource to help you overcome the most challenging aspects of being married.
Learn More On This Topic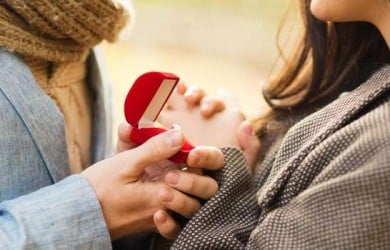 You May Also Like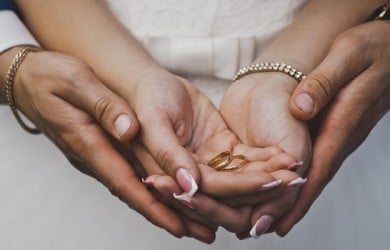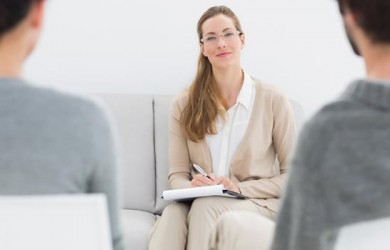 Popular Topics On Getting Married