Differences: Ethical Non-Monogamy, Polyamory, Open Relationships
What's your view on relationships? Are you perhaps curious about the way society's views seem to be changing? We all know relationships take work but perhaps we can help ourselves in how we structure them?
Moreover, maybe we can learn something by understanding more about non-monogamous vs. polyamorous relationships?
Define ethical non-monogamy relationship, polyamory relationship, open relationship?
There are few differences between ethical non-monogamy vs. polyamory relationships. Simply put, ethical non-monogamy is the overall term that encompasses polyamory. The polyamorous definition is perhaps more specific in the sense that there are more concrete rules than in non-monogamy.
Every polyamorous relationship will have slightly different rules. Overall though, they all have sexual and emotional intimacy. This is the main difference between the non-monogamous meaning. Basically, non-monogamous people have sex with others outside the central relationship rather than emotional intimacy.
On the flip side, the open relationship definition is more fluid. People can date and find new partners while staying committed to their main partner. On the other hand, a non-monogamous couple might have sexual encounters with others but they won't go on dates.
To further expand the definitions, there are also other types of non-monogamy. It all comes down to how people want to define their non-monogamous vs. polyamorous rules. So, for example, you might have poly-monogamous people.
In that case, one partner is monogamous and the other one is polyamorous. As you can imagine, this takes exceptional communication and negotiation skills. Boundaries also have to be very clear.
Every relationship combination is in fact possible. Depending on preferences, people don't have to limit themselves to the non-monogamous vs. polyamorous choice. Nevertheless, the vital foundation to make these work is for all those involved to be secure in how they see themselves.
As shown in this study on whether open relationships work, it isn't so much about the structure of the relationship. It's more about mutual consent and communication.
Related Reading: 

9 Different Types of Polyamorous Relationships
Are polyamorous relationships ethical?
In the timeless book, The Road Less Traveled, the psychiatrist M Scott Peck states in a footnote that all his years of couples-work led him to the "stark conclusion that open marriage is the only kind of mature marriage that is healthy".
Dr. Peck goes on to imply that a monogamous marriage often leads to destroyed mental health and lack of growth. Does that mean that a polyamorous relationship is automatically ethical?
On the contrary, it means that due to their nature, these types of relationships contribute to growth. This involves effort from all parties.
The polyamorous definition tells us that those involved are all equal partners. There isn't one central couple, and everyone can be just as intimate with each other. The critical piece to making this work is that everyone is open and honest with each other.
A polyamorous vs. open relationship might involve everyone on equal terms, but honesty and trust apply to both. The level of openness requires taking a huge step in personal growth. It means having a secure attachment style with assertive and compassionate conflict management strategies.
When everyone is looking deeply within themselves and is willing to keep learning and growing, a polyamorous relationship can be ethical. The differences between non-monogamous vs. polyamorous don't matter so much then. Essentially, the relationship is ethical if they all each listen to each other and value each other.
Is an open relationship the same as polyamory?
The main distinction when you compare polyamory vs. open relationship, is that ethical polyamory is about being emotionally committed to more than one person. Another way to think about it is that polyamorous people are in loving relationships, whereas open couples simply have sex with other people.
There are subtle differences between ethically non-monogamous vs. polyamorous relationships. To be more precise, polyamory is a form of non-monogamy. For example, other types of non-monogamy include swinging, triads, and poly-fidelity, among others. The latter is essentially polyamory but within a defined and established group.
Comparing polyamory vs. open relationship means understanding the rules of engagement. The open relationship definition is more flexible in the sense that couples are free to have sex on the side. By contrast, polyamorous groups don't prioritize a specific couple.
The lines get more blurred when you consider other options, such as poly-monogamous relationships. These are other forms of open relationships although not everyone has bought into the idea of open relationships.
Again, the key message is to make sure everyone is comfortable with whatever rules of engagement are decided. Of course, these need constant fine-tuning as conflicts arise. Regardless, the more at ease and secure people are, the more likely they can make the necessary adjustments.
As this article on what polyamory can teach about secure attachment explains, establishing non-monogamous vs. polyamorous success depends on dealing with past trauma. Only then can people understand their needs and communicate them for a healthier attachment.
Related Reading:

 How to Heal From Relationship Trauma
Watch this video, if you want to know more about your attachment style and how it maps with your brain:
Is non-monogamy an open relationship?
The easy answer is that open relationships are a form of non-monogamy. The more complex answer is that some ethically non-monogamous relationships are not open. So, it depends.
The non-monogamous meaning states that people can have more than one sexual or romantic partner. There are actually many ways to combine sexual and romantic needs and to find them in different people.
That's actually the crux of what is an open relationship. In other words, people have their needs met by more than one person. On reflection, having one person meet all our needs is intense pressure for that person. Instead, why not create the perfect mix of people to be close with?
For example, you can have a non-monogamous relationship with specific people. If that relationship is closed, those people agree to not see people outside that group. On the other hand, an open relationship tends to be where one couple sees other people casually on the side.
Ethical non-monogamous vs. polyamorous relationships are all about how to apply commitment. For instance, ethical polyamory is a committed and romantic relationship on equal terms with more than one person.
A great example of this is the book Three Dads and a Baby where Dr. Jenkins describes the first poly family to have a legal child.
Comparing ethical non-monogamy, polyamory, and open relationships
The definitions of ethical non-monogamous vs. polyamorous can be applied according to what makes people comfortable. As you review their meanings though, it's worth bearing in mind why we go into relationships in the first place.
Many subconsciously try to escape loneliness by finding relationships. Sadly, this is misguided. The reality is that, as research shows, we have more fulfilling and long-lasting relationships when we seek self-expansion, or mutual growth, of both ourselves and our partners. This can happen with any of the following.
This umbrella term covers all non-monogamous relationships where people are open to each other about who they have sex with.
When people are in a romantic relationship with more than one person but these people are specific and constant. The difference between non-monogamous vs. polyamorous is that these people are emotionally involved rather than just sexually active as in non-monogamy.
Related Reading: 

Polyamory vs Polygamy: 18 Key Differences, Tips, and More
This is a form of ethical non-monogamy where partners are free to have sexual encounters with others outside the core relationship. Polyamory vs. open relationship is that the former has no central couple and all are equal partners both sexually and emotionally.
Polyamorous vs. open relationship
People in a polyamorous group are all equally committed. This is in contrast to open relationships in which other encounters tend to be casual, in other words, not exclusive of sex. By contrast, a polyamorous relationship is not exclusive in terms of any combination of love, sex or commitment.
Ethical non-monogamy vs. polyamory
Fundamentally, polyamory is a type of ethical non-monogamy. So, for example, open relationships are also a form of monogamy. Although, you can have open and closed polyamorous arrangements.
Related Reading: 

What is an Open Relationship?
Bringing it all together
The question "what is an open relationship" depends on the people involved. Although, the common agreement is that it's an arrangement between two people where sex is not exclusive. Nevertheless, the term open can be applied in many ways.
The umbrella term, ethically non-monogamous, encompasses polyamory, swinging, triads, and poly-fidelity, among others. Although, when reviewing ethically non-monogamous vs. polyamorous, the differences almost don't matter. What matters is honesty and openness.
Many people need years of therapy before they can be open enough to avoid seeing non-monogamy as a threat to their self-image. Moreover, perhaps having our needs met by more than one person is a surer way to find security and comfort in life.
Perhaps, we all deserve to love and be loved by many people.
Share this article on
Want to have a happier, healthier marriage?
If you feel disconnected or frustrated about the state of your marriage but want to avoid separation and/or divorce, the marriage.com course meant for married couples is an excellent resource to help you overcome the most challenging aspects of being married.
Learn More On This Topic
You May Also Like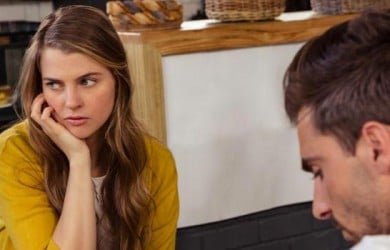 Popular Topics On Married Life