How to Practice Listening Without Getting Defensive: A Relationship Enhancing-Tool
When you and your partner are knee-deep in a conflict-fueled discussion (or, as we like to say "a fight"), it is easy to interrupt them with defensive statements such as "That's completely untrue!" or "You are misunderstanding what I meant by that!" Unfortunately, this is a perfect way to escalate the conversation into a heated argument, rather than move it towards a harmonious resolution.
Good communication in marriage during conflicts is what keeps a relationship together. Non-defensive listening is a great skill to use in situations such as these because it allows the conversation to continue in a manner that lets both parties feel heard and understood. And when that happens, it is more effective in getting you towards your goal: addressing your issue in a healthy way.
What is non-defensive listening?
Simply put, non-defensive listening is a two-fold way of truly hearing your partner and building a better channel of communication in marriage. First, it allows your partner to express themselves without you jumping in and cutting them off. Secondly, it teaches you how to respond to your partner in a way that respects them, with an absence of negative emotion or blame. Both of these approaches will get you to where you want to be: understanding the issue, and working on it so that both of you are satisfied with the outcome.
Let's break down the elements of non-defensive listening and learn how to incorporate this tool so we can pull it out the next time it is needed.
To understand what non-defensive listening is all about, let's look at some of the techniques used with defensive listening:
You are "listening" defensively when you:
Stonewall your partner ("Stop talking about this. I'm tired of hearing you!!!")

React to your partner by remaining silent or leaving the room (Lack of communication)

Deny your partner's way of seeing things ("You misunderstand!!!")
If you've ever practiced defensive listening (which all of us have, so don't feel bad about this), you know that it gets you nowhere.
Non-defensive listening is all about being focused on your partner's communication and gaining clarity and understanding about the issue that they are bringing to the table. It's about responding, not reacting.
How to listening without getting defensive
1. Don't interrupt
This takes some practice to perfect—we all have a tendency to want to jump in when we don't agree with what we are hearing. Even if we think what we are hearing is crazy, completely untrue, or way off track – let your partner finish. You will have your time to respond when they are finished.
When you interrupt someone speaking, you make them feel frustrated and unheard. They are left feeling invalidated and as if their thoughts didn't matter to you.
2. Focus on what your partner is saying
This is difficult because we have a tendency to cut in and react especially when we don't agree with what they are expressing. To remain focused, practice self-soothing techniques. While you are listening, pay attention to your breathing, allowing it to remain stable and calming. You can also self-soothe by taking a notepad and noting down the points you'd like to address when it is your turn to speak. You might want to doodle a little to help you remain in a soothing state. Tell your partner you are listening fully to what they are saying, so they don't think you are just zoning out while doodling.
When it is your turn to respond, use a response statement that shows your partner that you understand what they are communicating, rather than your interpretation of what you think they said.
If you need some time to reflect on your response, let your partner know that your silence is not a tool to show your anger, but a way for you to formulate the thoughts that are going on in your head. This is mindful silence, not retaliatory silence, so do let them know that your being quiet is just giving you time to think, and not shutting them out.
3. Stay empathetic
Listening empathetically means you understand that your partner may have a different perspective on the issue. You understand that their truth may not be your truth, but it is equally valid. Listening empathetically means you avoid passing judgment on what you are hearing, and that you recognize the emotion behind their words. It is putting yourself in your partner's shoes so you can better see why they see things a certain way. "I understand why you see things like that, and it makes sense" is an empathetic way to respond when it is your turn to speak. Making empathic responses is a good way to prevent relationship issues from festering.
4. Listening as if it is the first time you've met this person
This is a hard one, especially if you have a long history with your partner. Non-defensive listening requires you to meet this conversation fresh, without carrying over any pre-conceived visions of your partner. For instance, if your partner has been dishonest before with you, you may be tempted to have this at the back of your mind when you listen to him. You may be hearing everything through a screen of doubt or looking for the lie, searching his phrases for ways you can prove that he is dishonest. To truly listen non-defensively, you need to put aside your judgment and biases and meet him anew and without any trailing history clouding this present conversation.
5. Listen with an intent to understand, and not to reply
The broad goal of non-defensive listening is to hear your partner and understand him. You will have time to construct your response, but when he is speaking, allow yourself to take that all in and not be putting together your answer in your mind while he is expressing himself.
Learning the skill of non-defensive listening is one of the best tools you can have in your relationship toolkit and one that will bring you closer to your partner and to your relationship goals.
Share this article on
Want to have a happier, healthier marriage?
If you feel disconnected or frustrated about the state of your marriage but want to avoid separation and/or divorce, the marriage.com course meant for married couples is an excellent resource to help you overcome the most challenging aspects of being married.
More On This Topic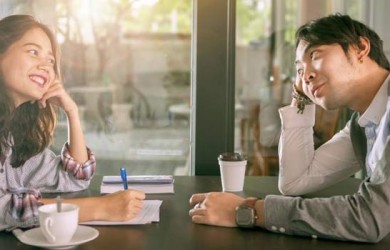 You May Also Like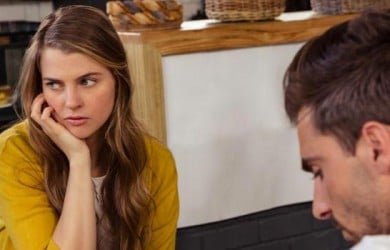 Popular Topics On Married Life