6 Steps for Handling Conflicts as the Marriage Gets Older
Begin with two selfish people with entirely different personalities coming from diverse backgrounds. Now add some bad habits, including interesting idiosyncrasies of both partners with an extraordinary past.
Throw in a bunch of ridiculous expectations, and turn up the heat with the daily trials of life. Guess what happens next? It is inevitable, conflicts arise.
The question is not, what are the best ways to resolve conflict in marriage. The controversy is how to deal with conflicts head-on and specifically how to deal with marital conflict in older couples
Conflicts are a sign that both partners hold dear some ideas and concepts in their life. Disagreements can lead to feelings of isolation, jealousy, anxiety, revenge, and other negative emotions.
Once the initial excitement and exhilaration of a marriage subside, reality kicks in. Sometimes couples are blessed with abundant good fortune, and conflicts begin. However, in most cases, the reverse is true.
Couples facing tough times together can get into an inconsequential rivalry. They are still new to living with each other and facing daily circumstances of life together.
One of the best-kept secrets to a successful marriage is that conflicts are dealt with as they occur. Once the dispute is solved, the friction caused due that conflict is seldom mentioned. The lesson learned from that conflict is reminded often.
1. Adjusting to differences
A person who is always the spotlight of the party is attracted to a person who has a neatly organized sock drawer. As human beings, we find the opposite personality characteristics attractive.
As time passes by, the personality characteristics which we once found to be attractive become the reason why conflicts develop.
Once a disagreement occurs, take a step back and acknowledge the differences. Listen to what your partner has to say before completely ignoring them and disregarding their opinion.
Once both of you have expressed your opinion, identify what is crucial for both of you. Attempt to understand your personality type and find a middle-ground solution favorable for both of you.
2. Putting selfishness aside
Selfishness was described by the Prophet Isaiah more than 2500 years ago. "All of us like sheep have gone astray, each of us has turned to his own way," (Isaiah 53:6). A husband and wife can have differences, just like any other healthy relationship.
Conflicts will only increase if the same person always has to agree to the other's demands. Instead of always wanting to be first, we should be willing to put aside our selfishness and accept to be last.
Allow your partner the opportunity to have their way with you. Remember that the reason you got married was because of your love for each other.
3. Pursuing your partner
Some people never forget anything. This is an excellent thing to do when you are doing business. But a relationship is not business.
Some people make it a habit to remind their partner of their past mistakes periodically. Conflicts will always occur amongst individuals sincerely pursuing their aspirations.
Resolving conflict in your marriage should be sought out for the sake of solving the underlying issue and not to subdue to your partner.
The best advice in this situation is that of Thomas S. Monson, "Learn from the past, prepare for the future, live in the present." The best way to rebuild trust is not to keep reminding your partner of past mistakes.
4. Loving altercations
Conflicts are a sign that both partners care about each other. In a marriage, there will be times when you fight for your partner and other times when you dispute with your partner.
Some people might be wondering how is fighting with your partner healthy. Consider it a good sign if a man is willing to present their point of view and implement it on their partner.
These arguments are a sign that he still cares and can get jealous when other people interfere in the relationship. If he genuinely loves you, he will also be ready to fight for you.
Also watch: What Is a Relationship Conflict?
5. Resolving conflict through forgiveness
As the marriage gets more mature conflicts will become a mundane daily routine, age affects how couples handle conflicts.
To put it in the words of Patricia Riley from Crowd Writer, "From the time I got up to the time I got into bed, there was always one problem or the other which we were fighting about."
Resolving marriage conflict through forgiveness is the most impressive way how successful couples deal with marital conflicts. Take your partner to their favorite restaurant, or make their favorite dish and give them a card with your apology.
Not only will your partner forgive you, but they will also let you have your way with them. You can sweeten the deal by getting them a present along with the apology card.
6. Returning an insult with kindness
There will be times when your partner will get carried away in provoking you. Other times you will have delivered that same humiliation to your partner.
External consequences have a huge role to play in our behavior. Past events also cast their shadows on existing developments.
You do not know exactly why your partner is acting so intensely regarding a specific argument. The best thing to do is to reciprocate their intimidation with kindness. Give your partner room and time to cool down.
Let your partner know that you are there for them and that you love them. Verbally tell them that you want to help them find the answer to the problem.
Share this article on
Want to have a happier, healthier marriage?
If you feel disconnected or frustrated about the state of your marriage but want to avoid separation and/or divorce, the marriage.com course meant for married couples is an excellent resource to help you overcome the most challenging aspects of being married.
More On This Topic
You May Also Like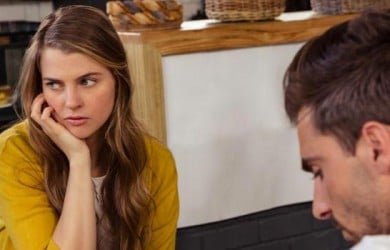 Popular Topics On Married Life