Break up After Having a Baby – Signs of Marriage Trouble After a Baby
Most people forget that our genes make us go through the roller coaster or love, sex, and relationships is to make babies. It is that primal need for procreation that drives our desires.
Our genes are smart enough to know that we won't last forever, and the only way to stay alive is to pass on to an offspring.
But for some reason, a lot of couples break up after having a baby. The moment the so-called small bundle of joy arrives, the couple starts having relationship trouble, and their marriage is falling apart.
Most people would think it's weird for a couple to break up after having a baby, but it happens more often than you think.
Marital problems after having a baby
In this day and age, very few couples marry and live together for the sole purpose of raising children.
Most couples today marry for love and romance; they did talk about having a family and growing old together. They understand that children are a lot of work, but the fun and laughter a child will bring into the house is all worth it.
Then reality hits them in the face. Sleepless nights, unplanned spending, noisy atmosphere, messy home, meddling relatives come into play — even the couple's relationship changes after having a baby.
They have less time for fun and romance, and most of their waking hours (including sleeping hours) are spent taking care of the little one.
Infants require a lot of attention. If they are hungry, they cry. If they are feeling uncomfortable, they cry. If they feel like it, they cry. If the sun goes up in the east, they cry.
The new parents have to figure out what the child needs through trial and error. It requires a lot of patience and understanding. That's why God made babies cute. If they weren't, a lot of parents would have thrown them out the window. Some do.
The dream life the couple imagined starts to become an unhappy marriage after a baby. They no longer have the time to pursue their hobbies and do fun things with their partner. Selfishness is the reason why couples break up.
Relationship problems after having a baby
Such lifestyle changes can lead to dissatisfaction. The parents feel domestic life is taking up too much of their "me" time. They start seeing the baby as a big time-waster and blame their partner for "creating" the situation.
They start contemplating splitting up with their partner and baby. They feel it's the only solution to get back the life they once enjoyed.
There are also people who continue simply living their old life and ignore the child and their partner completely. There are even cases when both partners are irresponsible, and the couple continues their previous lifestyle neglecting the needs of the child.
There are also rare cases when relatives interfere too much with how the child is raised. It causes friction and becomes a reason why couples break up.
It's common sense that there are changes in your relationship after a baby. First of all, it will take 18 or more years before the child can learn to clean up after themselves. That alone is a significant investment.
The less time you spend with them when they are young, the harder it will be when they get to their teens. Both parents would need to shift their priorities and add their children to the mix. Children require a lot of time, energy, and resources.
Some parents can't handle it or work on it too much. The stress builds up, and they transfer it to their surroundings, especially their spouse. That transference defense mechanism is a source of marriage problems after a baby.
Signs of marriage trouble after a baby
In spite of the nine months preparation, once the child arrives. It all seems so sudden. Couples expect a happy relationship after a baby as they start a new phase in their life as parents, but a lot of things are easier said than done, raising a child is one of them.
Relationship problems after a baby have many signs. They can come from neglect, irresponsibility, transference, or third-party stress. That is why you see couples breaking soon after having children.
You stop having sex with your partner – One or both of you are either too tired, too busy, or no longer interested in sex and romance because of a child. A sexless marriage creates its own set of problems and can lead a break up after having a baby.
Also watch:
One Partner is always angry for neglecting parental duties – A lot of fights break out because of who-needs-to-do-what when taking care of the baby.
It doesn't matter if the arguments are valid or not, but if the baby is causing a lot of conflicts which degrades to shouting and finger-pointing. That's a sign that your marriage is having problems because of your child.
The couple is receiving flak from third parties – It might seem rare, but it happens a lot when parents or other relatives interfere with childraising duties. In-laws criticizing one or both parents could lead to marriages that end in divorce.
It is hard to argue against old people who already raised children to adulthood, but conflict in values can lead to the older generation openly showing their dislike towards the marriage.
Financial difficulties in raising a child – A lot of countries provide assistance to new parents, but most governments don't. There are couples who find it difficult to budget an infant in the weekly/monthly expenditure.
Money problems can result in a dried-up romance and built-up stress. One or both partners may want to break away from domestic life and "quit" being a parent.
Refusing to accept reality – This is the most dangerous sign that you will break up after having a baby. One parent does not want to change their lifestyle to accommodate a new baby in their life.
They accept that they are now a parent, but they don't do anything about it. They leave all the parental responsibilities to their partner and continue on as if the baby doesn't exist.
Having a divorce after a baby doesn't make sense. It is selfish and irresponsible, but if one parent does all the work and the other is a deadbeat. It might be better to break up after having a baby than starting a family with a toxic partner.
Share this article on
Want to have a happier, healthier marriage?
If you feel disconnected or frustrated about the state of your marriage but want to avoid separation and/or divorce, the marriage.com course meant for married couples is an excellent resource to help you overcome the most challenging aspects of being married.
More On This Topic
You May Also Like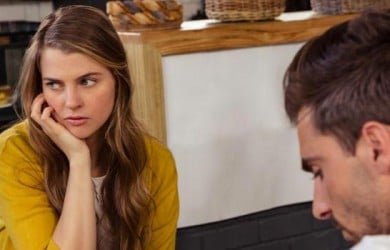 Popular Topics On Married Life