20 Lesbian Relationship Advice to Make Sure Your Love Lasts
There is plenty of marriage and relationship advice on the Internet, but sometimes, this advice seems to be catered toward heterosexual couples.
The reality is that dynamics can be different in same-sex relationships, so lesbian relationship advice may differ from what we see in our heteronormative culture.
Lesbian relationships can benefit from most of the advice applicable to couples in general. But there are certain aspects that lesbian relationship advice might cover that are specific to living in society and families while being yourself authentically.
Below, find lesbian relationship tips to keep your love alive.
20 tips for lesbian relationships
According to data from the U.S. government, there were about 980,000 same-sex couples in the country as of 2019, and 58% were married. While the voices of heterosexual couples are often represented in mainstream media, the reality is that same-sex couples are a significant portion of our population.
The needs of same-sex couples are important, but lesbian relationship advice may differ slightly from the marriage and relationship tips we encounter in mainstream media.
Same-sex female couples can face discrimination and other problems that should not be taken lightly. It's also important to remember that lesbian relationships are incredibly diverse.
Below are some pieces of lesbian relationship advice that take the unique needs of same-sex couples into consideration, while also recognizing that some lesbian relationship issues are no different from what is encountered in any relationship.
1. Remember that love is love
Society has come a long way in moving toward equality, but the truth is that you may face negative comments or discrimination from family, friends, or even larger society. Remember that love is love, and you shouldn't feel ashamed of your relationship.
Research has demonstrated that internalized homophobia occurs when same-sex couples hear stigmatized messages in society and then believe these messages to be true, which is linked to poor relationship satisfaction in same-sex relationships.
So, key lesbian relationship advice is to make an effort to learn about internalized homophobia, so you can examine whether it's playing a role in your relationship.
2. Surround yourself with allies
Sometimes, negative attitudes from others can seep into your relationship and do damage. Instead of surrounding yourself with these attitudes, find allies who strengthen your relationship.
So, this lesbian relationship advice can mean immersing yourself in the LGBTQ+ community and fostering connections with allies in the straight community.
When surrounded by people who support your relationship, you'll be less likely to be negatively affected by stigmatized views that filter into your relationship.
3. Communicate your needs
A key piece of advice that applies to all relationships, specifically same-sex relationships, is that communication is key.
You may not run into heterosexual relationship issues, such as insecurity over your husband flirting with a woman at work, but that doesn't mean you won't ever have problems.
Communicate about your needs, as well as things that are bothering you. It will help your relationship to grow.
Related Reading: 

How to Communicate Your Needs in a Relationship?
4. Validate your partner's feelings
High levels of emotional support have been identified as a strength in lesbian relationships.
Make the most of this lesbian relationship advice by being intentional about validating your partner's feelings. Sometimes emotions will run strong, so it's important to be prepared to validate your partner's feelings rather than trying to talk her out of it.
5. Appreciate diversity
You may have this image of what it means to be a lesbian woman. This image can sometimes include believing that you must only date other women.
Open yourself up to the fact that lesbian relationships can be diverse. This may mean that you find yourself attracted to bisexual women or people who identify as transgender.
6. Stop comparing
You might also have preconceived notions about how lesbian relationships work, but your relationship will be unique.
Certainly, some characteristics tend to define most lesbian relationships, but there is great variation among different couples.
Allow your relationship to play out however you and your partner see fit and stop comparing yourself to other couples. Treat this as key lesbian dating advice.
Related Reading: 

10 Reasons You Should Never Compare Relationships or Your Partner
7. Maintain separate interests
If you're in a new lesbian relationship, you may fall into the trap of letting your relationship consume you. While you certainly have reason to be excited about starting a relationship, it's also important to maintain your separate interests.
This isn't always the case, but sometimes, because of stereotyping, people begin to view people with same-sex attraction only in terms of their sexual orientation.
If you begin to view yourself the same way, you can fall into the trap of defining yourself only based on your relationship while letting other interests fall by the wayside.
8. Be intentional about flirting
Lesbian sex and relationships can be complicated because of some beliefs about women and sex. This may not always be true, but sometimes, women are taught to repress their sexuality or to avoid initiating sex.
In a lesbian marriage, this can mean that both partners are reluctant to initiate. You can enhance the intimacy in your relationship by putting effort into flirting. Tell your partner when she looks hot, or spice things up with new lingerie to set a flirty mood.
See this video for more lesbian relationship advice about sex:
9. Appreciate the strengths of the relationship
In times of conflict, it's easy to fixate on things that aren't going well or things we don't like about our significant other. To change the tone of your relationship for the better, focus on the relationship's strengths.
For instance, social scientists have found that compared to women in heterosexual relationships, lesbian women may be more satisfied because they enjoy greater emotional support from their partners and more equality within the context of the relationship. Recognize these strengths and build upon them.
10. Define how your relationship will work
There are no predetermined rules for how lesbian relationships work, and lesbian relationship problems can arise when expectations are unclear.
Traditional male and female gender roles are not at play in a lesbian relationship, so you may be unsure how to handle common relationship matters, such as how finances are managed, what housework looks like, and who manages childcare.
To address this issue, one of the best first-time lesbian dating tips is that you must have a conversation about expectations.
Refrain from assuming that your partner has the same needs and vision that you do. Work out these issues in the beginning to avoid problems down the road.
11. Don't rush things
You may feel tempted to settle for the first relationship that comes your way, but just like a woman dating men, you shouldn't rush into a relationship that isn't right. Trust that you will find a meaningful relationship that's meant for you, even if it does take time.
Sometimes it takes trial and error to find the right relationship and you should keep that in mind as key lesbian relationship advice.
Related Reading: 

10 Signs You're Rushing Into Marriage and Reasons Why You Shouldn't
12. Maintain open lines of communication
It's important to stay on the same page, so ongoing, open communication is necessary. Don't be afraid to be vulnerable with your partner. The relationship can only grow if you clearly express your feelings.
It can be beneficial to have a weekly "state of the relationship meeting" to discuss any issues that have come up and things you might like to change.
13. Let go of exes
There isn't anything wrong with having platonic female friends, but remaining friends with an ex isn't a good idea. Lines may become blurred in a lesbian relationship, but staying in close contact with a former girlfriend is likely to create feelings of insecurity and distrust.
14. Learn each other's needs
One of the best lesbian relationship tips is that you need to learn about your partner. Don't assume that your partner gives and receives love the same way you do.
A conversation about how each of you feels most loved can help you better meet each other's needs. Maybe you prefer acts of service, but your partner is all about words of affirmation. Learn about each other's preferred language so that you can grow together.
15. Spend some time apart
Some experts believe that because of how the female brain is wired, lesbian couples are at increased risk of codependency or becoming "addicted" to each other. This means you may need to spend time apart, exploring separate interests and friendships, to keep the relationship healthy.
Research has demonstrated that differentiation of self, which is the ability to maintain your thoughts and feelings while remaining bonded to others, increases relationship satisfaction in lesbian partnerships. Spending some time apart helps you to maintain your unique sense of self.
16. Don't try to be a mind reader.
Relationship problems often crop up not because of actual issues but because of the stories we tell ourselves about our partners. We may assume that they meant to hurt us, or that they feel a certain way, but the truth is, we aren't mind readers.
Instead of making assumptions or accusations about your partner's feelings, take time to listen to her and consider her perspective. Much conflict can be diffused or avoided altogether when we consider that our partner may have different feelings or views than we have.
Related Reading: 

15 Signs of Mind Games in a Relationship
17. Don't expect your partner to fix or complete you
This can happen in any relationship, but sometimes people enter into a partnership expecting the other person to fix them or make them whole.
To have the best chance at a successful relationship, you need to do the work to heal your emotional wounds and trauma without placing all the responsibility on your partner.
This doesn't mean that your significant other won't be there to support you, but relying upon your partner to heal you doesn't make for a successful long-term relationship.
Related Reading: 

10 Emotional Needs You Shouldn't Expect Your Partner to Fulfill
18. Don't be afraid to put yourself first at times
Women are notorious for being caretakers and placing others' needs first. We might even have been trained to sacrifice ourselves for the sake of others. When we enter into a relationship with another woman, we can easily lose ourselves tending to her needs.
While it's okay to care for your partner, you also have to practice self-care. Don't feel ashamed of taking time for yourself, engaging in your hobbies, or putting effort into self-improvement.
A partner who cares about you will also want you to care for yourself. You can better pour into the relationship by taking care of yourself first.
Don't forget to encourage your partner to care for herself, as she may have the same self-sacrificing tendencies you have!
Related Reading: 

10 Ways on How to Put Yourself First in a Relationship and Why
19. Avoid treating her as a roommate
Any couple can fall into the pattern of being "roommates," but in a lesbian relationship, it might be even easier to become roommates with each other. After all, you can share clothes; without traditional gender roles, you may only look after yourself without putting time into shared housework.
For instance, maybe you've decided that you'll handle dishes and she'll handle laundry, but you find yourself making a separate dinner, cleaning up after yourself, and not considering her.
Be careful to consider her as an equal partner, and ask before you borrow her favorite sweater!
20. Don't be afraid of therapy
Sometimes, you encounter relationship problems that require outside intervention. If you're experiencing repeated problems within your relationship, working with a therapist can be a good next step.
A therapist remains neutral to help you process relationship conflict and can help you strengthen skills related to communication, conflict resolution, and intimacy.
Some therapists even specialize in lesbian relationship problems, so they are prepared to understand the unique challenges and perspectives of lesbian couples.
Related Reading: 

15 Things You Should Never Tell Your Therapist
FAQ
How do you make the first move in a lesbian relationship?
Since men are often expected to make the first move in relationships, you may be unsure how to proceed with a new lesbian relationship. The best advice is to be direct and follow your heart.
If you feel a connection and are interested in getting to know someone, say so. Directly communicate, "I'm feeling a connection here. Can we meet for a date?" The worst thing that can happen is that she'll say no, but in the best case, you might find lifelong love.
Conclusion
Lesbian relationships can be healthy, rewarding, and incredibly fulfilling, but just like any other relationship, they require work and getting to know each other on an intimate level.
Reading through lesbian relationship advice can give you some tools for strengthening your bond and working through relationship problems.
You may sometimes benefit from reaching out for relationship therapy or taking a couples class to help you strengthen your bond. In a lesbian relationship, you may face unique struggles, such as stigma and minority stress, which can take a toll on the relationship.
Working with a supportive therapist can provide a safe setting for addressing these issues and developing healthy coping strategies.
Share this article on
Want to have a happier, healthier marriage?
If you feel disconnected or frustrated about the state of your marriage but want to avoid separation and/or divorce, the marriage.com course meant for married couples is an excellent resource to help you overcome the most challenging aspects of being married.
Learn More On This Topic
You May Also Like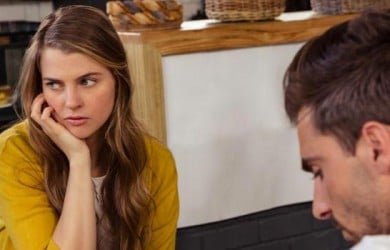 Recent Articles
Popular Topics On Married Life