Living With a Bisexual Husband: How to Cope up With a Bisexual Spouse
Every married couple thinks that their marriage will be a fairytale but what is life if not a series of ups and downs?
From time to time, you test your marriage to check if it stands strong or not. All married couples go through a tough time as they experience difficult situations.
If you have just found out that you have been living with a bisexual husband, you must be feeling uncomfortable and unsure.
You might notice signs that you are living with a bisexual husband and feel threatened that a man or woman will take your place.
Are you worried about your bisexual marriage problems?
Is your bisexual husband leaving you for a man he will fall in love with?
Your bisexual spouse does not like you anymore?"
On finding out your husband is bisexual or your spouse is bisexual, your mind must be full of such thoughts. Instead of losing your calm and worrying too much, you need to look at things differently.
Who are bisexuals?
The term Bisexual has different meanings to different people and can be very confusing at times. Bisexual people are those people who are attracted to two genders.
They honor their physical, emotional, and sexual desires to both men and women. A bisexual person loves another person with less attention to a specific gender.
However, some people also include non-binary genders when defining the term – Bisexual. They also have terms such as Pansexual, Queer, and fluid.
Bisexuals not only get involved with 'men and women', but they like to address it by getting involved with 'same and different – a person who gets involved with people with gender(s) other than your own.
Most bisexual people struggle with their identity, some of them discover it early in their life, while for others, it a time taking process.
It can be difficult for people of this sexual orientation to have bisexual relationships in a world that haven't entirely accepted the dichotomy of sexual orientation.
But have you ever thought about why people identify themselves with bisexuality?
Related Reading: 

Knowing Different Sexualities
Reasons for bisexuality
Living with a bisexual husband or spouse can take over your ability to reason. You may not be ready but understand that Bisexuality is primarily dependent on parental hormones and chromosomes.
Some other reasons can be social factors, sex drive, or brain structure. Bisexuality is an individual experience for every person. The reasons for choosing this sexual orientation vary from person to person.
We cannot be sure about the reasons for bisexuality, but here are some hypotheses:
Sexual abuse

Experimenting with both genders

Lack of parental guidance

Neglectful parenting from the same gender

Peer rejection

Need to be accepted and desired by both genders
It is not easy to lead a life that is not entirely accepted. Maybe that's why people tend to hide in plain sight and get married or get into a socially more accepted relationship.
Dealing with bisexuality can be exhausting, and sometimes, people keep it a secret. Can you imagine living with a bisexual spouse? Sounds scary? Don't sweat. Let's dig deep.
Related Reading: 

Knowing Different Sexualities
What happens when you discover that your spouse is bisexual?
The sudden out-of-the-closet incident will come as a great shock. You might lose sight of the near future of your relationship. You might want to take out your anger on your partner or worse, cry! Bisexual married relationships are not an easy cup of tea.
Your world will spin at a speed that you will find yourself in a situation where doing anything might seem difficult or impossible. The sudden revelation can make you think that you were living with a bisexual husband or spouse and you didn't know.
You may feel ashamed of your bisexual marriage problems or even thinking about how do bisexual relationships work?
You might wonder; "My husband is bisexual. What should I do?, or can a bisexual man be happily married to a woman?"
Don't worry. All those feelings are a natural human reaction. Living with a bisexual husband can be exteremely difficult. Realize that with time you will get through this.
Give yourself and your partner some time and wait for your anger to cool down so that you can start looking for solutions.
Also Try: 

Am I Bisexual Quiz

?
4 ways to cope with a bisexual husband
If your husband recently came out of the closet and you don't know what to do, then please don't shut yourself right away.
Remember he is the same person and has the same qualities as you, there are ways you can work the relationship out. Here are some suggestions that will help you get through this tough time.
1. Take a step back and relax
You are stuck in a challenging situation that might affect your marriage. It may or may not hurt your marriage. However it goes, you are not at fault in this entire situation.
If you have been asking yourself-
"Can my marriage survive?"
"Do bisexual males in a straight relationship remain loyal?"
Then it is evident that you are extremely worried that you are living with a bisexual husband. You should take time to understand that if you want your marriage to survive. You cannot jump to conclusions on your own.
Examine all the possibilities and consider if your husband has any sexual preferences.
For more clarity watch this video:
2. Talk to him
When you find out that your husband is bisexual, the foremost thing you should do is have a conversation with him. It would help if you understood that finding out your husband is gay is entirely different than Bisexuality.
If you ignore the situation and avoid the subject, you will only be making things worse.
Your husband has just revealed that he is bisexual, and if you make him feel bad or criticize him for being different, he will not be honest with you.
You might feel absurd to love him and respect him at this moment, but this is crucial if you are living with a bisexual husband and want to show compassion for him.
His sexuality is a part of his identity, and you cannot change it.
What you should do is accept it and respect him. Living with a bisexual husband takes courage and strength.
When you two sit down to have a conversation, ask him how long he has known that he was a bisexual. There is a good chance that he might say he was always a bisexual and knew it.
But it could be that the feelings surfaced now, and he had some indication in the past.
At this moment, you may feel that you have been lied to, and it was on purpose but remain positive. Do not express negative emotions or feelings when having a conversation with your husband.
When people are hurt, they say things that they later regret. Stay quiet if you have to or nod to indicate that you are listening but do not burst with anger, shout or ridicule him.
Be as honest and accepting as you can be. But this does not mean that you should be highly careless about your husband cheating on you. Try to be comfortable when having a conversation and take in everything.
Only acknowledge that your husband is bisexual. Ask him if he wants to continue the relationship, and he is committed to being loyal to you.
Related Reading: 

The Importance Of Communication In Your Marriage
3. Bisexual doesn't mean cheating
If your husband is bisexual, it does not necessarily mean that he is cheating or will cheat.
He only wants to acknowledge that he is a part of the LGBTQ community.
Someone who is bisexual is not immoral or sneaky. People do not change into something else overnight. If he were to keep it a secret from you, it would have done even more harm because, again, it is not healthy for your relationship.
If he was hiding it, then he probably realized that it was better to let you know. Women who discover their husbands are bisexual have a hard time trying to understand the situation.
It is hard to understand if you have no friend or family member who is a member of the LGBTQ community.
Your husband is still the man that you love and adore. Even if you just realized that you are living with a bisexual husband, respect him for being honest and opening it up to you.
If he is still in love with you and wants to continue the marriage, then everything will turn out just fine. Not all Bisexual marriages have an unhappy ending.
4. Open marriages
Some women are okay with their bisexual husbands exploring their sexuality. Some women understand being bisexual in a straight relationship is complex and allow their husbands to have a relationship with a man.
It is termed an open marriage or an open relationship. You will be surprised to know that several people have open relationships, and the idea of an open relationship does not harm their marriage.
Instead of monogamous relationship, your husband has a relationship with another guy. This is not acknowledged as cheating because your bisexual husband is loyal to you and would not lie about anything; you only let him explore sexually.
Open marriage can work perfectly well for some couples, but for others, it brings terrible results.
Depending on how open-minded you and your husband can be, you can set boundaries and ensure that everyone stays safe. But because this idea is very terrifying, there will be problems when other people come to know about it.
Maybe your bisexual husband will not like the idea of you having other lovers. Both of you may have concerns for each other, but it is your problem, and only two of you can solve it.
Open marriage is taboo.
Even if you agree to be in an open marriage, you might not be able to handle the social stigma that comes along. Do not concern yourself with others' opinions.
Remember, you and your husband should value your relationship and do what suits you.
Related Reading: 

Do Open Relationships Work

?
7 ways to accept a bisexual spouse
As soon as you discover that your partner's sexual orientation is bisexual, you might want to bid farewell and never look back. But, before you make a decision, you need to deal with the reality.
Finding out about your spouse's bisexuality can shake the foundation of marriage but remember, everything broken can be mend.
Many bisexual married couples have found that they can lead to a more trusting, satisfying, and loyal relationship. You will surely need a plan to go through it, and here are some things you should keep in mind when dealing with bisexuality.
1. Talk to each other
You need to sit and talk with each other. Open your mind and realize only you can solve bisexual marriage problems if you are looking for a meaningful future. Ask your bisexual spouse about their life experiences.
How long have they known about their bisexuality? Are they thinking of leading a monogamous life? Knowing a little more about your bisexual husband or spouse will help you get a clearer picture of your relationship.
2. Don't be afraid to ask questions
You need to make sure that you have cleared all your doubts. Ask questions and listen to them. Make sure you let them talk without disruption. It is essential to hear the other side of the story to understand where your relationship stands.
3. Be more accepting
Just imagine if you have been in their shoes. Now, imagine not being able to express yourself just because you have feelings for a same-sex person.
Evaluate if you can justify your feelings. Your partner needs love and support from you. Try to be as supportive as you can be.
Related Reading: 

Developing Acceptance Skills in a Relationship
4. Talk to people with similar problems
Finding people who have overcome this situation can guide you through it. Try to connect with people who are successfully living a happy married life even after knowing about their bisexual husband in their straight relationship.
Their experiences will come in handy.
5. Accept, embrace and move on
If you think of getting separated from your spouse, you should not make a mess out of it. Even if it is the end, make it good. If you accept the situation for what it is, it will be easier to move on and lead a peaceful life.
6. Consult a therapist
Look for counselors or organizations who offer services in dealing with bisexual married relationships.
Talk to marriage therapists or counselors or get a better understanding. Visit the LGBTQ center to learn about the community and receive if any health information is needed.
7. Leave your children out of it
If you have decided to live with your bisexual spouse or not, please do not involve your offsprings in it.
If you are going to stay, it's suitable for your children, but you must delicately deal with your children if you think of parting ways. Make sure their mental health remains intact.
Related Reading: 

How to Leave a Marriage with Children
Takeaway
All these problems and questions about "Can a bisexual man be happily married to a woman?", or "How do bisexual relationships work?", etc. can be solved and catered to once you decide to make an effort and work on your relationship.
Things will not be pretty, after all finding out that you were living with a bisexual husband is shocking. You may feel a void inside you, but only you and your husband can mutually draw conclusions.
Do not think that because your husband is bisexual, you should leave him.
If he wants you to stay, think about it. It may feel very tough to let your husband sleep with another man or cope with the idea of him sleeping with someone else, but you cannot close your eyes and forget the reality.
Moving forward will feel intimidating, and when you discover that you are living with a bisexual husband who is not interested in you, any more things may take an ugly turn.
Some couples have split while others have become stronger than ever after the husbands came out as bisexuals. Give yourself a chance at making things right and making your marriage work with your bisexual husband.
Share this article on
Want to have a happier, healthier marriage?
If you feel disconnected or frustrated about the state of your marriage but want to avoid separation and/or divorce, the marriage.com course meant for married couples is an excellent resource to help you overcome the most challenging aspects of being married.
More On This Topic
Recent Articles
You May Also Like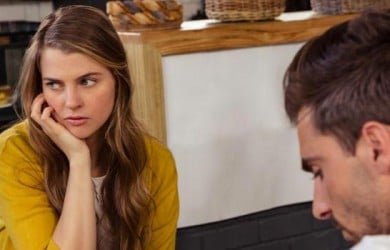 Popular Topics On Married Life