10 Most Common Open Relationship Rules
When we say a couple, we always picture two individuals who are deeply in love with each other and are in a committed relationship.
It's quite difficult to imagine more than two people in a relationship. When we think of more than two people in a relationship, we term it infidelity. However, it's not right. Infidelity means having an extramarital affair outside of a relationship without keeping your partner informed. The relationship which we are talking about right now is called an open relationship, and there are some open relationship rules that help couples navigate such relationships.
What is an open relationship?
To define an open relationship simply, it is a relationship status where both partners have mutually agreed to share a non-monogamous relationship.
This implies that either or both of them would have sexual or romantic or both types of relationship with people beyond their partner. In an open relationship, both parties are well aware and agree to such arrangements. This separates this relationship from infidelity.
Now, as we know what an open relationship means, let's dive deep into it and learn more about it.
In this video, licensed clinical social worker, Kathy Slaughter, talks about some love lessons from an open relationship.
Is an open relationship healthy?
An open relationship can be as healthy or unhealthy as you make it. The health of an open relationship depends on the partners, their agreements, and the terms they have set for the open relationship.
An open relationship can bring immense happiness to both partners as individuals and in their relationship if the rules are set, understood, and followed.
To learn more about open relationships and how they work, check out this book by author couple Nena O'Neill and George O'Neill on open relationships.
10 most common open relationship rules
Technically, the word 'open relationship' is quite broad.
It's an umbrella term with various sub-categories, from swinging to polyamory. The open relationship definition might sound interesting and may present that it's easy to be in an open relationship, but it's entirely not.
The first open relationship rule is that there should not be any one-sided open relationship rules.
Foremost, you must ensure you're ready to be in an open relationship. It doesn't revolve around sexual excitement but will have a proper bifurcation of the responsibilities and things other couples go through.
So, you must be aware of some open relationship rules that will help you make this relationship work and be successful in the longer run.
Let's have a look at these rules that can help you manage an open relationship.
1. Setting up sex boundaries
Do you want to have a sexual relationship with others or just emotional bonding?
You and your partner must discuss this before entering an open relationship. If you're going to get involved with someone sexually, then you need to set sex boundaries and get into the specifics like kissing, oral, penetration, or even BDSM.
In excitement, one might move forward, eventually leading to problems. So, it's of utmost importance to discuss these things in advance to avoid any problems in an open relationship.
2. Sort the open relationship
As mentioned above, an open relationship is an umbrella term with many sub-categories.
Either of the individuals may be involved in a relationship with one or many. Or there could be a chance wherein both of them are involved with another two who are not at all related.
Or there could be a triangle where all three are somewhat involved. So, it is essential that before getting into an open relationship, you sort these things out.
The best way is to meet people who are in such a relationship. They will make you understand various arrangements and possibilities of what might work and what won't. Sorting the open relationship out is one of the open relationship rules you must follow.
3. Don't rush into things
The entire idea of an open relationship might excite you, but your partner may be a bit skeptical about it. It's imperative to say that rushing into things will only lead to additional problems later on. So, give it some time.
Meet people in an open relationship for quite a long time join groups and try to understand their discussions, and give time to their partner to settle with the idea. Making sure that everyone is on the same page is one of the unsaid open relationship rules.
They might not be as enthusiastic as you are or may not welcome the idea at all. So, before you open your relationship, give it some time to settle in.
4. Setting up emotional boundaries
Like sexual boundaries, you would need to attentively set up emotional boundaries. This is one of the crucial open relationship rules.
When in open relationship, you both should be welcoming to the idea of your partner hooking up with someone from dating platforms. It shouldn't happen that you are doing this with no regret and get jealous when your partner does.
Set some emotional boundaries. See if you can have sex without getting emotional with someone or not. If so, then how are you going to handle the situation? These minute details are essentials.
Related Reading: 

The Reality of Emotional Boundaries in a Relationship
5. What are you comfortable with
As discussed, open relationship is an umbrella term.
There are various situations and sub-categories under it. Once you've decided with the kind of open relationship you're going to have, and have defined sexual and emotional boundaries, it's time you define some other aspects as well.
Like, would you be comfortable with having a boyfriend or want to have another long-term relationship? Would you be okay with getting your partner home?
Would you be okay with other partners having sex in your bed? Are you comfortable with your partner's partner having sex in your house and in your bed?
Setting up these boundaries will help you to keep things sorted and clear and is an important open relationship rule.
6. Opening up about open relationship
It's essential to discuss whether you're going to talk about your relationship or encounters with your partner or not.
Some couples follow a strict 'Don't ask, don't tell policy'. You can agree upon two different things: either to share the details about hookups or to simply not share the details at all.
You both must stick to the decision, whatsoever, and must agree to it as well. Don't let anything come in between you and hamper the bonding between the two of you.
7. Be honest to both sides
If you're in an open relationship, and your partner allows you to have sexual relations with others, the third party should also be aware of the arrangement.
They should know that they are playing the third wheel, and you are interested in an intimate relationship, but not a serious one.
Pursuing others and giving them the impression of love, romance, and happily ever after can complicate the future. There is still infidelity in open marriages. That is when you start lying about your relations to either party.
Open relationship rules put an emphasis on trust and transparency. Make sure to discuss everything with your partner and judge their comfort level.
Related Reading: 

Why Honesty in a Relationship Is So Important
8. Don't treat third parties as disposable objects
Treating all partners well will also help them be more cooperative and understanding of the situation. It might prevent them from creating problems in the future.
9. Keep your promises
Open marriage rules are not made to be broken. You have permission to have intimate relationships with others, but that doesn't mean you can ignore your primary partner.
Having an open marriage is still a marriage. You still walk your life journey with one partner. You are just not exclusively having sex with each other.
Related Reading: 

Breaking Promises in a Relationship – How to Deal With It
10. Prioritize
Prioritize your spouse as if you are in a traditional marriage. Just because you can have other partners, that doesn't mean you can date them on your spouse's anniversary. It also doesn't mean that you spend more time with others collectively as you do your spouse.
Being in an open marriage means you still have to fulfill all your marital obligations. A license to have other partners doesn't mean that you should have them all the time.
Bottom line
It may be difficult to imagine how to have an open marriage. It's actually simple. Be twice the husband/wife you can be to your spouse.
You need to overcompensate for the lack of sexual exclusivity. This is why advocates claim that they are better partners out of bed. They subconsciously try to please their partners for their promiscuity.
The formula for a successful open marriage is the same as traditional marriage.
Do your part, be honest, trust each other, and do all in your power to keep your partner happy. There is no magic open relationship advice. There are no special open marriage rules or a guide to an open relationship. How to have a successful open relationship is and always has been about trust, transparency, and fulfilling your role as a loving partner.
Share this article on
Want to have a happier, healthier marriage?
If you feel disconnected or frustrated about the state of your marriage but want to avoid separation and/or divorce, the marriage.com course meant for married couples is an excellent resource to help you overcome the most challenging aspects of being married.
More On This Topic
You May Also Like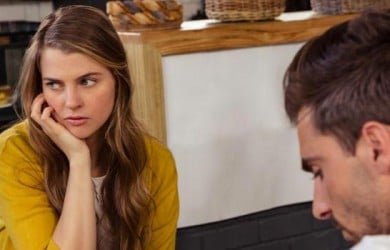 Popular Topics On Married Life