12 Reasons Why Deep Thinkers Often Struggle in Relationships
What does it mean to be deep thinkers in relationships? Is it bad to be a deep thinker in a relationship? What's it like to be in a relationship with a deep thinker? How can you be sure that you're a deep thinker anyway?
In a fast-paced world, deep thinkers are the dreamers who overthink everything, don't make hasty decisions, and can spend hours analyzing an experience as they're introspective. They'd rather be alone reading a book than having a mindless conversation with someone.
Deep thinkers think profoundly and delve into the very essence of everything. Some drawbacks come with being a deep thinker, and struggling in relationships is one.
In this article, we'll explore what it means to be a deep thinker in a relationship and the reasons why deep thinkers tend to struggle in relationships.
Related Reading: 

How to Share Your Feelings With Your Spouse
What does it mean to be deep thinkers in a relationship?
According to the Myers–Briggs Type Indicator (MBTI), people tend to fall into 2 main categories for problem-solving and decision-making: thinkers and feelers. Thinkers make decisions with their heads and look at things objectively.
They're more into finding the logical solution by analyzing the pros and cons. On the other hand, feelers care about other people's points of view and make decisions with their hearts. Thinkers and feelers have their way of expressing love.
Deep thinkers in relationships need lots of reassurance as they tend to read too much into everything their partner says or does. They often tend to be forgetful and absent-minded as they lose themselves in the imaginary world they created in their heads.
Engrossed in their ideas, they struggle to remember their partner's birthday, anniversary, or special days to celebrate. Because of their absentminded nature, their partners may get the idea that they don't care about them.
It's challenging for deep thinkers in relationships to get out of their fantasy world and come back to reality to deal with real issues. They struggle with lots of issues themselves as they see the world differently.
Watching this video might give you an idea about the struggles of an overthinker:
8 Struggles of Being a Deep Thinker
While being deep thinkers in relationships comes with its own set of challenges, they bring lots of great qualities to the table too. They're great listeners and always try to provide their partners with realistic solutions for any problems.
Deep thinkers are naturally empathetic and go out of their way to support their partners during difficult times. They're good at solving problems, which is an important relationship skill. They take their time to decide, but they can't be swayed by anything once they make up their mind.
Deep thinkers in relationships are open-minded and accommodative of new ideas and different perspectives.
Is it bad to be a deep thinker in a relationship?
Being deep thinkers in relationships can be as good as bad, and it can be a gift in more ways than one. When seep thinkers commit to a relationship, they've thoroughly thought things through and genuinely believe that they've found the right person.
So, they may have the most challenging time falling in love, but they go all in once they do enter a relationship. Deep thinkers tend to be compassionate and empathetic. So, they can make their partner feel supported and loved deeply.
However, their social awkwardness, the habit of overthinking, and overanalyzing can be bad for the relationship. They need to figure out how to be more expressive in a relationship and open up to their partners.
If they can learn how to find a balance in the relationship and build a relationship based on interdependence, being a deep thinker won't be so bad after all.
Marriage Therapist Angela Welch says that. "The quickest answer to this question is NO, and it is not a bad thing to be a deep thinker in a relationship. When someone thinks very deeply, this means that they are usually someone who possesses a higher level of emotional intelligence".
Angela says, "They are more self-aware of their emotions and feelings. They tend to be more introspective, empathic, compassionate, and reflective. These qualities can lead to a healthier communication style within the relationship and lead to more satisfying conversations and connections."
She adds, "Can they overthink things and maybe see problems where there are none from time to time? Yes. However, suppose the communication is healthy, and both individuals connect and work together to combat any problem by thinking about ways to attack it together. In that case, they can overcome any of the struggles that being a deeper thinker can bring".
"When deep thinking and emotional intelligence is brought into a relationship on a higher level of connection with each other, the relationship can become enhanced and grow at a deeper level", Angela concludes.
Related Reading: 

Are You Building Interdependent Relationships With Your Partner?
15 surefire signs that you're a deep thinker
Here are 15 signs to tell if you're a deep thinker.
You're an introverted person

Small talks aren't your cup of tea

You're good at problem-solving

You're highly perceptive, and you notice things others tend to miss

You have a passion for learning

You're an avid reader with an unquenchable thirst for knowledge

You're compassionate and empathetic towards others

You're very self-aware and like to introspect

You get lost in your thoughts and forget about other things at times

You think things through and like to plan ahead

You're a keen observer who's also naturally curious

You can keep an open mind and actively listen to what others have to say

Even though you're socially awkward, you have a good sense of humor

You tend to analyze every experience and every situation

You're independent and don't like to depend on others
12 reasons why deep thinkers tend to struggle in relationships
Here are 12 reasons why deep thinkers have a hard time falling in love and struggle in relationships in general.
1. Their standards are too high
Deep thinkers tend to have high standards when it comes to relationships. They don't want to settle for less than they believe they deserve. They look for someone who'd be compatible with them and add value to their life.
They don't mind waiting for the 'right' person. Since they hold their partners to the highest standards, they struggle to accept anything less than perfect. Deep thinkers have high relationship expectations, which can be unrealistic and unreasonable at times.
2. They overthink everything
Deep thinkers in relationships can make things unnecessarily complicated by overthinking every little thing. They're used to overthinking relationships and love along with everything else in life. They notice even the slightest change in how their partners look at them or talk to them.
They start overthinking why that change occurred, and sometimes that can cause relationship problems that weren't there in the first place. They overanalyze things, and if their partners say something negative, it affects their self-esteem so negatively that they start to question their self-worth.
Deep thinkers tend to take rejection too personally and internalize their feelings to the point where they don't think they're worthy of love. It makes them overthink everything they say or do around their partner.
Related Reading: 

How to Stop Overthinking in a Relationship
3. They look for flaws in potential partners to protect their heart
Nobody is perfect and profound thinkers know this very well. But that doesn't mean they won't keep looking for reasons why someone isn't good enough to be in a relationship with them. They do this to protect themselves from potential heartbreak.
Since they're the overthinkers in relationships, overanalyzing someone's behavior comes naturally. Instead of focusing on what might go right, deep thinkers keep focusing on what might go wrong and how their love interests might fail them in the relationship.
4. They are afraid of falling in love even though they crave it
One of the signs of a deep thinker in a relationship is they are scared of putting their heart on the line. They don't want others to know how sensitive and emotional they can be. They believe that showing emotions puts them in a vulnerable position.
They might keep their guard up because they're scared of falling in love and getting heartbroken. Being vulnerable is the key to building an emotional connection. But, deep thinkers often struggle to open up to their partners.
Hence it's difficult for them to form a thriving relationship.
5. They use relationships to fill a void
Deep thinkers are very self-aware and know their weaknesses and vulnerabilities quite well. Sometimes, they feel insecure, and they start looking for a relationship to heal their wounds and fill their emotional void.
Often deep thinkers have a history of being heartbroken, which makes them question their new partner's intentions. Instead of building a new relationship from scratch that complements them, deep thinkers recreate their old relationship.
They might also expect their partners to fill the emptiness in their lives in ways that may lead to codependency.
Related Reading: 

Five Steps To Take Before Starting A New Relationship
6. They don't think love alone is enough
Deep thinkers and relationships-not a great combination as deep thinkers know that love alone isn't enough to build a solid and healthy relationship. They don't get fooled by merely sharing chemistry with someone and looking for other factors like compatibility and commitment.
Deep thinkers know that they need a strong foundation of mutual respect to build a strong and sustainable relationship. It makes them overthink and scrutinize their potential partner's every move.
They carefully observe others' behavior and personality traits before they'd even consider committing to someone.
Also Try: The Sustainable Marriage Quiz
7. They intellectualize their emotions as a defense mechanism
When they start to develop feelings for someone, instead of just feeling that emotion and enjoying it, deep thinkers focus on figuring out how to be strong-minded in a relationship. They start to rationalize their feelings as they don't feel comfortable blindly following their hearts.
They need to figure out the meaning behind a feeling before they can feel their feelings and deep dive into a relationship. This overanalyzing and rationalizing prevents them from being vulnerable enough to build a deep emotional connection with someone.
8. They put similarities over how someone makes them feel
Having a deep thinker personality in a relationship means that they're less inclined to go for someone just because they get butterflies in their stomach being around them. They will prefer to be with someone with similar attitudes, values, and backgrounds.
Deep thinkers in relationships prioritize aligned values, priorities, interests, and plans over how someone makes them feel. No matter how great the chemistry is, deep thinkers might not want to take the relationship to the next level unless they can come up with a rationale behind that decision.
9. They fall in love with the idea of someone, not who they are
Deep thinkers in relationships are all for beautiful and appealing things. They might easily fall in love with a person's potential instead of who they are. The idea of love is appealing to them, but that love might only exist in their head.
When their idea of someone doesn't match the reality they created in their minds, deep thinkers get disappointed. They start to struggle with what made sense to them initially but look different and illogical now.
10. They hesitate to give love a chance
Deep thinkers don't want to commit too soon, and they're far more comfortable with taking their time to evaluate if someone is right for them. No matter how much they like someone, they hesitate to get into a relationship with them without doing their due diligence.
However, it doesn't mean deep thinkers in relationships always make the proper judgment. Sometimes they're too afraid to choose the wrong partner, which prevents them from investing emotionally in the relationship.
As a result, they struggle to take the relationship any further.
11. They struggle to take actual actions
Deep thinkers can be pretty indecisive at times and struggle to get out of the world they've created in their heads. They love to plan, but when it's time to put that plan into practice, they can't make their mind up, which may cause relationship problems.
Deep thinkers in relationships are so preoccupied with the world's problems that they have little to no time to take action and make their relationship better. It can be frustrating for their partners to see them fix the world instead of fixing the relationship problems first.
12. They'll only depend on themselves
While that sounds like an admirable quality, deep thinkers can sometimes be too independent for a relationship. They are great at planning things and like to do things at their own pace. But, being in a relationship requires adapting to the interdependence between the partners.
Being too independent can be a trauma response and can be destructive for the relationship. Deep thinkers can be emotionally closed off, hindering effective communication with their partners.
Conclusion
Deep thinkers in relationships can be challenging to deal with sometimes. They get disconnected from reality all too often, don't like to force connections, and want to be with someone who challenges them and encourages them to grow.
But, they can be thoughtful and turn into a great partner as long as they're willing to make the necessary adjustments.
Share this article on
Want to have a happier, healthier marriage?
If you feel disconnected or frustrated about the state of your marriage but want to avoid separation and/or divorce, the marriage.com course meant for married couples is an excellent resource to help you overcome the most challenging aspects of being married.
More On This Topic
You May Also Like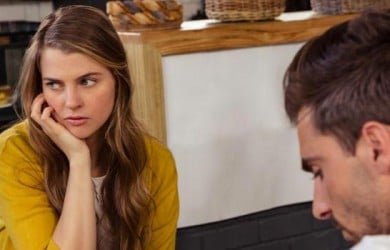 Popular Topics On Married Life