5 Marriage Benefits Explaining Why Getting Married is a Good Idea
Marriage is one of the most beautiful and satisfying parts of being in a committed relationship, but matrimony comes with its fair share of other marriage benefits as well.
So, what are the benefits of being married?
One of the key marriage benefits for couples, when they tie the knot, is that they now have joint incomes, which in turn opens up the opportunities for what they can buy. Such advantages of marriage should be considered well in advance to plan a smooth marriage.
You need to make sure you make the most of the savings as a married couple. One of the marriage benefits that a lot of people fail to realize is that many things get cheaper for you once you're married, and it is essential to understand what these are to make the most of them right now.
So, check out some of the good things about marriage and its several positive impacts, and try to consider these as marriage benefits if you are planning to get married.
1. Splitting bills
One of the most significant marriage benefits when it comes to trying to save money is that you can split bills with each other. There are many factors to keep in mind here, and it is important to make sure you look at doing this as much as you can.
So, the economic benefits of marriage is that both of you can do any household bills that need to be covered because you will now have joint bank accounts.
Another thing you need to make the most of right now is mortgage payments are more affordable because you have two incomes you can use to deal with these payments now. This is something you are going to need to focus on as much as possible, and it's imperative to make sure you get this right as much as possible.
2. Buying in bulk
When you are shopping, you can often save a lot of money by buying things in bulk, and this is why wholesalers are so important. If you can get some memberships as a married couple, you will be able to bulk buy on family essentials, and this can wind up saving you a lot of money over time.
So, you should look into getting one of these. You will need to be self-employed or a business owner, to get a membership, but you can also add guests who will be able to use your card. Make sure you focus on doing this in the right way, and this is something that you need to be sure you make the most of right now moving forward.
3. Financial benefits
There are financial benefits of being married while getting married. There is a common mindset that marriage is a financial liability. However, that is not true.
For example, one of the marriage benefits is that you can choose health benefits provided by the plan or go for a couple's plan suiting your needs. Better credit and loan terms also fall under marriage benefits. Also, there are tax benefits of getting married as well. The couples fall under the lower tax bracket while filing yearly tax.
4. Reduction in insurance
There are plenty of legal benefits of marriage like savings and reductions that newlyweds can take advantage of.
One of the key ones is when it comes to car insurance. The school of thought is that married people are more careful on the roads than single drivers, perhaps because they have a significant other to think about, and, as such, there tend to be lower car insurance rates offered to married couples.
But it's not just cheaper car insurance that you can benefit from; life insurance and home insurance premiums can also often work out to be more economical. And such marriage benefits must be considered as a married couple. These are essentials that you need in life, and you can make important savings here.
5. Workplace benefits
Workplace marriage benefits are far more widespread for married couples. You will be able to take advantage of things like childcare, health insurance plans, dental, daycare opportunities, and plenty more.
When you are married, these are things that you and your partner are going to benefit from significantly, and this is especially true if you are going to be having kids at the same time.
There are many federal benefits of marriage, and it helps to be aware of what these are ahead of time as much as possible. Trying to make the most of your marriage by helping to ease your financial burden is essential, and there are many ways to achieve this.
Having a partner serves a lot of emotional benefits too.
In the video below, Andrew Mills explains relationships are the most powerful force in the universe and having close relationships decreases our chances of health hazards like accidents, cold and. However, we sometimes neglect them. Hear him talk below:
Try to look at some of the best ways you can save money as a married couple, and start introducing these savings as soon as you possibly can. If you can get this part right, you should be able to make some significant savings moving forward, and this can help you out a lot.
Share this article on
Planning to get married?
Just engaged or contemplating marriage? Discover how to transition smoothly into the next phase of your relationship with Marriage.com's Pre-Marriage Course. Begin your incredible journey with this guide designed by experts and lay a strong foundation for your path of togetherness - forever!
More On This Topic
You May Also Like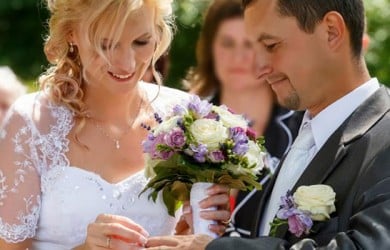 Popular Topics On Getting Married