The 10 Best Online Marriage Counseling Programs of 2022
Love is wonderful, but that doesn't mean it isn't hard work sometimes.
All couples go through ups and downs in their relationships. This is completely natural, but can anything be done to strengthen a marriage against future troubles?
Absolutely.
Taking a marriage course can give couples the confidence and the tools they need to succeed; for example, couples can learn communication skills, how to resolve conflict, how to deal with marital boredom and sexual differences, and what to do when there is betrayal in a relationship.
So whether a couple is considering marriage, engaged, or has been married for quite some time, taking an online marriage course can really help in taking a deeper look at the relationship to develop stronger bonds.
This article can guide you while choosing the best course or program out there. But before we take a look at the 10 Best Online Marriage Counseling Programs of 2020, let's understand first of all what such a program or course entails.
What is a marriage course?
As opposed to a traditional in-person therapy session, a marriage e-course is an online program designed to help couples learn how to connect and conquer any bumps on the road to their happily ever after. There are many benefits of these courses, such as:
Couples can access such training courses from the comfort of their own home

They can take the courses at their own pace, stop and start sessions as they see fit

Couples don't have to worry about divulging personal information to a third party.
Classes often include:
Assessments

Expert resources

Quizzes and videos

E-books

Questionnaires

Communication techniques

Worship exercises
If you're looking to fortify your marriage you will quickly learn that there are many different lesson plans to choose from. Marriage course online reviews will help you narrow down your search, but why put in the effort when we can do it for you?
Here is a list of the top 10 marriage training courses to strengthen your relationship now and forever.
Marriage.com has long been a resource of expert advice for couples at every stage of life from dating to marriage and family planning.
Marriage.com's "Online Marriage Courses" teach couples how to have a healthier, happier marriage.
Course Benefits
A unique system of learning where even one spouse can attempt to benefit the relationship
Helps learn the importance of compassion and creating shared goals between partners
Designed for improving communication and intimacy
Focus on the power of traditions in a relationship
What do the courses contain?
Transformational videos

Motivational talks

Insightful advice articles

Specially-designed workshop exercises

Carefully curated quizzes to test awareness
The courses are not just meant for those looking forward to make their relationship healthier, they are also created for couples who are having a tough time managing the upheavals of marriage.
Can an online marriage course prevent divorce?
In some cases, it can be a saving grace for troubled couples.
In fact, Marriage.com offers a course specifically for couples who are on the verge of separation.
Marriage.com's "Save My Marriage Course" helps you to feel closer to your partner and reignites the spark of love you once felt in your marriage.
This class provides couples a way to restart and renew their marriage. Touted as one of the 10 Best Online Marriage Counseling Programs of 2020, it empowers couples to:
recognize unhealthy behaviors

improve marital communication

combat present and future marital challenges

restore trust in your relationship

learn if the marriage can be saved

Learn ways to reconnect with your significant other,

detox relationship with your spouse, and fix the marriage.
Pricing starts at: $99
Enroll in a marriage course today to build a relationship that you've dreamed of!
Marriage is a wonderful gift. It is wonderful to have a partner who loves and understands you, but how can you ensure such a relationship doesn't become tedious?
This course takes a spiritual deep dive into what marriage truly means. It teaches about the natural cycles of a relationship and learn how to manage conflict.
This course is great for singles and married couples alike.
Pricing starts at: $180
Every marriage goes through different stages, and this comprehensive online course gives couples a step-by-step plan to go about it.
Like the other classes on this list, this online marriage course can be attempted in the privacy and comfort of the couple's own home.
This lesson plan includes:
How to stop pushing your spouse away

The importance of boundaries

How to be more attractive to your spouse

Banishing negative thoughts

Helping children during marital turmoil

An action plan to save your marriage
Marriage Helper offers couples lifetime access to their course so that they can go through the program as many times as they want. Group support is also available via a private Facebook community.
Pricing starts at: $399
Nobody knows your relationship better than you do. That is why Our Relationship has an expansive list of two-month programs designed to strengthen your marriage.
Uniquely, Our Relationship has a form you can fill out to discover whether you qualify to take their online marriage course for free via grant funding.
Pricing starts at: $50 for their paid program
The Marriage Foundation's marriage course focuses on not only taking care of the current problems but teaches couples to tackle future marital challenges as well.
Founder Paul Friedman focuses on empowering couples by learning what drives the behavior in their relationship and focusing on communication techniques.
The Marriage Foundation promises to save your marriage in 12 weeks or give your money back!
Pricing starts at: $395 for individual courses
Also watch: What Is an Online Marriage Course?
The Marriage Course is an online class that is divided into seven easy sessions.
Couples or classes can benefit by watching videos as this online marriage course endeavors to make classes fun and entertaining. These sessions are designed to feel more like a couple's date night than a counseling session.
Pricing starts at: Details available on login.
Marriage Fitness markets itself as an alternative to marriage counseling.
So what makes it one of the 10 Best Online Marriage Counseling Programs of 2020? Well, here couples are given 5 free marriage assessments to see what went wrong with their relationship. Was it the death of a child, as was the case with the founder? Perhaps there has been neglect or an extramarital affair in the mix?
Partners can hone in on what happened to draw them apart and learn to:
neutralize relationship problems,

enhance positive thinking, and

practice communication strategies.
Pricing starts at: $69.95
This paperback marriage education course helps couples learn how to build a strong marriage.
Looking at marriage from a religious standpoint, this kit comes with a DVD, book and marriage manuals to help couples to:
rebuild passion and improve sexual intimacy

strengthen family life

implement forgiveness

resolve conflict and learn to communicate
Pricing starts at: $87
This course is designed for couples in an unhealthy or toxic marriage who feel trapped or who may already be considering divorce.
Marriage Dynamics believes that any marriage can be saved by having couples fall in love again.
Statistics of the Save My Marriage workshop found that three out of four couples who attended chose to remain married.
Pricing starts at: Contact for details.
The mantra of the enrich marriage course offered at Save The Marriage is that any marriage is worth fighting for.
This series of inspirational podcasts discusses such topics as connection and marriage, why couples fight, "no contact is crap", manipulation, and how to save a marriage.
Pricing starts at: Free
So there you have it- a list of the 10 Best Online Marriage Counseling Programs of 2020 that are designed to make your marriage thrive. Take your pick from these by checking which one works out to your liking and get on the road to a happier and healthier relationship.
Share this article on
Want to have a happier, healthier marriage?
If you feel disconnected or frustrated about the state of your marriage but want to avoid separation and/or divorce, the marriage.com course meant for married couples is an excellent resource to help you overcome the most challenging aspects of being married.
More On This Topic
You May Also Like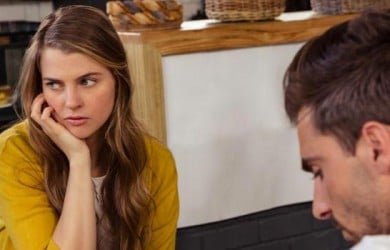 Popular Topics On Married Life