The 4 Unmistakable Characteristics of a Successful Couple for You
Financially successful people are the source of envy and admiration by everyone. Some people revere them as Gods and intellectuals conduct in-depth studies of their methodology and thought process. They are celebrated, and there are even a few publications dedicated to them. There are even movies made about some exceptional few.
People do not look at successful couples in the same way.
When a couple stayed together in their lifetime, it hardly makes the news. If it does, it's a small dedication hidden somewhere in the lifestyle section. The most renowned lovers worldwide is a fictional couple written by Shakespeare who killed themselves to prove their love for each other.
Their modern counterpart is about a couple in a sinking ship that didn't share a floating piece of driftwood, and one of them died cause of it.
It doesn't sound fair, It's like the world is saying, it's a small feat to stay together forever with one person than make a million dollars. The truth is both require the same kind of hard work, dedication, and sound judgment to pull it off.
So in an effort to do justice to all successful couples out there, Marriage.com has compiled a list of unmistakable characteristics of a successful couple.
1. They talk about everything
Literally everything! From the silliest social media posts to their deepest darkest desires. They respect each other's opinions even if they frequently argue about the most trivial things.
Their partner is the first to know about any news regardless of the topic. They are so open with each other that the husband knows his wife is in love with Keanu Reeves and how he never gets old. The wife knows her husband only looks at Scarlett Johansson's breasts whenever she is on screen. Instead of awkwardness, they playfully tease each other because of it.
They are comfortable speaking their mind without fear of judgment. It's not because the other person won't judge what they said, of course, they would, how else would the conversation continue. It's just they respect their partner well enough to communicate without reservations.
So talk, even about the dumbest things.
Successful couples can talk about extremely serious to the most nonsensical matters with the same level of respect and comfort.
2. They don't stop dating each other
It's hard juggling relationships, career, children, and basic chores. But successful couples find a way to continue dating. They understand the need to get away and relax together to grow as lovers.
Everyone knows that falling in love is easy, but successful couples know that staying in love is the hard part.
They work hard to keep their passion burning. There's a point where you know your partner so well everything becomes predictable. Great couples are aware of this fact and add spontaneity to make their marriage interesting.
It's also a good idea to plan some of your dates, even if it's just a day trip. Leave the children with the in-laws for a short time. It would help your children form bonds with other members of the family.
Planning and saving money for the trip itself is a fun activity for the couple, it gives them short term goals and something fun in the near future. This is an important characteristic of a successful couple.
3. Good cop and bad cop
The point of marriage is to have a family.
The ultimate achievement of any couple is not just an enduring relationship, it's also about raising successful children. The recipe for that is one part unconditional love and one part of strict discipline.
Two distinct, but equal parts, and two parents, get it? Good cop and bad cop, the apple and the stick. Simple enough in theory, but complicated when applied to reality, which is why it's an ultimate achievement.
Dote on them too much, and they grow up as worthless spoiled brats. If the parents are too strict, the kids will hate you. It's a daunting task, and both parents will have to be in complete sync in the application of the apple and stick.
Double standards are confusing even to adults, for developing children it drives them crazy.
Why do you think teenagers are so angry? Don't you remember how it was when you were at that age?
The important part is a single parental authority. If Mom says No, she represents both parents, there is no court of appeals. The same goes with the father, undermining each other's parental authority will create misunderstandings for the kids and friction for the parents.
4. They are financially responsible
Keeping up with the Joneses is a bad habit. But social media changed things, now the Smiths, Millers, and the Johnsons are all strutting their stuff all over the internet too.
It's a matter of pride to stay in the game. Don't give in to temptation, that's all it is, pride.
Successful couples care about money, but not to show off to their friends. They use it to improve their quality of life. They understand the stupidity and the dangers of showing off online where criminals are gathering information on potential targets.
They pay their bills on time, save for the future, keep within budget, and do not overburden themselves with debt. They plan and manage money together and make sure there is little left for life's little luxuries.
They teach their children the value of money and charity, In this way, such families have a culture of thriftiness, humility, and fiscal autonomy.
Successful couples live long and enjoy a prosperous life together
These are some of the more common characteristics of a successful couple. There are other special cases such as working in the same industry or having the same passion in life, it drastically improves their chances of success.
But love cannot be restrained, so limiting your choices to people in your clique is something that helps, but not really a deciding factor.
Family relations is by blood and marriage, but it's still comprised of several separate individuals, each with a will of their own. A family, like any mechanism with several moving parts, will deteriorate over time without recalibration and proper maintenance.
Successful couples live long, enjoyable, prosperous lives together because they want it so badly they dedicate their entire being into it. If you sum it up together, successful couples are never complacent. They consistently give their best to improve themselves and deepen their bonds with each other.
Share this article on
Want to have a happier, healthier marriage?
If you feel disconnected or frustrated about the state of your marriage but want to avoid separation and/or divorce, the marriage.com course meant for married couples is an excellent resource to help you overcome the most challenging aspects of being married.
More On This Topic
You May Also Like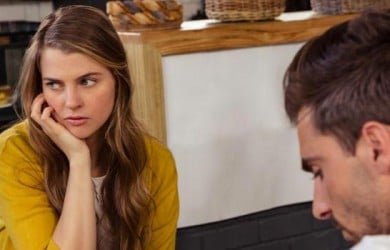 Popular Topics On Married Life