How to Move on with Divorce & Children Without Difficulties
Almost 50% of all marriages end in divorce. 41% of first marriages are expected to suffer the same fate. The likelihood of having children during the first marriage is higher because of the youthful age when people get married for the first time.
If 41% of them end up in divorce, then a lot of couples end up as single parents. One of the most problematic parts of divorce is when neither couple wants to give up their kids. Getting a divorce and children are divided equally between partners sound illogical.
Money and Property can be sold or divided. However, the same is not possible with children as proven by the wisdom of King Solomon.
Getting a divorce and children custody is no longer frowned upon by society. Its high prevalence ratio among the populace turned it into something normal within society.
Young children and divorce
There are plenty of factors why custody battles end in one way or another.
Financial capabilities, divorce reason, abuse, and child preference are some of the most common reasons why a Judge will rule for or against a particular parent.
One important factor that's frequently neglected during custody battles is the importance of grounding for a child's development. They have to develop roots somewhere, even if it's just with a single parent.
They will need to spend at least 12 years in school, and childhood friends are important for their social development.
There is no doubt that there are single parents who can take the roles of both a father and a mother. A lot of them understandably fall short. We can never blame one person for failing to do the job of two people. In fact, we can't blame them at all.
That aside, it doesn't change the fact that young children suffer the hardest consequences. Young children and divorce simply don't mix. Single parents trying to make ends meet, unfortunately, neglects quality time with their children for their growth and development.
Single parents should seek help, especially from other friends and relatives. Everyone close to you should be willing to lend a helping hand, even if it's nothing crucial such as watching the kids for a few hours.
Older siblings should also pick up the slack. After all, none of what happened is their fault (hopefully). But situations such as divorce and its effect on children, where blood and family count the most, can be devastating.
Alimony and other child support privileges are sacred. Use all of the money to support the children's future, the sooner they develop as independent individuals, the sooner everyone is free from the burden.
But, graduating from High School or reaching the legal age to start an independent life alone is not a goal. Plenty of people who achieved those milestones can't take care of themselves.
But, a lot of child support ends during that point. So, make sure you have saved money from that and your alimony to continue on, especially if the child goes to College.
Be patient and weather through it, children grow up and as each year passes, they are able to contribute more to the family. Make sure you don't hide the situation from them. Even young, children understand and are willing to help their own family.
Divorce and adult children
Divorce normally turns adult or older children into two different categories, the selfish and the selfless kind.
The selfless kind does what they can to take care of the family as a substitute for the absentee parent. Like their single parent, they no longer think about their own lives and future. Their entire being is consumed with trying to raise their younger siblings hoping that they grow up as strong individuals and upstanding members of society.
Selfless older siblings can also do part-time jobs to help with the bills (They have to volunteer, don't ask them). It is a good experience for them in becoming responsible adults. Single parents should appreciate selfless older siblings and continuously encourage them. It's normal that single parents start to depend on the contribution of the selfless older child, and are frustrated when they fail.
The single parent must always remember that it's never the children's fault. If they are helping, but falling short, appreciate their effort. Instruct them patiently so they would be more productive next time.
The selfish kind simply doesn't give a damn.
That's all that can be said about that.
Older children are either a pain or a God-send in times like this. Level with them and stop treating them like children, see where they stand and work with it. If they harbor angst over the divorce, it's natural, and remember don't blame them, you put them in that situation.
Don't pass your responsibility to them. However, it's not wrong for you to ask them for help, if you can talk to them and make them see the big picture.
Divorce and children and new relationships
Over time, it's not surprising that a lot of divorcees meet someone new. They can be single parents themselves, and you talk about forming a blended family. Going through the daily grind just taking care of the children is not moving on. It's only a full circle once you find someone new that you love as much or more than your ex-spouse.
Children, young and old, may not feel comfortable living with a new parent and step-siblings. Their opinions matter since they will be living together and the best approach is to take it slow. Delinquent and problem children may bully their new step-siblings and a lot of micromanaging is necessary to make it work. Don't assume that putting them all under the same roof will get them to love each other right away.
Learn to read between the lines.
Children are rarely honest with their feelings after a divorce. The same applies when living with a new parent or siblings.
Both you and your partner should understand that getting a divorce and children are made to share their lives with strangers can never be a smooth journey for you two. In fact, it's a long process, and if they don't have children of their own, it will be harder for them to adjust.
Neither all marriages are made in heaven, nor every divorce is agreeable
Divorce and children complicate our lives, but both are just the natural consequences of our own actions.
We can blame divorce to our ex, but we can never blame children for anything. It is our honor and responsibility to raise strong and moral children, regardless of how hard it is. Divorce and children can also improve our lives.
Not all marriages are made in heaven.
So, cutting out cancer is a good thing. But, raising children is always a good thing, even if there are times we want to strangle them.
Share this article on
Want to have a happier, healthier marriage?
If you feel disconnected or frustrated about the state of your marriage but want to avoid separation and/or divorce, the marriage.com course meant for married couples is an excellent resource to help you overcome the most challenging aspects of being married.
Learn More On This Topic
You May Also Like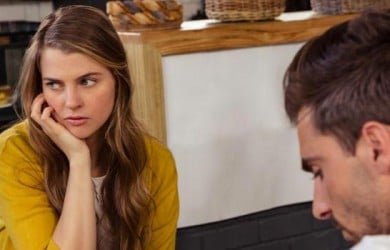 Popular Topics On Married Life