Toxic Monogamy: 7 Statements That Make This Practice Harmful
Monogamy is a type of relationship where couples willingly make the decision to stay committed to one another. It is having one partner at any one particular time. Monogamous relationships are not the same for all couples and can be customized depending on their needs.
Unfortunately, a monogamous relationship can become toxic when it is practiced in an unhealthy way. This is particularly true in a toxic monogamy culture where society dictates the kind of relationship you should have.
Keep on reading to better understand toxic monogamy and how it can be toxic.
What is toxic monogamy?
You might be wondering, what is toxic monogamy? Well, this is not really a new term has been discussed a lot recently.
As aforementioned, monogamy is the practice of having one romantic partner at a time. It can become toxic when society dictates the kind of relationship couples should have. Monogamy becomes an issue for individuals who eternalize a possessive or unhealthy form of love.
What problems are associated with monogamy?
Monogamy relationships are challenging to maintain. It's easy when there aren't any temptations around. Unless a couple lives in a very isolated place, it's not guaranteed that the other partner won't feel attracted to another person.
According to research, even the best intentions aren't effective if one is faced with an unexpected and irresistible attraction to another. The research also discovered that extramarital partners are often close friends, colleagues, and long-term acquaintances. That means extramarital relationships don't often occur with strangers.
Also, betrayal in relationships is often considered a dealbreaker. That's because many stories, movies, and songs show vengeance on those who cheated.
Is it selfish to be monogamous?
As long as the relationship is ethical, considerate, and considerate, being monogamous is not selfish. If couples are accepting and open-minded, there isn't a wrong or selfish relationship. Put simply, you shouldn't worry too much about what others think and focus on discovering your truth.
5 types of monogamy
There are 5 types of monogamy that one gets involved in.
1. Physical
Many connect monogamous and non-monogamous couples to physical monogamy. This type of monogamy involves couples getting physical with another person. Couples who choose not to be physically monogamous can kiss or have sex with other people as long as all the people involved understand this kind of relationship.
2. Social
Some examples of social monogamy are inviting someone as your plus-one to a wedding or including someone in your insurance. In a socially monogamous setup, you show the world that you are together. You appear to be partners for others.
One example of this is marriages for increasing wealth or status. There's likely no romance involved. What happens when the couple is left alone is not important.
3. Financial
Married couples who have been together for a long are likely to share bank accounts and other finances. Financial monogamy happens because they agree to share money but not with other people. Finances are something couples should discuss. Many couples feel stressed due to this, so boundaries must be set.
Related Reading: 

How to Communicate and Work on Your Financial Matters Together
4. Emotional
When you and your partner commit to only having strong emotional intimacy with each other, you are emotionally monogamous. You don't attempt to fall in love or create an emotional connection with another person.
The challenge with emotional monogamy is separating it from physical monogamy. Most people who are in a non-monogamous physical relationship find it difficult to control their emotions because there's a possibility of one having feelings. The best way to deal with this is to discuss with your partner any feelings you have for another person.
Couples who are not in a physical or emotional monogamous relationship are in a polyamorous relationship. Swinging is the term for being in emotional monogamy but not physical.
Related Reading: 

How Important Is An Emotional Connection In A Relationship?
5. Activity
You and your partner likely enjoy doing activities together such as working out in the gym or watching movies. If you did these activities with another person, you would cross the boundary of activity monogamy.
Activity monogamy means you are monogamous doing hobbies or shared interests. Therefore, you have specific activities that you only keep to yourselves. You and your partner might decide to do yoga and make it your thing. If one of you does yoga with another person, one will get jealous.
It can be okay to cross this if one partner is not interested in what their partner likes such as playing a sport. Jealousy won't be an issue if this kind of activity is done with others. It is indeed inevitable that couples have different interests.
Related Reading: 

15 Things Every Couple Should Do Together
Is toxic monogamy impacting your relationship?
Wondering what is involved in a toxic monogamy culture? Well, there is a lot in this practice that makes it harmful and toxic.
Here are some questions you can ask yourselves to determine if toxic monogamy is impacting your relationship:
Do you believe that intense love is enough to get around the incompatibilities of couples?
Is

being jealous

a sign of being caring, committed, and loving?

Do you think your partner should be able to meet all your needs? If they don't, does it make you needy?

Do you think you should meet all your

partner's needs

? If you don't, does it mean you're inadequate?

If your partner truly loves you, shouldn't they feel attracted to others?

If you are truly in love, does it mean you shouldn't feel attracted to others?

Is getting married the only justification that you're in a committed relationship?

Does being committed have the same meaning as being exclusive?

Do you equate how your partner values you to the energy, money, and time they give to you? Is it zero-sum with the other people or things they value in life?

Do you equate how you value your partner to the energy, money, and time you give to him? Is it zero-sum with the people and things you value in life?

Should your partner avoid discussing your

insecurities

and not something you should work on?

Is being valuable to your partner a large part of how you value yourself?

Is being valuable to your partner a large part of how he values himself?
7 statements that make monogamy toxic
Several statements from either of the partners can show that there is toxicity in a relationship. Some of these statements include:
1. If you love your partner, you shouldn't feel attracted to other people
Considering someone else attractive while you're in a relationship is not often accepted. Nevertheless, it's a fact that there are many gorgeous men and women out there. That's why it's a must to understand that it's natural for people to find other people attractive.
What people do with that feeling is what matters. Monogamy isn't realistic if you believe that you or your partner won't find others attractive in your relationship.
Finding others attractive is natural. But, it can become a problem when the boundaries set are crossed. You shouldn't use toxic monogamy to judge others.
It is recommended to sit down with your partner and talk about feelings of attraction towards other people. This will help you gauge whether deem this betraying or being unfaithful. By having this conversation, you will not be ashamed of your natural feelings or have unrealistic expectations.
Also Try: 

How Much Do You Love Your Partner?
2. Being committed is the same as being exclusive
Toxic monogamy believes that you can only be in a committed relationship if you are in an exclusive relationship. This is the kind of relationship most people want nowadays. When couples consider their relationship as something serious, it's inevitable to discuss being exclusive.
However, many couples around the world are committed to each other but are not exclusive. This means that these couples prioritize each other but, they are not restricted from exploring other things.
Commitment shouldn't be like a prison. Being committed should be about 2 people making a promise that they'll always have each other no matter what.
You have to keep in mind that many people feel uncomfortable being in a very open relationship. This is the reason why creating boundaries is crucial. Ideally, one of the toxic monogamy symptoms is trying to form a relationship based on one's standards.
3. You should feel love for one person
This statement is a form of manipulation in a relationship that makes many believe that monogamy is unrealistic. When you tell your partner that they should only love you, the message you're sending is that the feelings or emotions they have with others aren't real.
People who believe in this statement aren't wrong. But, they become wrong when they force other people to believe it. Typically, people can love different people throughout their lives. True love isn't an experience that you can have once in your life.
4. Partners should provide all the physical, emotional, and social needs
One of the concepts that reflect toxic monogamy is that the partner should provide every single need of the other partner. Many romantic movies might have made you believe this statement.
However, it's important to remember that we're all humans. Your priority should be yourself, and it is okay if you are not able to meet all of your partner's needs.
Nevertheless, it doesn't mean that your partner loves you less if he can't provide for your physical and emotional needs. This is a good reminder not to have a lot of unrealistic expectations of your partner.
5. All relationships go through feelings of possessiveness and jealousy
Feelings of jealousy or possessiveness in relationships are natural. But, these feelings shouldn't be used as indicators of true love or lack thereof. When you're in a relationship, it doesn't mean that you own your partner.
You and your partner still have your own lives, and you should not depend on the needs and wants of the other to live your life. If your partner has needs or wants that aren't compatible with yours, it is best not to continue with the relationship.
Possessiveness and jealousy are not common practices in all relationships. For instance, if you see someone trying to flirt with your boyfriend, it's a bad idea to make a scene by confronting the other girl. It is best to let your boyfriend handle this.
If you involve yourself, your boyfriend will likely handle it differently if he was alone. Generally, freedom is important even in a monogamous relationship.
6. Your relationship is the most important
The most toxic statement that shows how monogamy can be toxic is that nothing else matters than the relationship. Individuals that practice toxic monogamous relationships believe that they should be the top priority in their partner's lives. Simply put, there's nothing more important than their relationship.
This is very toxic because one partner becomes controlling and possessive of the other partner and they feel the need to dominate the relationship. If you want your partner to give you all the attention and ignore anything or everyone else, you are selfish. This shows that you only love yourself and not your partner.
Check out this video to understand tips on relationship priority:
7. True love can resolve any incompatibilities you and your partner have
You might have likely heard that true love can conquer anything. If someone loves you enough, most people say that this person will do anything and everything to keep the relationship. Nothing is too hard for them because of true love.
Your partner should be someone you are compatible with. That means your life aspirations are aligned with your partner so that you'll not experience major relationship issues. Otherwise, this could result in a toxic monogamous relationship.
You have to keep in mind that all couples are not completely compatible because 2 different individuals are involved in the relationship. But, even with these differences, both of them should be willing to compromise and commit because of love. Love won't be enough to overall all the incompatibility you can have with a partner.
Conclusion
Finally, you understand toxic monogamy and the statements that make a monogamous relationship toxic. Monogamy can work, but it's not for everyone. Many people view non-monogamous relationships as less secure and committed.
Nevertheless, the research found that couples who agree to non-monogamous relationships are more committed to having a lasting relationship. The most important thing here is having clear communication with your partner. You can also consult a professional to better understand how your relationship can work.
Share this article on
Want to have a happier, healthier marriage?
If you feel disconnected or frustrated about the state of your marriage but want to avoid separation and/or divorce, the marriage.com course meant for married couples is an excellent resource to help you overcome the most challenging aspects of being married.
Learn More On This Topic
You May Also Like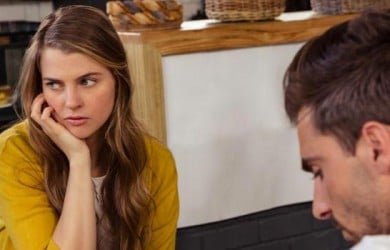 Popular Topics On Married Life