Understanding the Toxic Relationship Cycle & How to Break Free
Toxic relationships can be a confusing and damaging loop that's really hard to get out of. These relationships often involve harmful actions like emotional or physical abuse and people trying to control each other.
The tricky part is that these bad relationships can feel good at times, making it hard to leave. This cycle doesn't just affect the people in the relationship, but it can also impact their friends and family.
Knowing what this toxic relationship cycle looks like is the first step to breaking free from it, so you can have healthier, happier relationships in the future.
What are toxic relationships?
Toxic relationships are unhealthy connections between people that often involve a pattern of harmful behaviors, emotional manipulation, or abuse. Instead of providing love and support, these relationships create stress, anxiety, and unhappiness.
One or both parties may try to control the other, act possessively, or belittle each other, leading to a destructive cycle that's difficult to break. Even though there might be moments of happiness or intimacy, the overall vibe is negative and drains emotional energy.
These relationships can happen between friends, family members, or romantic partners. They can be damaging to one's self-esteem, mental health, and overall well-being. Understanding that a relationship is toxic is the first step toward making positive changes.
What are the 4 stages of the toxic relationship cycle?
The cycle of toxic relationships often consists of four main stages, though the specifics can vary depending on the relationship.
These stages create a recurring pattern that keeps individuals trapped in unhealthy dynamics. Understanding these stages is crucial for anyone looking to break free from a toxic relationship.
1. Tension building
This is the initial stage where stress and tension gradually accumulate. Emotional distance begins to grow, and communication may deteriorate.
Both parties may feel like they are walking on eggshells, fearful that any misstep could lead to a conflict. This stage lays the groundwork for the toxic cycle to manifest itself more overtly.
2. Incident or crisis
This stage is where the tension reaches a breaking point, culminating in a significant negative event. This could range from emotional or verbal abuse to physical violence.
The crisis is often a moment of clarity where it becomes evident that one is trapped in a cycle of unhealthy relationships.
3. Reconciliation or "honeymoon" phase
After the incident, there is often a period of reconciliation where the abusive party may apologize, make promises to change, or engage in affectionate behaviors.
This phase is particularly confusing for the victim, as the kindness shown can make the toxic cycles seem like isolated incidents rather than part of a larger unhealthy relationship cycle.


4. Calm before the storm
In this toxic stage of relationships, things may appear to return to "normal." The abuser may behave as if nothing happened, and the victim may start to doubt their own experiences or hope that the relationship has truly improved.
Unfortunately, this is usually a temporary lull, and the cycle tends to restart, plunging the relationship back into tension building.
Why is it hard to break the cycle of toxic relationships?
Breaking free from a toxic relationship cycle is a complex and challenging process for various reasons. First, the toxic relationship cycle often involves emotional manipulation, making the victim question their feelings and judgments. The abuser might employ tactics like gaslighting, making it difficult for the victim to trust their own perceptions.
Second, the "honeymoon" phase of the toxic relationship cycle creates confusion. After each cycle of abuse or negativity, the abuser may shower the victim with affection or gifts, making it seem like change is possible.
This intermittent reinforcement complicates the victim's decision-making, as they start to focus on the good moments, forgetting the bad ones.
Third, the toxic relationship cycle can be normalized over time. The constant ups and downs can desensitize the victim, making the unhealthy dynamics appear routine or acceptable. The longer one stays, the more challenging it becomes to recognize the cycle as toxic.
Lastly, societal pressure and stigma may contribute to staying in a toxic relationship cycle. Friends and family may not fully understand the gravity of the situation, or there might be societal norms that discourage separation.
How to break the cycle of toxic relationships: 5 ways
Breaking free from a toxic relationship cycle is a complex but essential endeavor that requires self-awareness, support, and actionable steps. Here are five ways to break the toxic relationship cycle:
1. Identify the signs and patterns
The first step in breaking a toxic relationship cycle is recognizing it for what it is.
Educate yourself about the signs and stages of a toxic relationship, and be honest with yourself about whether these patterns are present in your relationship. Ignorance or denial only perpetuates the toxic relationship cycle, making it crucial to confront reality head-on.
2. Seek professional help
Therapists or counselors can guide you through the process of recognizing and breaking free from the toxic relationship cycle.
They offer a confidential space to explore your feelings and experiences, helping you understand why you became trapped in this cycle in the first place. Through professional guidance, you can develop effective coping mechanisms and strategies to escape the toxic relationship cycle.
3. Establish boundaries
Setting clear and firm boundaries is essential in breaking the cycle. Define what behaviors are unacceptable and communicate these to your partner. If boundaries are consistently violated, it's a strong sign that the toxic relationship cycle is ongoing and that more drastic measures may be needed.
4. Build a support network
It's often difficult to break a toxic relationship cycle alone. Friends, family, and even online communities can offer emotional support and advice.
Sometimes, it takes an external perspective to see the cycle for what it is, and a support network can offer the encouragement needed to take decisive action.
5. Plan and execute an exit strategy
Sometimes, despite all efforts to repair and redefine a relationship, the only way to break the toxic relationship cycle is to leave.
This can be an emotionally draining and complex process, but it's necessary for your well-being. Develop a plan that considers your emotional, financial, and physical safety, and execute it with the help of trusted individuals or professionals.
Commonly asked questions
Relationships can sometimes be complicated, and understanding the intricacies of toxic dynamics is crucial for anyone seeking a healthier emotional life. This FAQ section aims to provide clarity on some of the most frequently asked questions surrounding toxic relationships.
We understand the stages of a toxic relationship, identify what is toxic behavior in a relationship, and explore why people find it hard to leave such situations.
Additionally, we discuss whether therapy is essential for recovery and what a healthy relationship cycle looks like as opposed to a toxic relationship cycle.
What are the cycles of toxic behavior?
These are recurring patterns that trap people in unhealthy emotional or physical dynamics. The toxic relationship cycles often involve stages of tension building, incidents of abuse, reconciliation, and a misleading calm period.
Understanding these stages is crucial for recognizing when a relationship has veered into toxic territory, which is the first step toward finding a solution.
What is the most toxic pattern in a relationship?
Constant manipulation, emotional or physical abuse, and control are among the most toxic patterns. These recurring issues not only damage the relationship but also have long-term impacts on self-esteem and emotional well-being.
The absence of mutual respect and love turns the relationship into a perpetual cycle of harm.
What are toxic habits in a relationship?
Toxic habits can range from consistent lying and manipulation to more overt forms of abuse, such as verbal or physical violence.
These habits prevent the establishment of a healthy relationship cycle and can deeply damage those involved. They create an environment of distrust and unease, undermining the basic foundations of a loving relationship.
Why do people stay in toxic relationships?
Various emotional, psychological, and even societal factors can make it difficult for people to leave. The illusion of a return to happier times, coupled with emotional manipulation, often plays a role in keeping people stuck.
Financial dependency or fear of social stigma can also contribute to people staying longer than they should.
If you're feeling trapped in a toxic relationship, it's time to do something about it. In this video, know 4 reasons why you can't leave a toxic relationship and why it's so important to get out:
Is therapy necessary to recover from a toxic relationship?
While therapy is not always 'necessary,' it's often a highly effective tool for understanding the dynamics of the relationship, breaking toxic cycles, and setting oneself on a path to healthier relationships in the future.
People or couples therapy provides a safe space to openly discuss issues and work through emotional traumas, which can be extremely beneficial.
A step towards healing and well-being
Understanding what do toxic relationships look like is the first step toward fostering healthier emotional dynamics. By recognizing the warning signs and taking proactive steps, such as therapy and educating oneself, you can break free from the cycle of toxicity and pave the way for healthier, more fulfilling relationships.
Share this article on
Want to have a happier, healthier marriage?
If you feel disconnected or frustrated about the state of your marriage but want to avoid separation and/or divorce, the marriage.com course meant for married couples is an excellent resource to help you overcome the most challenging aspects of being married.
You May Also Like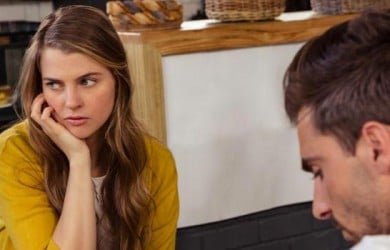 Popular Topics On Married Life