How to Make a Guy Fall in Love With You Over Text Messages: 10 Ways
In this digital age, phones have entered every sphere of our lives, and are any of us really surprised that a guy can fall in love through texting? But it's not as easy as it sounds – texting, like all other forms of communication, is something that you learn and get better at.
If you're wondering, "how to make a guy fall in love over text messages?" you've come to the right spot. In this article we'll take a look at the pros and cons of texting, how many people have actually managed to fall in love by texting, and 10 ways on how to make him crave you over text.
Is falling in love through text messages possible?
There are barely any movies, books, or TV shows where we see two people fall in love through texting. As a society, we take a lot of our cues from the media we consume, and because we've never seen anything like this, it can be hard to believe that there are different ways to text to make him fall in love with you.
A lot of studies have shown that texting is a great way to start a romance, especially because of how convenient it is and doesn't make the people involved feel the ‌awkwardness that comes with meeting in person. An interesting research even found that it takes 163 text messages to fall in love with someone!
The advantages of text messaging in making him fall in love
There are a lot of advantages that texting provides, which is why it's not too hard to figure out how to make a guy fall in love over text messages.
1. Personality takes precedence
When you're texting someone, it's unlikely that they're judging you based on what you look like. For people who are not confident about their physical appearance, it's easy to find out how to make a guy catch feelings through text without being too self-conscious.
2. Easier to gauge interest
Texting provides one with clues on how the other person feels about them. The frequency of texts and the content of texts can give an idea about how interested he is about you. There are also many signs of falling in love through text that you can look out for, which will help you make decisions about where you want to take the relationship.
3. A huge advantage to introverts
Texting levels the playing fields for those who are more introverted or socially anxious. If you get too shy or nervous in front of people, then texting can be a way for you to get comfortable with a person before actually meeting them.
By using different ways on how to get a guy to want you through text, you can be assured of his interest before meeting him, which can make you feel more at ease and self-confident. If you feel like you're not good at talking out your feelings, then texting is a great way to express yourself freely and really show him your real personality.
Related Reading: 

Introvert Relationship Advice for a More Satisfying Relationship
10 ways on how to make a guy fall in love with you over text messages
Check out these tips on how to make a guy fall in love with you over text messages:
1. Express freely
Unlike what people normally believe, guys love it when girls show off their personalities and act freely. Texting is a great way to show yourself off since there are no inhibitions- the awkwardness or self-consciousness that comes with meeting in person is gone, so you can feel more confident.
Expressing yourself is the best way to make him fall for you over text because if he does end up loving you, you'll know that it was all because of who you are at heart. Being vulnerable, and texting the way you talk (using similar slang or words that you would in real life) are great ways to be yourself while texting.
2. Give him flexibility
Nobody likes an attention-seeker. Give him time and space to respond to your messages, especially when you first start texting each other. Being flexible in your expectations of him can make him feel more at ease because he doesn't feel like he needs to live up to them.
Giving him flexibility can also give him time to think about how he feels about you. If you find that his response has gotten quicker and he's spending more and more time talking to you, it's one of many signs of falling in love through text.
Related Reading: 

How to Give Space to a Man So He Pursues You
3. Avoid drunk texting
Texting while drunk can set up several obstacles for your texting relationship: you might communicate your feelings unclearly, you could end up saying something you didn't intend to say, or drunk texters might just be a turnoff for him.
As much as possible, especially if you don't know each other well, try to avoid drunk-texting as much as possible. However, if you already have an established relationship, then he might find it flattering that you were thinking about him even when you're drunk, and it's a risky way to make a guy obsessed with you over text.
4. Have conversation pieces ready
When you're texting, it's easy to run out of topics. To keep the conversation going, make sure you always have a list of things you want to talk about. Some interesting topics could be about what you're planning to do the coming weekend, what you did all day, or anything funny that happened lately.
Related Reading: 

4 Relationship Conversations You Can Have With Your Partner
5. Ask questions
When your barrel of topics runs low, remember that one of the best ways on how to make a guy fall in love over text messages is to ask him questions. The reason this always works is because people love talking about themselves. By asking them a question, you're presenting him with an opportunity to talk about his life and his feelings.
In fact, psychologists claim that if you lack the ability to ask your partner questions, it could spell impending doom for your relationships. A major reason for this is that asking questions and receiving answers builds a trust or connection- without this, being in a relationship feels like nothing more than a simple coexistence.
6. Take advantage of memes
An advantage of texting is the never-ending source of humor and light-heartedness you have access to. That's right. Memes are your best friends, especially when there's a lull in the conversation.
All men love someone who has a good sense of humor. The best secret words to make him fall in love with you are not words at all – a good, funny, and topical meme can make his day and grow his affections for you.And you both get a good laugh out of it.
Related Reading: 

Spice up Your Day With Cute Relationship Memes for Your Partner
7. Don't hold back on flirting
Flirting over text is both low stakes and can be very enjoyable for both parties involved. Research shows that flirting is works way better than just looking good and is how to get into a guy's head over text.
There are different ways you can flirt- being cute, sassy, teasing, or if you're feeling especially confident, send him some suggestive pictures can get you real quick from just friends to more than friends.
Related Reading: 

How to Flirt with Class and Look Good Doing It
8. Show all sides of you
A drawback of texting is that it can be hard to really show all of your sides, especially the more affectionate ones. But just because it's hard doesn't mean it's impossible.
Try to send affectionate messages, like replying with "here's a virtual hug!" when he shares something vulnerable with you, or giving him compliments.
9. Don't spam or rant for hours
One thing everyone (not just guys hate) is when someone spends hours ranting over text.
This makes them feel like it's not a two-way conversation, and they start to disengage from you. A good way of how to get closer to someone over texts is to ask questions, have a conversation where they can contribute, and make them feel heard.
10. Be considerate
Social media or just texting are all virtual spaces that are increasingly becoming hubs of stress and anxiety. Being considerate of his privacy, avoiding taking screenshots of what he says, and making fun of him publicly online are all things to avoid and a way to be considerate online.
This can deepen his trust for you and reassuring messages that everything he says will not be repeated is how to melt his heart over text. However, when you think you're getting signs that he's not into you, leaving him alone and not texting him constantly can also give him time to understand how he feels about you.
This video gives you more insight into some signs that he's not actually interested:
Conclusion
While texting can be hard at first, soon enough you'll figure out how to make a guy fall in love over text messages using your own self-developed strategies. A lot of people have met their true loves online, and a lot of relationships started out by texting. So, don't lose hope and use the above tips to make him fall in love through text messages!
Share this article on
Want to have a happier, healthier marriage?
If you feel disconnected or frustrated about the state of your marriage but want to avoid separation and/or divorce, the marriage.com course meant for married couples is an excellent resource to help you overcome the most challenging aspects of being married.
You May Also Like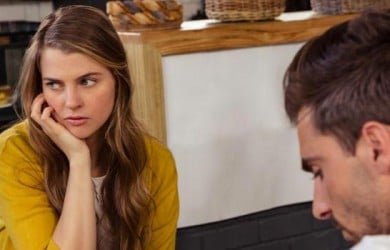 Popular Topics On Married Life