How to Handle the Challenges of Dating a Separated Man
Maybe you didn't set out to intentionally fall for a man who was separated.
You would have preferred to meet a guy who was 100% unattached, either fully single or completely divorced. However, love has its own way of giving us things that we never expect, and here you are. You are dating a man who is separated, fresh out of his marriage but not yet fully, legally divorced.
Risks when dating a separated man
Be aware that he may be sleeping with several women, especially if he is eager to live his separation differently from a monogamous marriage. Many men are quick to play the field once they realize they are released from their marriage vows.
If exclusivity is important to you with this man, make your needs known and make sure he is on the same page as you.
There is also the risk that he might return to his wife. He may feel guilty about leaving the kids or having them shuffle between two households. He may realize that the reality of being single is not what he thought it would be.
He may go back when he sees how expensive the divorce is going to be, and how much it costs to pay alimony, child support, find another place to live, etc.
Here are some tips to best navigate this situation which can be at times frustrating and complex.
Understand where he is in his separation
There is a world of difference between dating a man who is freshly separated from his wife and one who has moved out, set up his own new place, and is just waiting for the final judgment of his divorce.
The first situation is not ideal, and should you pursue a romance with this man, you need to be aware that there are risks. He could decide to go back to his wife and try again. She could decide the same.
It is likely he is still quite emotionally attached to his ex, and therefore not emotionally available to create a bond with you.
He will still be fragile, perhaps angry, and not very present during your times together. He may treat you as a rebound partner. None of these situations is fair to you, so please look carefully at continuing with a man who has just become separated.
Ideally, he should be firmly entrenched in his separation
You will feel more secure if your new man has been separated for at least six months. He should have already begun the divorce process and set up his own household.
He should have done some work on himself, hopefully with a therapist, to help him work through the end of his marriage and how he'd like to view his future relationships.
This is important because you don't want to be his therapist.
Ask questions to know him better
Here are some good questions to ask to understand at what stage your man is in the separation process:
What is the end game of the separation? Is it just a path towards divorce? Or are they using this time to rethink the marriage and try to eventually reconcile?

How did their separation come about? Who initiated it? If it was his wife, what reasons did she give? If it was him, what was he dissatisfied with the marriage?

Does his wife know he is dating? Does she know about you, or is he asking you to stay a secret? If so, why?

If they are surely heading to divorce, why is he dating before the divorce is finalized? Will dating have any effect on the judge's ruling on the divorce, or on his wife's attitude towards the divorce?
Do not take on the role of the supportive ear
You do not want to be your new boyfriend's therapist.
You don't have the skills, nor the interest, and there are experts out there who are better suited to helping your guy work through this challenging time.
You may think that you want to be there for him, that you like feeling needed, and that this is a way he will see that you are a great match for him.
Think again.
If you create this sort of therapeutic dynamic, you will find yourself constantly having to listen and console, and it is unlikely he will do the same for you.
It is best to make it clear from the start of your relationship that while you care about this hard life passage he is going through, you prefer not to talk about things that are best dealt with between him and his therapist or him and his ex.
This includes his complaining about his ex or how horrible she was. That should not be part of your new relationship so setting boundaries is important.
Curb your jealousy
He may be separated, but he still has legal and moral commitments towards his wife and any children he may have. And there will be times where they trump any plans he makes with you.
He may have a last-minute meeting with the lawyers. A child may be sick and he may be called to come to take care of them because the wife has to be somewhere. You may at times feel like you aren't a priority.
And you aren't, not yet. If you are a person who has issues with jealousy, please rethink dating a separated man.
Be clear about your role in his life
If you are his first post-marriage relationship, are you just a rebound for him?
Is he using you to gain revenge on his wife, who may have cheated on him? How engaged is he in your relationship? Does he appear to want to move forward with you—does he talk about a future together, or does he want to keep everything light and "in the now"?
Listen closely to what he tells you, and believe him. Make sure his goals align with yours so that this new relationship has a chance to become exactly what you want it to be.
Share this article on
Want to have a happier, healthier marriage?
If you feel disconnected or frustrated about the state of your marriage but want to avoid separation and/or divorce, the marriage.com course meant for married couples is an excellent resource to help you overcome the most challenging aspects of being married.
More On This Topic
You May Also Like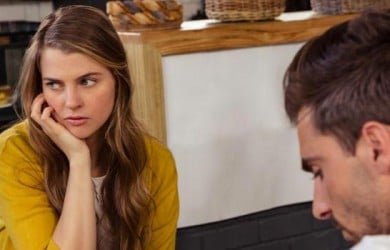 Popular Topics On Married Life